Improving Localization Work Efficiency by 30%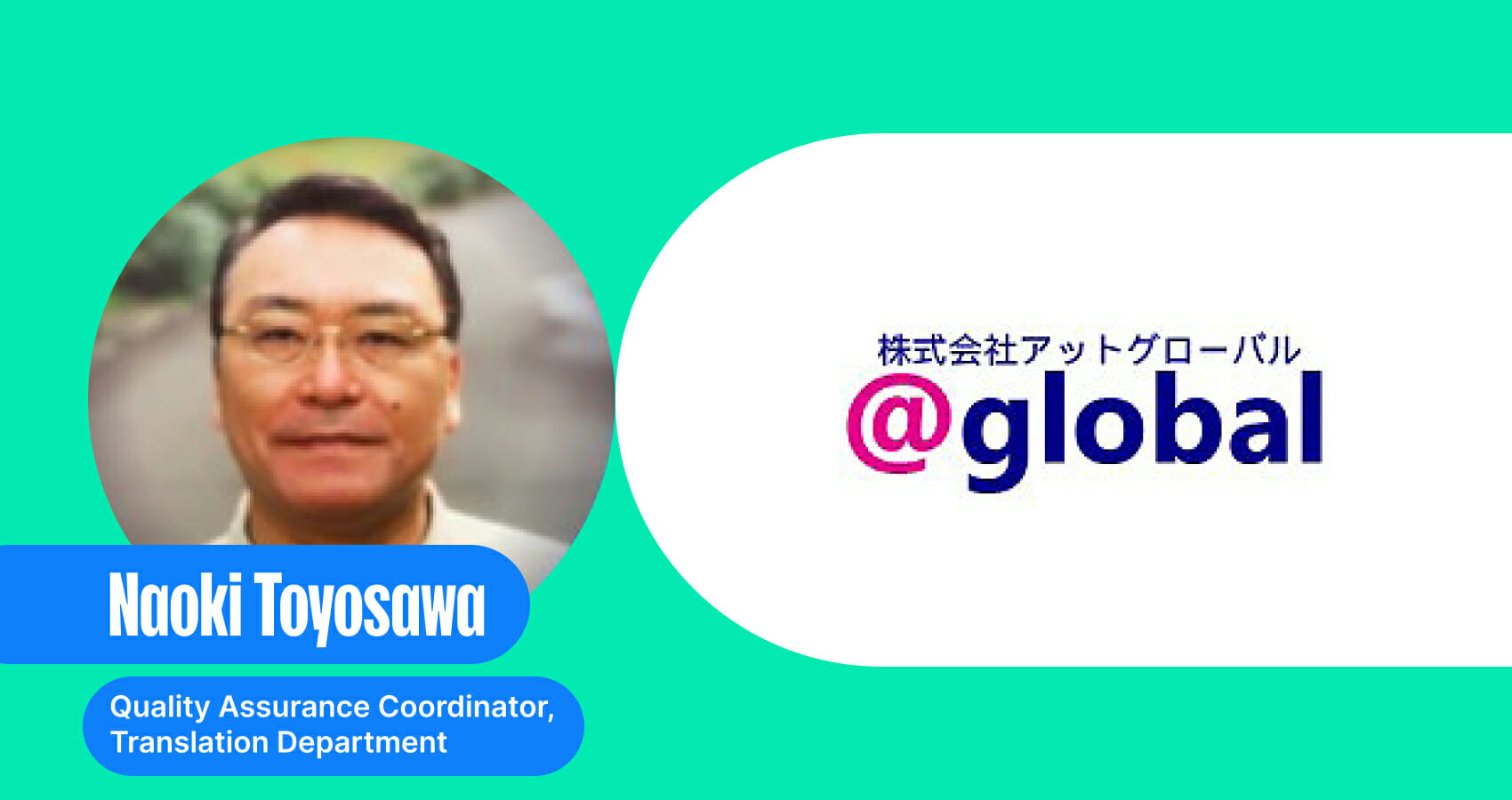 Founded in 2002, @global, Ltd. provides translation services, as well as digital marketing and overseas research utilizing translation technology. In addition to the head office in Omotesando, Tokyo, the company has a branch office in Shanghai, China, and a group company in Ho Chi Minh City, Vietnam.
As of 2022, the company has approximately 60 employees, 20 in-house translators, and over 2,200 registered translators. With employees and registered translators in Japan, Southeast Asia, Europe, and the United States, the company provides services on a 24/7 basis.
Challenge
Complying with international standards for translation
@global, Ltd. provides translation services in more than 40 languages across a wide variety of fields, including the regular translation of marketing materials for global companies, technical materials and manuals for software and hardware, business documents, web content, tourism, education, medical, and government materials. In addition to extensive resources for translation from and to Japanese and English, as well as Japanese to Chinese and back, the company also specializes in translation into Southeast Asian languages, such as Indonesian and Thai.
Although a certain cloud-based tool had been primarily used to provide the company's translation services, it was thought a better tool was needed to manage translations in compliance with international standards and further strengthen customer trust.
Solution
Migrating the translation management system to Phrase TMS
To keep pace with the latest developments, @global, Ltd. began to consider migration of its translation management system and CAT tools. After comparing various tools, Phrase TMS was chosen for the following reasons:
The convenience of Phrase Language AI
@global, Ltd. sometimes uses machine translation at the request of customers. With growing demand for such services in recent years, Phrase Language AI allows us to compare and validate multiple MT engines and to operate flexibly.
Having the ability to use a wide variety of engines, including Google Translate, Microsoft Translator, and DeepL, without complicated settings, is convenient, as is the option to have AI automatically find the best engine.
Simple yet fully functional editor
For @global, Ltd., Phrase TMS distinguished itself from other tools by the simplicity, yet full functionality of the editor's design, for both the web and desktop versions. Other tools had web editors that came with a project manager license, but there were slight differences in their ease of use. Phrase TMS's editor was considered more user-friendly, and it did a good job balancing ease-of-use and functionality, such as the ability to search using regular expressions in the desktop version.
Extensive assistance
During deployment, the support provided by the helpful coordinators in Phrase TMS's Customer Success department was another reason for its high marks. With Phrase TMS, courteous Japanese-language assistance was provided. When, for instance, new functions were introduced, they did not just supply documentation but also provided explanations in Japanese via web conferencing. This assistance was a major reason why the company switched to Phrase TMS as its main tool.
Linguist license provided free of charge
In the case of a typical CAT tool, the user must purchase the tool individually in order to use the editor. If the company tries to cover this cost, the investment required can be substantial. By contrast, Phrase TMS gives a single project manager license the ability to distribute up to 10 linguist licenses for free, which can result in significant cost savings.
LQA department serves as hub for adoption of Phrase TMS
@global, Ltd. has a "Language Quality Assurance" (LQA) department that is responsible for maintaining quality, but which also exists to promote tool adoption and use. For example, if the tool has some useful feature, the LQA department informs the project manager, who in turn informs the linguist. Conversely, if anything about using the tool is unclear, departments can contact the LQA department directly for answers.
If the LQA department has questions about the tool's functionality, they can contact Phrase TMS's Customer Success department and respond to the project manager or linguist based on the information they receive. In this way, the LQA department has come to serve as a hub for the company's adoption of Phrase TMS.
Project manager and linguist education and support
The system migration was approached gradually, not all at once. First, project managers were taught how to use the cloud version of Phrase TMS using individual screen-sharing over Zoom, etc. As project managers grow more comfortable using the tool and gain a deeper understanding of the editor screen, they are also able to respond to questions from linguists.
Phrase TMS is an easy-to-understand tool that project managers and linguists can put to immediate use with just the manual and the tool itself. For @global, Ltd., this ease of education is another of Phrase TMS's advantages.
Phrase TMS is a very easy-to-use tool for managing translation workflows based on international standards. The unlimited use of machine translation at a fixed price and the courteous Japanese-language assistants were also considered major advantages in our decision to migrate to Phrase TMS as our main tool over other companies' products. Since migrating to Phrase TMS, our work efficiency has improved by 30%.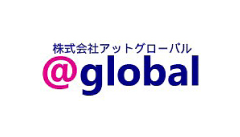 Benefits
Easy process management in compliance with ISO and ISMS
In an effort to further strengthen customer trust, @global, Ltd. obtained ISO 17100 certification. As of March 2022, the company is certified in the fields of finance, economy, and judicial affairs; medicine; and industry and science technology for all Japanese-English, English-Japanese, Japanese-Chinese, and Chinese-Japanese translations. While there are approximately 50 vendors in Japan with ISO 17100 certification, @global, Ltd. is currently the only company with this degree of certification.
ISO certification requires a management system across the entire process of translation, review, checking, and final verification by the project manager. With Phrase TMS, even after a project has started, it is easy to add later processes to the workflow during the project, which makes it useful for establishing an appropriate ISO-compliant checking system.
@global, Ltd. has also obtained ISO/IEC27001, the international standard for ISMS (Information Security Management System). When working on projects like translation and overseas research, the company is able to guarantee information security and compliance, earning it a high level of trust among companies and government agencies.
Because Phrase TMS complies with the EU's GDPR (General Data Protection Regulation) and other personal data protection laws, it also helps business operations to meet the ISMS security standard.
By obtaining the certification, the company is now able to provide clients with criteria for selecting a reliable translation vendor, and company staff have also gained greater awareness of quality assurance and compliance. Because these standards clearly define where responsibility lies, there is now increased awareness of responsibility within the company, and the management system is easier to maintain.
Visualizing linguist evaluation with LQA functionality
ISO compliance requires linguists of a certain level or higher in each field and language. Phrase TMS's LQA functionality, available in the Ultimate edition and above, makes it possible to "visualize" evaluations by adding scores, making it easier to manage Linguist levels.
Key areas of future development
@global, Ltd. hopes to further strengthen its use of LQA functionality in the future. The company is also studying management practices that take even greater advantage of Phrase TMS's features related to project manager responsibilities, including functionality that makes it possible to link multiple categories, such as clients, domains, and subdomains, so that the most suitable project manager in a given field is assigned the job.
Additionally, by using the "MT Glossary" feature, which is capable of applying glossaries to machine translation output, we also hope to achieve more accurate machine translation. With the announced implementation of the custom engines feature, we plan to test its accuracy and create project-specific engines as soon as it is released.
Ready to get started?
Reach a wider audience and build deeper connections today.