Global business
International Strategy: What It Is, and Why Companies Adopt It
Discover what makes an international strategy beneficial for companies on track for global growth, especially in the early stages of expanding globally.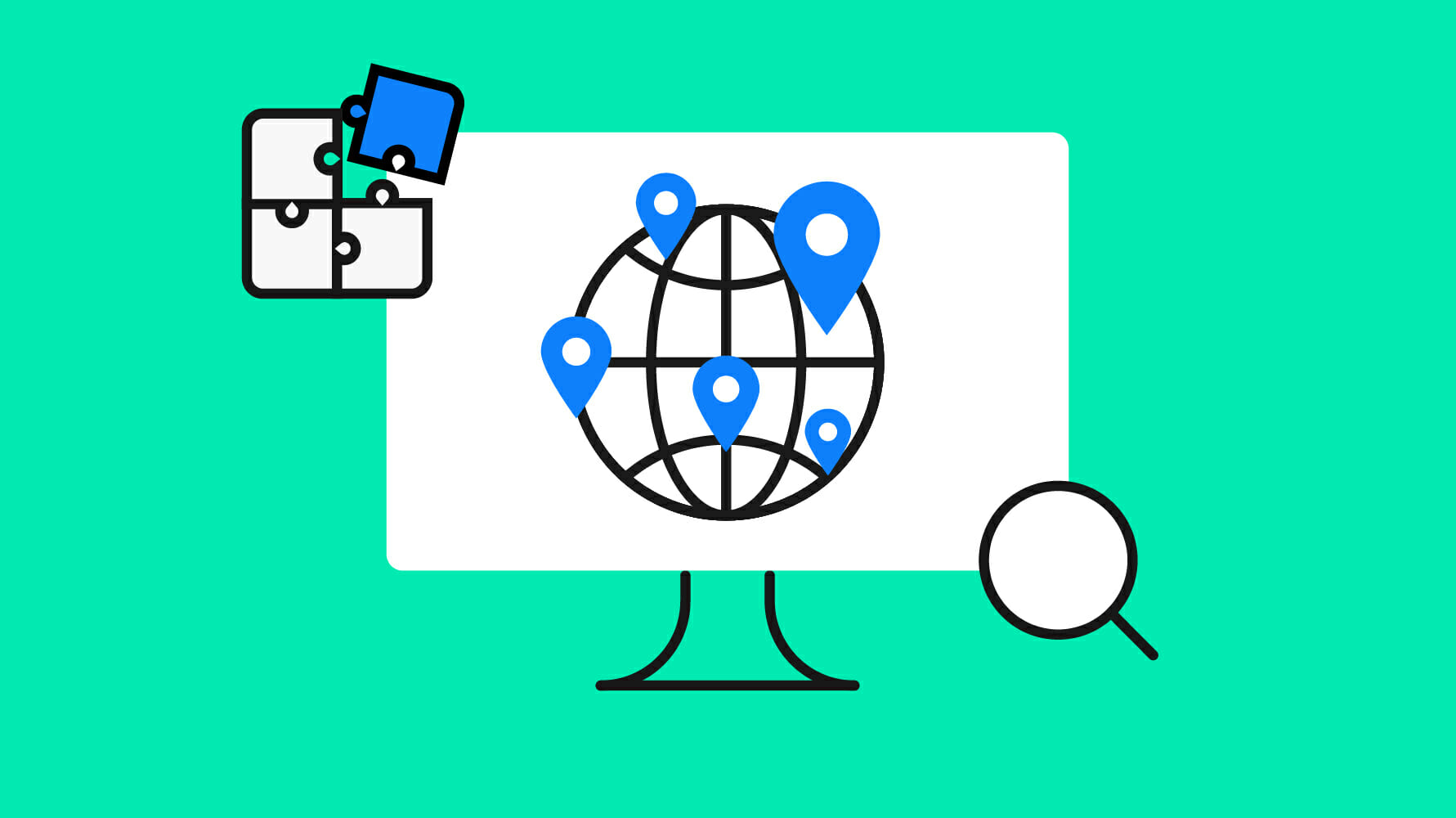 Your company is at a crossroads. After years of successful operation in your domestic market, you've decided to expand the global footprint of your business. With so many different ways to steer global expansion, it's imperative that you have an effective plan in place. 
How best to leverage your competitive advantage—whether it's your product, your skills, or your marketing in foreign markets? An international strategy is one of the most common approaches that successful global companies use to achieve this.
To help you choose the right direction, this guide explains why and under which conditions it can be beneficial to adopt an international strategy. It will walk you through its ins and outs, compare it with other types of global expansion strategies, and reflect on its main benefits. You'll also get to know some strong international strategy examples and learn implementation best practices.
What is an international strategy?
Companies that have business operations in more than one market, also known as multinational corporations (MNCs), adopt a long-term plan to outline the steps and procedures they need for accomplishing their goals in the global marketplace.
The plan that is supposed to guide the operations of your company in foreign markets will depend on many different factors, such as your resources, the industry you operate in, the specificities of the markets you target, etc. According to Prahalad and Doz, the tensions that MNCs face can be global and local.
Let's have a detailed look at the sources of pressure that multinational corporations can face:
| | |
| --- | --- |
| Global pressures for global integration of activities | Local pressures for local reactivity to different markets |
| Pressure for cost reduction | Difference in the needs of consumers depending on the countries |
| Importance of global clients | Variations in the distribution channels between countries |
| Presence of global competitors | Availability of substitutes |
| Consumers' universal needs | Enquiries of the host government |
| Intensity of the technology and of the investment | Structure of the local market |
It may be easy to think that companies can only choose between responding to global pressures by globally integrating their activities—and responding to local pressures by adapting their products and services to local markets.
In reality, choosing a strategy is more complex. Imagine a company in the wine industry for which it wouldn't be economically beneficial to send production offshore, as the best talents and raw materials are located in the home country. Moreover, wine consumers in local markets have similar tastes, and so the exact same bottle can be successful both at home and abroad. In these conditions, adopting an international strategy may make sense.
An international strategy is an approach with low levels of global integration and local reactivity. In terms of organizing the business units, it means that the company centralizes all information, authority, and decision-making for international markets at the headquarters. A dedicated department manages all these international operations.
Moreover, all key operations, including production, are located in the home country, while the company exports the same standardized products and services to foreign markets without taking local tastes into account. That's why the international strategy is also called the "exporting strategy."
How an international strategy differs from other global expansion strategies
According to Bartlett and Ghoshal, the different positions that companies take in terms of global integration and responsiveness to local markets allow us to identify 4 global expansion strategy types.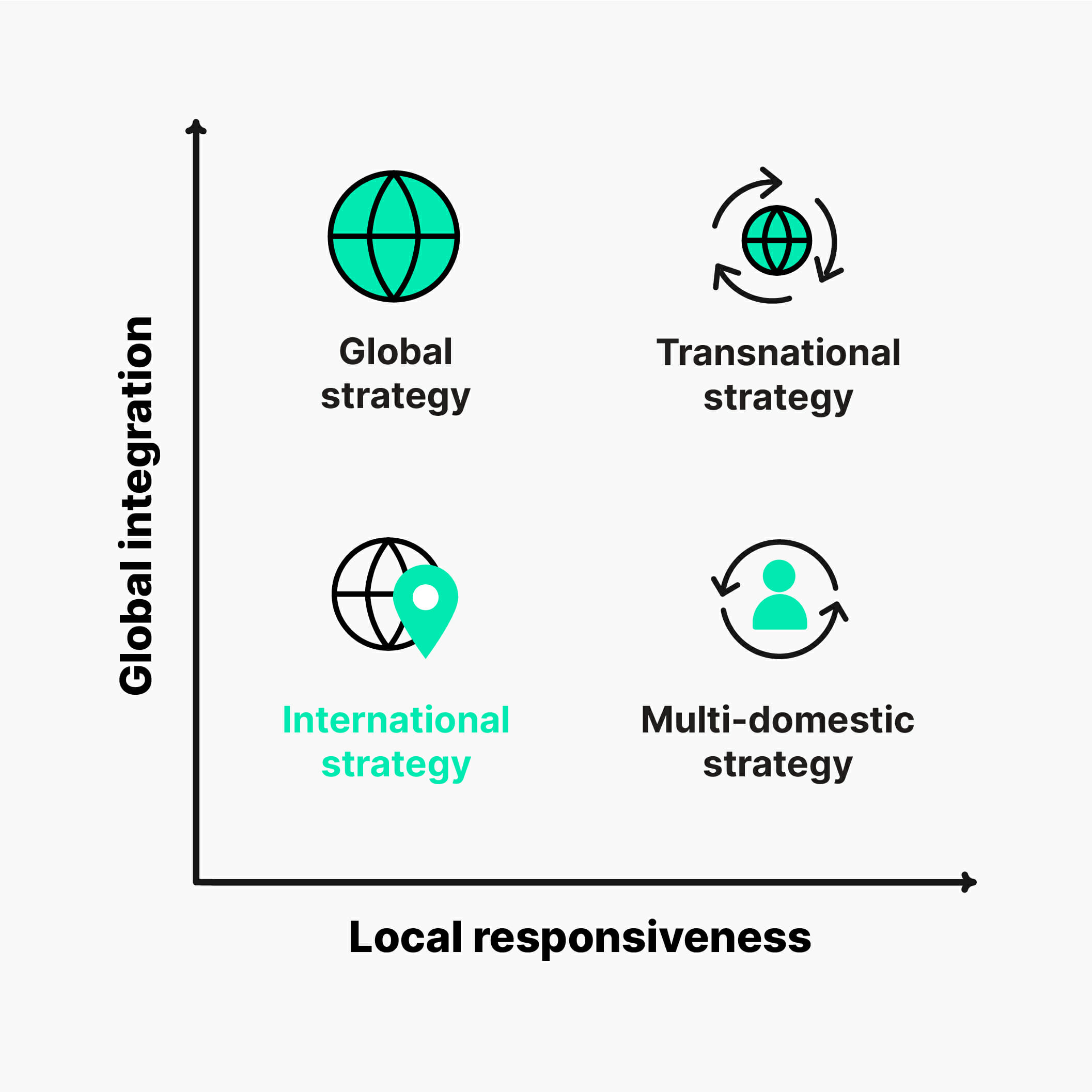 In practice, each global expansion strategy type offers unique benefits to companies that want to expand the global footprint of their business:
Global strategy: Global companies coordinate their operations in foreign markets to make the most of the advantages offered by each country, while centralizing all decisions at the headquarters. Take Apple as an example: They offer the same phones and laptops in all markets under one strong brand, while their products are made in multiple countries.
Multidomestic strategy: Multidomestic companies seek to adapt their products and services to local markets thanks to foreign subsidiaries with a high degree of independence from the headquarters. Their products match local tastes, which can give them a competitive advantage over international companies in a foreign market. This strategy is common in large companies in the food industry, such as Procter & Gamble.
Transnational strategy: This type of strategy can be seen as a combination of global and multidomestic strategies. Decisions are made together by the headquarters and the interconnected foreign subsidiaries, while the products and services are tailored to local markets. An example of a transnational strategy is the cosmetic giant L'Oréal: They offer strong brands both from the US, like Maybelline, and from France, like Lancôme.
Unlike other types of multinational corporations, foreign subsidiaries in international companies act as mere resellers of the products exported from the headquarters.
What's more, the international strategy gives greater importance to the revenue coming from the domestic market than to the revenue from foreign markets. Therefore, the turnover made abroad can be considered additional to the one generated at home. In contrast, in all other types of global expansion strategies, activities in foreign markets are as important as—if not more than—the activities in the domestic market.
This is one of the core reasons why many companies follow international strategy at the early stages of global expansion. As soon as international activities are well developed, switching to another strategy type is often the key to long-term global success. Orange, the telecommunication group, gives a good example of this in action: In the early 2000s, the French-based France Télécom became the Orange group and progressively established its global presence with relatively independent local subsidiaries, such as Orange Poland and Orange Morocco.
What are the benefits of an international strategy?
Going global is a big investment but, if well planned and implemented, is bound to be beneficial for your business in the long term. An international strategy brings specific advantages.
Competitive advantage by location
Thanks to globalization in the past decades, entering foreign markets has become a common way for companies to outpace the competition. In fact, 56% of middle market companies include international expansion in their growth strategies. By expanding to local markets, you can find new global customers, challenge global competitors, and improve your products.
Economies of scale in terms of development and production
By developing and producing goods exclusively in their home country, international companies make economies of scale that wouldn't be possible if their activities were located across different countries.
Greater return on investment (ROI)
Getting a better return on investment in foreign countries than at home is a strong incentive to go global. However, your ROI depends on how much production, development, implementation, and localization will cost you. That's why it's key to do thorough research on the potential costs and incomes linked with each global expansion strategy beforehand.
Global brand recognition
Selling products under the same global brand across all countries is a way to be easily recognized on the global market. By doing so, your logo and your brand name will be globally identified.
Global customer satisfaction
Imagine that you bought the perfect car in your home country: you find it both reliable and comfortable. A few years later, after moving abroad, you need to buy a new car. If you find the exact same one from the same car manufacturer, you'd probably buy it right away. That's another benefit of an international strategy: rReaching customer satisfaction in the global marketplace by offering the same products and services in every country.
Top 5 international strategy examples
Now that you're familiar with the ins and outs of an international strategy, let's have a look at some examples of successful international companies. The international strategy gives them benefits as their industry and internal resources are suitable.
Starbucks
The Starbucks story started with one store in Seattle in 1971, where the headquarters is still located. Today, there are 32K Starbucks coffee houses in 80 countries. The company's success lies in a unified product offering and standardized store decoration across markets—making their coffees appreciated and their logo with the siren easily recognizable all over the world.
Rolex
For at least a century, all Rolex watches have been made in Switzerland: Each item has "Swiss made" printed at the bottom, regardless of the market you buy it in, linking the brand with Switzerland's reputation for watch excellence. Moreover, all key activities, including research and development, design, and sales, are centralized in their headquarters in Geneva.
Porsche
In 2021, the German sports car manufacturer delivered more than 300K vehicles worldwide. Every single one was assembled in Germany, making Porsche a great international strategy example. What's more intriguing, all key activities, such as research and development, and after-sales, are managed from different locations in their home country.
Hermès
Founded in Paris in the 19th century, the luxury design house is still controlled by the founder's descendants. The products are mainly manufactured in France, and the firm is exclusively headquartered in Paris. With more than 300 stores worldwide, they benefit from a strong international presence: In 2021, Hermès generated more than 90% of its turnover outside France. The same bags, scarves, and perfumes are sold in each Hermès store.
Harley-Davidson
The US company offers the same motorcycle designs in every country. Indeed, for this kind of product, customers in foreign countries don't require any specific adaptation. By adopting this strategy, they reached global customer satisfaction and managed to make their motorcycles recognized all around the world. Harley-Davidson's corporate headquarters is located in Milwaukee, on the same site where the first factory was built, and product development takes place only in the US.
An international strategy is one of the most direct means to go global
Companies that want to expand globally often adopt an international strategy when low global coordination of their operations is required—and if their products and services can succeed abroad without any local adaptation.
It's often an ideal approach to market entry in the first stages of global expansion, as exporting standardized products from headquarters is relatively straightforward. Once you implement an international strategy successfully, switching to another global expansion strategy can bring global cost reduction and perfectly tailored products for local markets.
Finally, an international strategy specifically brings economies of scale in terms of production as well as global recognition and appreciation by customers. That's why companies like Rolex and Porsche still follow an international strategy several decades after they opened their first foreign subsidiaries.
Authored by
Last updated on March 29, 2023.