Phrase and beyond
How Phrase Delivers a 527% ROI for Global Businesses
Explore how leveraging our enterprise-ready translation management system, Phrase TMS, can impact the bottom line of companies in terms of measurable ROI.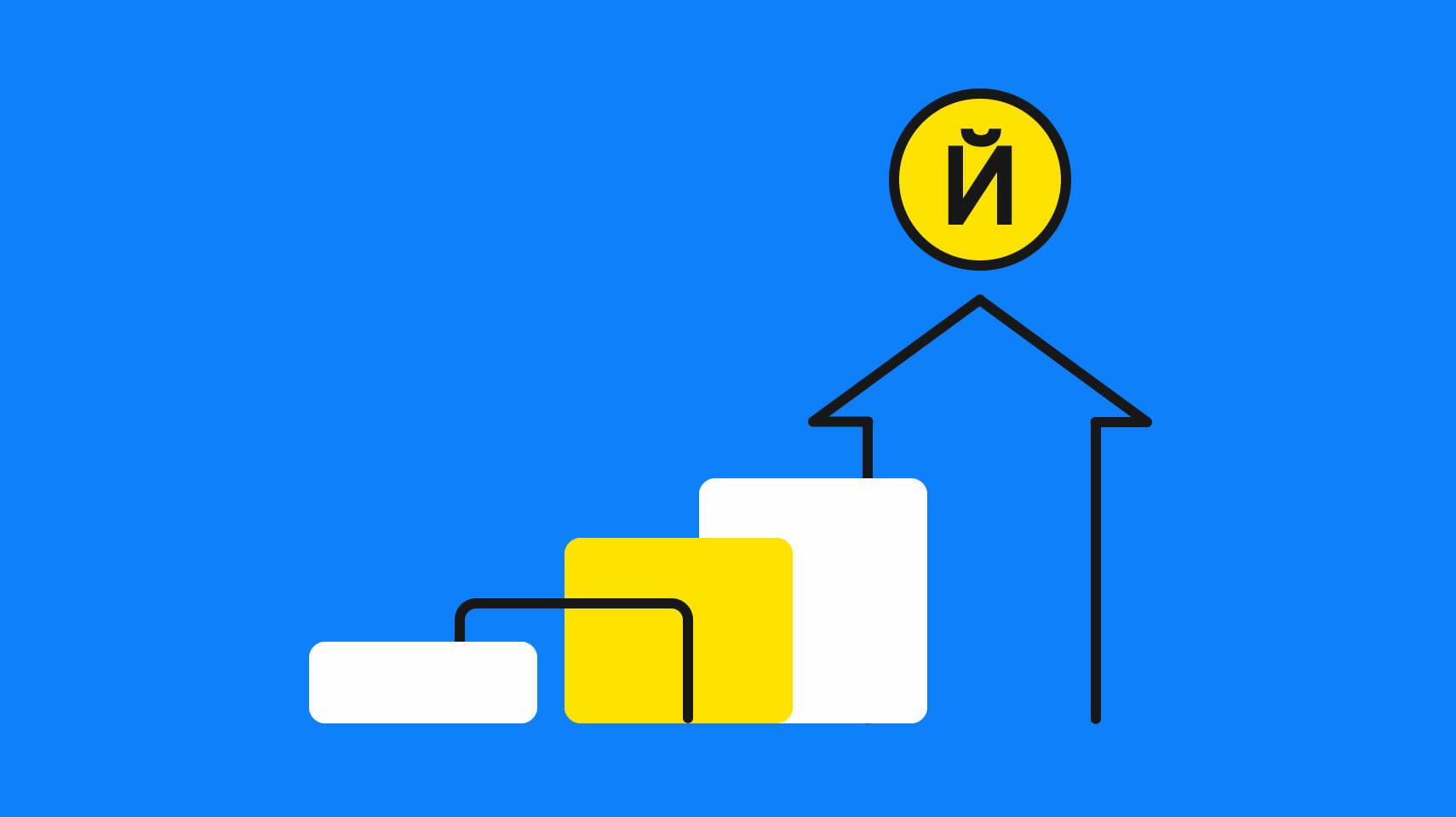 It's long been known that localization technology is a key factor in driving global growth and can save global companies time, money, and effort. Still, the exact value that they can expect in the long run isn't always clear from the start—and quantifying the return on investment (ROI) of a fully integrated suite of translation automation technology, like Phrase, can be even more complex at the enterprise level.
To provide business leaders with a framework for evaluating the potential financial impact of Phrase on their organizations, we commissioned Forrester Consulting to look closer at how leveraging our enterprise-ready translation management system, Phrase TMS, can impact the bottom line of companies in terms of measurable ROI. Keep reading to learn more about the key findings.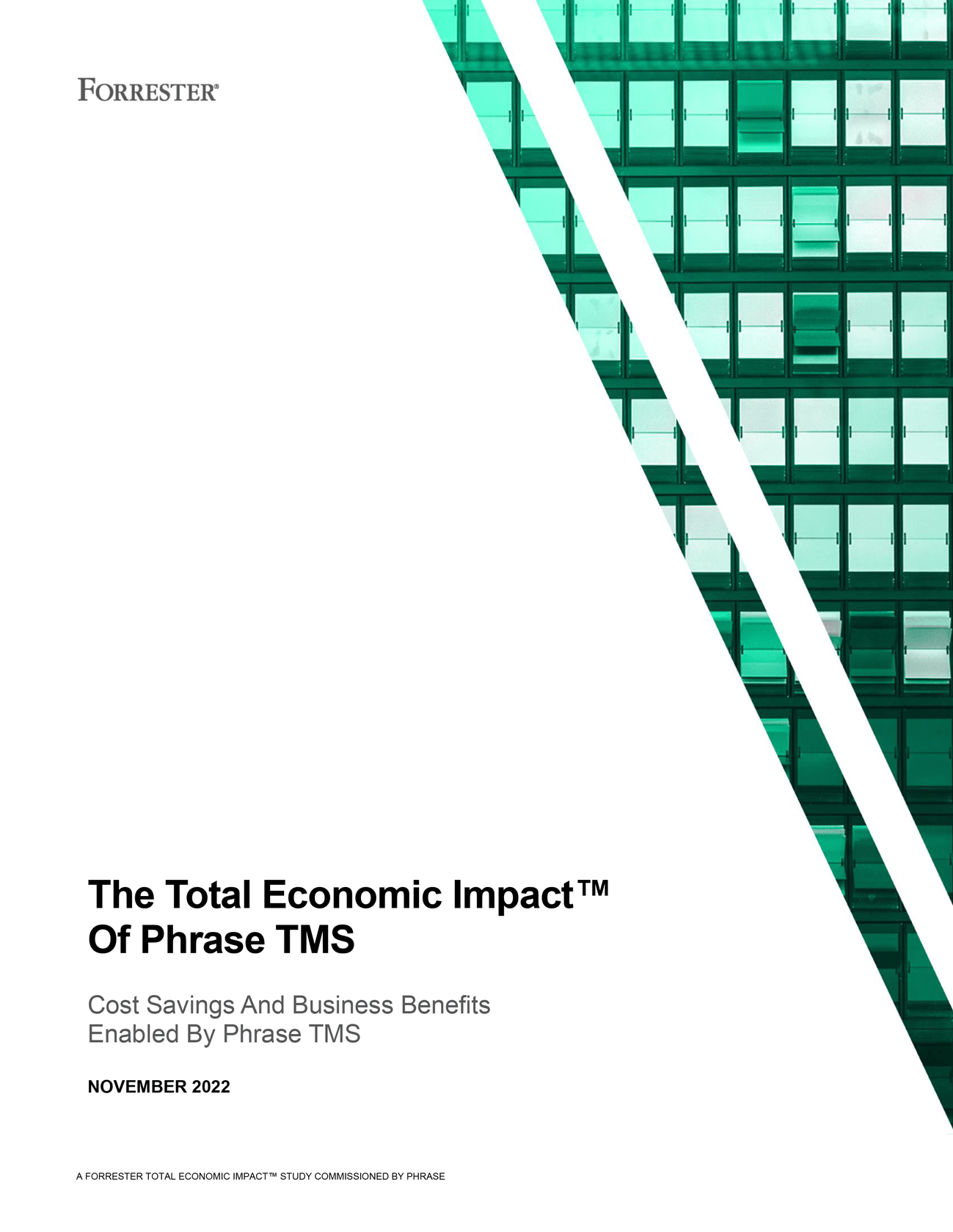 Forrester Consulting
The Total Economic Impact™ (TEI) of Phrase TMS
Find out the potential cost savings and business benefits enabled by Phrase TMS—with this study by Forrester Consulting.
Why approaching localization strategically is key
To understand how Phrase's localization technology delivers return on investment, it's important to first look at how growing organizations typically approach localization. All too often, localization is a siloed process with teams relying on disparate technologies, uncoordinated workflows, and manual processes to get content translated. Often, there's no clear strategy for how to approach localization in a way that's tied to the corporate strategy of the organization.
In other words, the rationale for investing in localization is often a response to immediate needs (e.g., "We need this content translated right away, let's find someone who can do it quickly") rather than an approach that takes the long, strategic view. The perils of this approach soon become apparent: When data-driven decisions take a backseat to reactive decision-making, organizations can quickly find themselves ill-equipped to scale and unable to impact the bottom line.
By contrast, when there's a solid localization strategy in place (e.g., "Our corporate goal to expand into X key market requires following X workflow, prioritizing these assets and languages, adapting these product features, and measuring success by X metric") companies can benefit from:
Faster time to market—by automating processes, eliminating bottlenecks, and increasing collaboration.
Improved scalability—by creating agile, streamlined processes that are designed to scale with the organization's growth.
Better forecasting—as companies have a better understanding of the full scope of their localization needs, thus being able to accurately forecast content delivery schedules and budget for the work appropriately.
Substantial cost savings gained from increased efficiency—by eliminating manual processes, reducing errors and waste, and optimizing resource allocation.
Better execution of corporate strategy—with a clear localization strategy in place, teams can ensure that their offerings align with the corporate vision and objectives.
In short, when you know where you're going, it's easier to get there—and faster. This is exactly where localization technology comes into play, enabling companies to bridge the gap between vision and execution through improved collaboration, scalability, and visibility.
The role of localization technology in strategic localization
When you arm teams with the right technology, all of the above becomes possible. The more effective the tool, the more efficiently all teams—marketing, customer service, sales, product, ecommerce, and more— can go:
From manual processes to automation: Automated workflows—e.g., pulling content from a CMS or design tool, passing it to the localization team, and routing it back to the same system—not only eliminate manual processes but also reduce errors and waste.
From disparate tools to integrated solutions: Unified localization technologies eliminate the need for multiple disconnected tools and enable faster workflows that can scale with the organization's needs.
From reactive decision-making to data-driven forecasting: Advanced analytics capabilities make it easier to track progress and understand timeframes for delivery, thus simplifying forecasting.
From siloed teams to unified collaboration: By unifying all pertinent information about a project in 1 place, organizations can ensure that nothing falls through the cracks and all stakeholders—developers, designers, marketers, linguists—are on the same page.
From limited scalability to limitless possibilities: When teams are armed with the right tools, localizing to 1, 5, or even 30 languages involves minimal additional effort, enabling organizations to move quickly and efficiently into new markets.
The Phrase Localization Suite: a market-leading localization solution
For enterprises looking for a technology partner that offers end-to-end localization solutions, Phrase has proved itself superior to legacy solutions. Through its cloud-native platform built to support global organizations as they increasingly move to agile software development workflows, Phrase enables teams to move quickly and cost-effectively.
However, certain aspects of the impact of Phrase on organizations' bottom line were harder to quantify, and we wanted to go beyond qualitative advantages to unveil, in a concrete way, what makes investing in Phrase so strategically important and beneficial.
That's why we commissioned Forrester Consulting to conduct a Total Economic Impact™ (TEI) study and provide independent third-party insights into the actual economic impact of our solution.
The TEI methodology
The TEI methodology—used for over 20 years by technology consumers and technology organizations—helps business leaders understand the full scope of the economic impact of a technology investment.
It consists of 4 components to evaluate investment value: cost, benefits, flexibility, and risk. Forrester then develops a custom study—based on due diligence, independent customer interviews, and primary research—and conducts it by executing custom quantitative or qualitative research.
The study
For the purposes of this study, Forrester interviewed 5 Phrase customers to understand the benefits, costs, flexibility, and risks involved in operationalizing localization at scale through Phrase TMS. Then it aggregated the interviewees' responses and combined them into a single composite organization in order to create a Total Economic Impact (TEI) study.
The findings
The TEI study revealed that organizations that have invested in unified localization services supported by an integrated suite of solutions have seen a significant return on that investment through improved forecasting and scalability, substantial efficiencies gained, and improved execution of corporate strategy.
Interviews and financial analysis found that a composite organization utilizing the platform experiences benefits of $3.18M over 3 years versus costs of $507K, adding up to a net present value (NPV) of $2.67M and an ROI of 527%. Phrase enables companies to:
Cover the full range of localization needs for enterprises, delivering high-quality results and fast turnaround times.
Achieve strong collaboration and automation across teams and workflows.
Work with their chosen specialist translation vendors and control finances, vendors, and reporting from one centralized hub.
Leverage the combined power of machine translation and AI to translate all content and increase communication with international audiences.
Improve processes and integration with existing systems, eliminating manual efforts and increasing team efficiency.
Scale and grow localization operations quickly and flexibly.
Increase employee satisfaction in localization teams.
Forecast and control translation costs.
Dive deeper
A look at the Total Economic Impact™ (TEI) of using Phrase
Georg Ell, CEO of Phrase, and guest speakers from Forrester Consulting discuss the impressive ROI results of using Phrase and the technologies helping to deliver them.
Unlock opportunity supported by Phrase
Content and product localization are competitive differentiators with the power to unlock global markets, create new revenue opportunities, and improve customer and employee experience. Phrase acts as a lever to help organizations gain the speed, predictability, and scalability they need to support global initiatives and customer engagement.
The return on investment is clear: Through a better alignment of localization services with corporate strategy and gains in efficiency, companies that invest in Phrase can expect to see significant financial benefits and substantial cost savings—and Forrester's TEI study provides the third-party validation for our solution's impact on the bottom line.
Speak with an expert
Want to learn how our solutions can help you unlock global opportunity? We'd be happy to show you around the Phrase Localization Suite and answer any questions you may have.
Last updated on June 22, 2023.