Phrase and beyond
Automate Localization with Phrase Orchestrator: As Simple as Drag and Drop
Explore how the powerful add-on to the Phrase Localization Suite can support your globalization efforts by automating workflows tailored to your needs.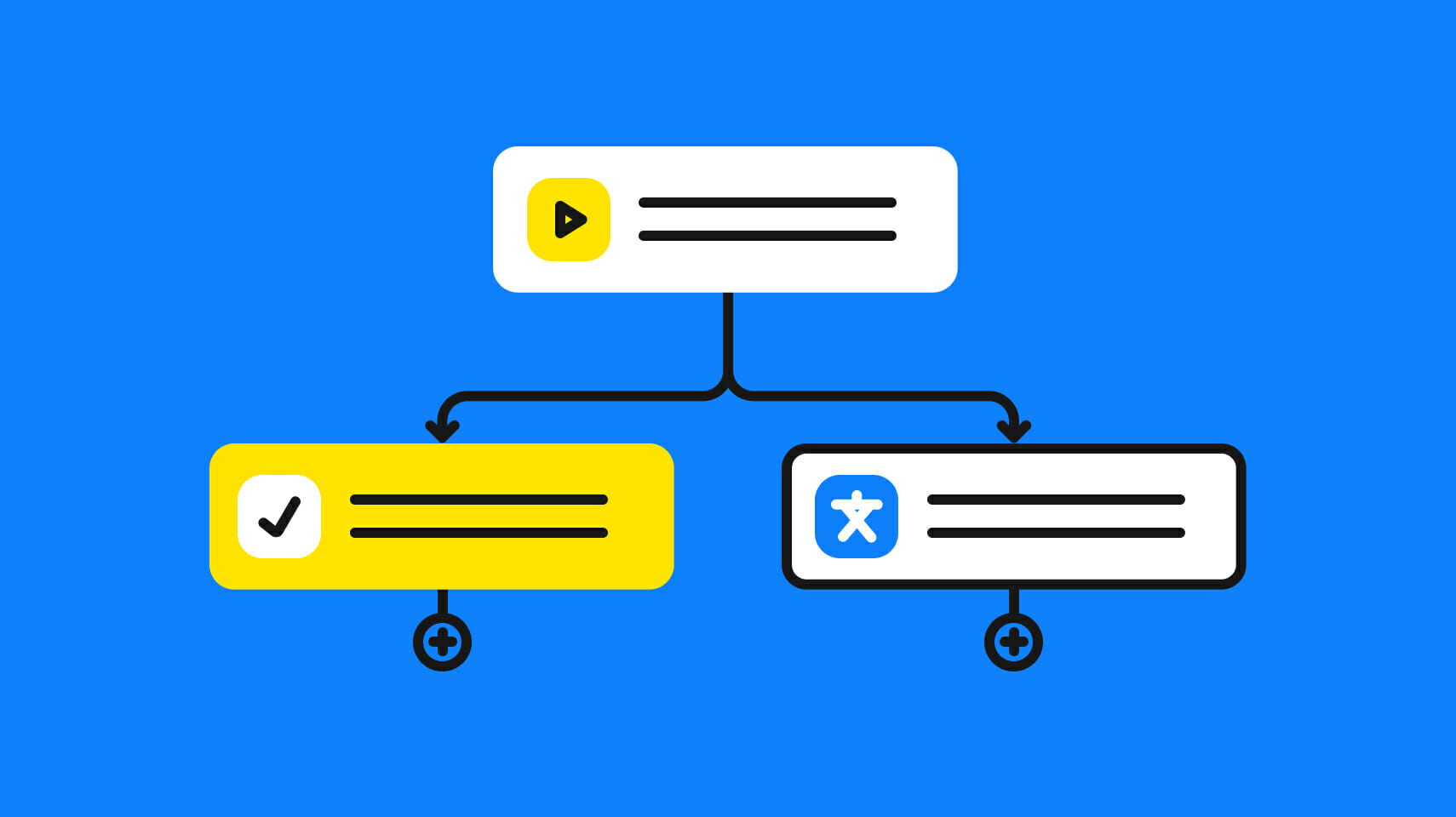 Strong localization strategies call for robust technology to deliver significant business impact globally. Direct visibility into every step of a localization process and the ability to build, control, and automate workflows quickly, efficiently, and effectively are key to driving sustainable global growth.
To help localization teams make the most of it, Phrase has added Phrase Orchestrator to its already impressive suite of localization technology. The workflow automation builder allows users to customize, control, and manage the full functionality of Phrase TMS and Phrase Strings from a single interface.
With Phrase Orchestrator, the standard for localization solutions is going up to a whole new level. In this guide, we'll walk you through how our latest add-on works and in what ways it can support brands and language service providers to unlock new value opportunities worldwide.
Sustained global growth rests on strategic localization
On its own, localization can't usually do much. Simply hoping for the best without integrating localization into a comprehensive global expansion strategy that ties into your core business objectives is a surefire way to miss out on the potential of localization. What's more: If non-strategic, localization may even stunt growth and limit opportunity.
The opposite is also true: When you take ownership of your localization efforts to align them tightly with your strategic objectives, you can achieve incredible results—and a crucial part of that process is building effective localization workflows that connect the different parts of the localization chain.
Building effective localization workflows
Every company is different, and a generic approach to localization can barely make the cut: Involved stakeholders vary from one organization to the next, processes and existing tools differ, the scope of projects and type of content vary, etc. The ability to build workflows that suit your own needs and strategy, as well as the requirements of each specific project, is paramount for success.
An effective localization workflow seamlessly connects the various stages of localization and meets your specific business needs by enabling you to:
Increase operational efficiency and productivity
Boost cross-functional alignment and collaboration
Enhance the visibility of the project from start to finish
Eliminate potential bottlenecks or flows early on
Break down data silos and make better-informed decisions
Allocate resources more effectively, etc.
The final result of an effective localization workflow should be a well-oiled machine that connects every aspect of your company's specific requirements, allowing the localization function to work in harmony with the product development process.
The ultimate goal is timely localized content that meets the highest quality standards and reaches global customers quickly and seamlessly while saving you time and effort.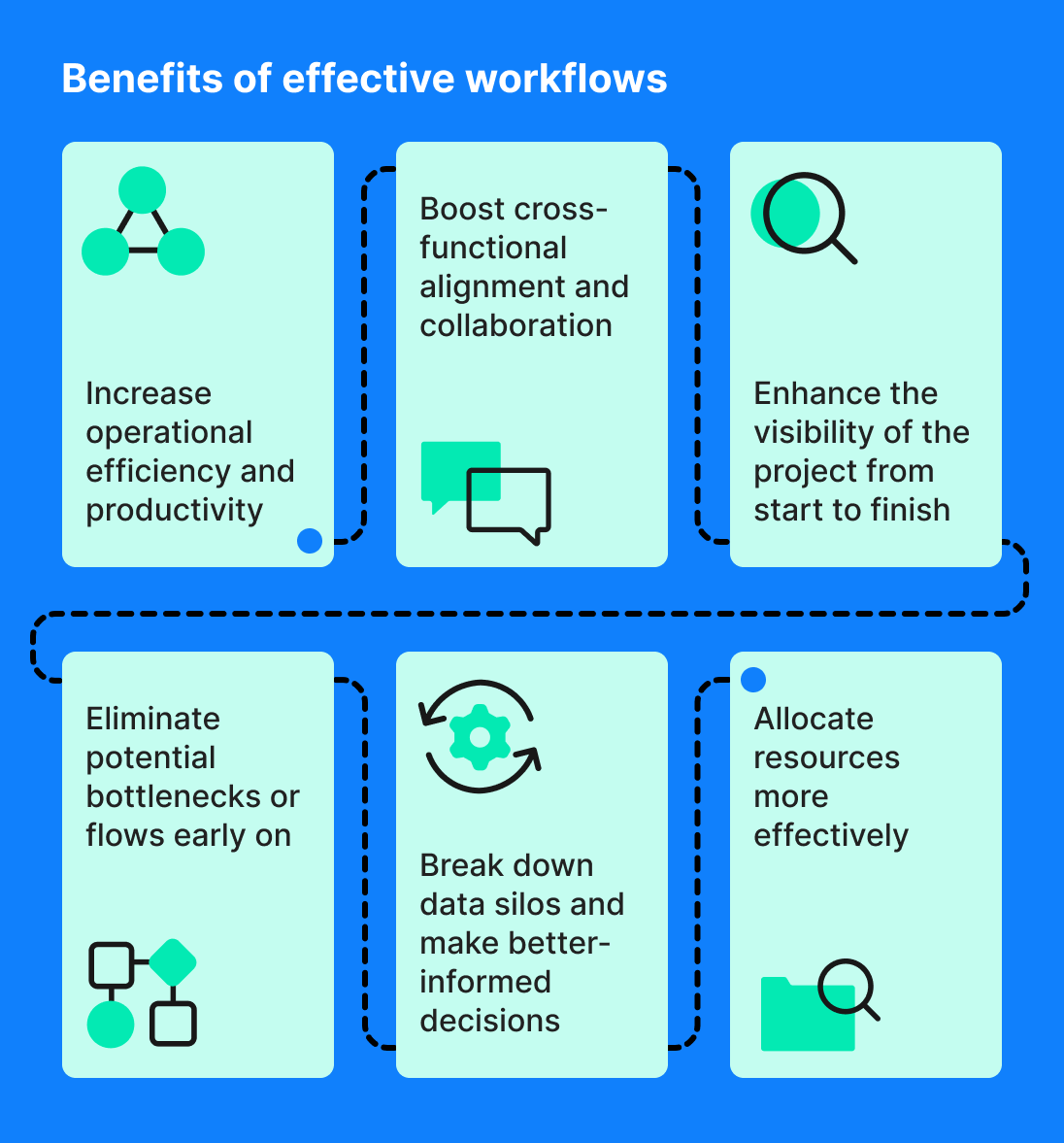 What stands in the way of localization workflows that drive true global growth?
Building an effective workflow is no small feat. The most cumbersome part is the limited customization possibilities that most localization and translation management solutions offer.
Too often, companies have to settle for a one-size-fits-all approach that's far from ideal or even effective. Workarounds, middleware, third parties, and manual processes become the only way to achieve desired results, introducing unnecessary complexity, effort, and costs. This deteriorates overall efficiency.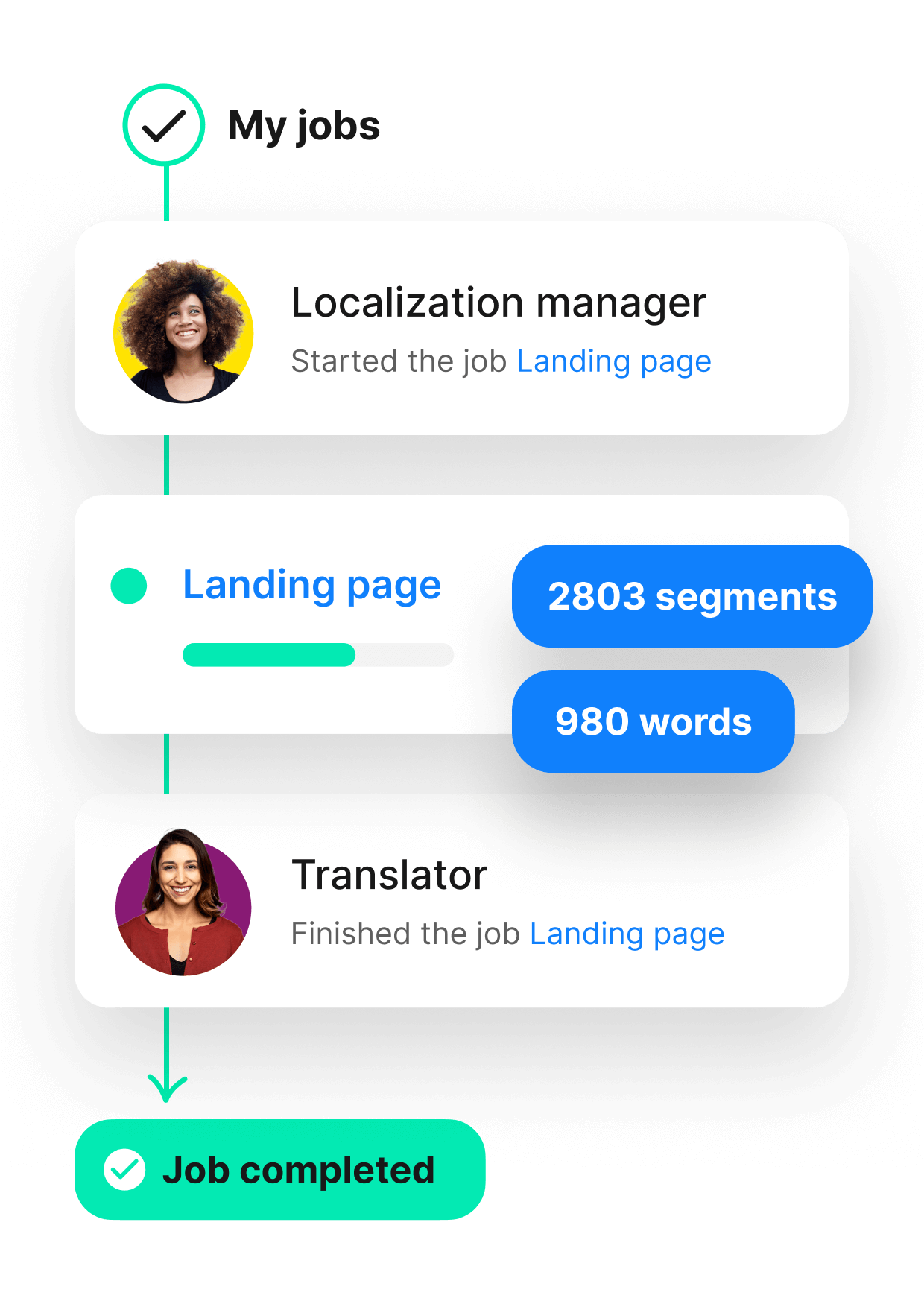 Customer story
Saving 100 working hours with automated translation workflow
Learn how Phrase helped EET overcome its globalization challenges with its complete technology suite for high-quality, scalable, and fast localization.
Meet Phrase Orchestrator: Unprecedented workflow automation and customization
Phrase Orchestrator is a powerful tool that raises the bar for localization platforms by eliminating the need for workarounds and manual, time-consuming, and resource-heavy processes, often involving developers or third-party agencies. Through its comprehensive, fully customizable solution for connecting different parts of the localization chain, Phrase Orchestrator offers an unprecedented level of automation and control across your organization.
You can now orchestrate complex localization workflows within a single graphical interface, connecting Phrase's suite of products—including Phrase TMS and Phrase Strings—in one place. The workflow builder provides 99.99% of API functionality, and its canvas allows you to add custom triggers, actions, and conditions as needed.
The result is an all-around, flexible automation solution that lets you construct the exact workflows you need, using the functionality that Phrase Localization Suite provides. For example, you can design a workflow where the trigger is a file being uploaded to Phrase TMS, and the action is automatically pre-translating the content.
How Phrase Orchestrator came into being
At Phrase, customer-led innovation is at the heart of what we do. We're always working to meet the differing needs of our customers whether they are large enterprises with established processes and limited flexibility, or smaller organizations such as start-ups looking to grow their business.
We know that one-size-fits-all solutions just don't cut it. That's why we decided to create a tool that's adaptable and truly powerful. In light of this, a universal solution became necessary to orchestrate all the Phrase Localization Suite functionalities—so we mapped out an architecture that could scale with our needs and serve as the foundation for our new product.
The result is Phrase Orchestrator—the most versatile toolset to build, maintain, and adjust automated workflows that fit our customers' processes and requirements, regardless of how different they might look from one another. Now, it's easier than ever to control Phrase's functionality from a single workflow builder.
As Simone Bohnenberger-Rich, Chief Product Officer, puts it, with the release of Phrase Orchestrator, we continue to build momentum in pushing the boundaries of localization technology:
Phrase Orchestrator is a core component of our localization suite. By bringing this impressive capability to market, we're really pushing the boundaries of what localization technology can deliver to our customers. It's an exciting time for the company as we are leading the charge for fast, high-quality, and scalable localization that was previously unattainable.
Functionalities and benefits
Phrase Orchestrator provides a comprehensive set of functions and features that let users customize and automate their localization workflows without the need to write and maintain code. The 2 key functionalities in Phrase Orchestrator are the workflow editor and management experience. Let's have a detailed look at each and outline their core advantages.
Workflow editor
In the workflow editor, you can construct complex localization workflows with triggers, actions, and conditions. Every workflow starts with a trigger, i.e., a specific event in the Phrase Localization Suite (e.g., "File uploaded to Phrase Strings project"), to which users can add any number of actions that contain some functionality, like "Create a Phrase TMS project", to run as a series or in parallel.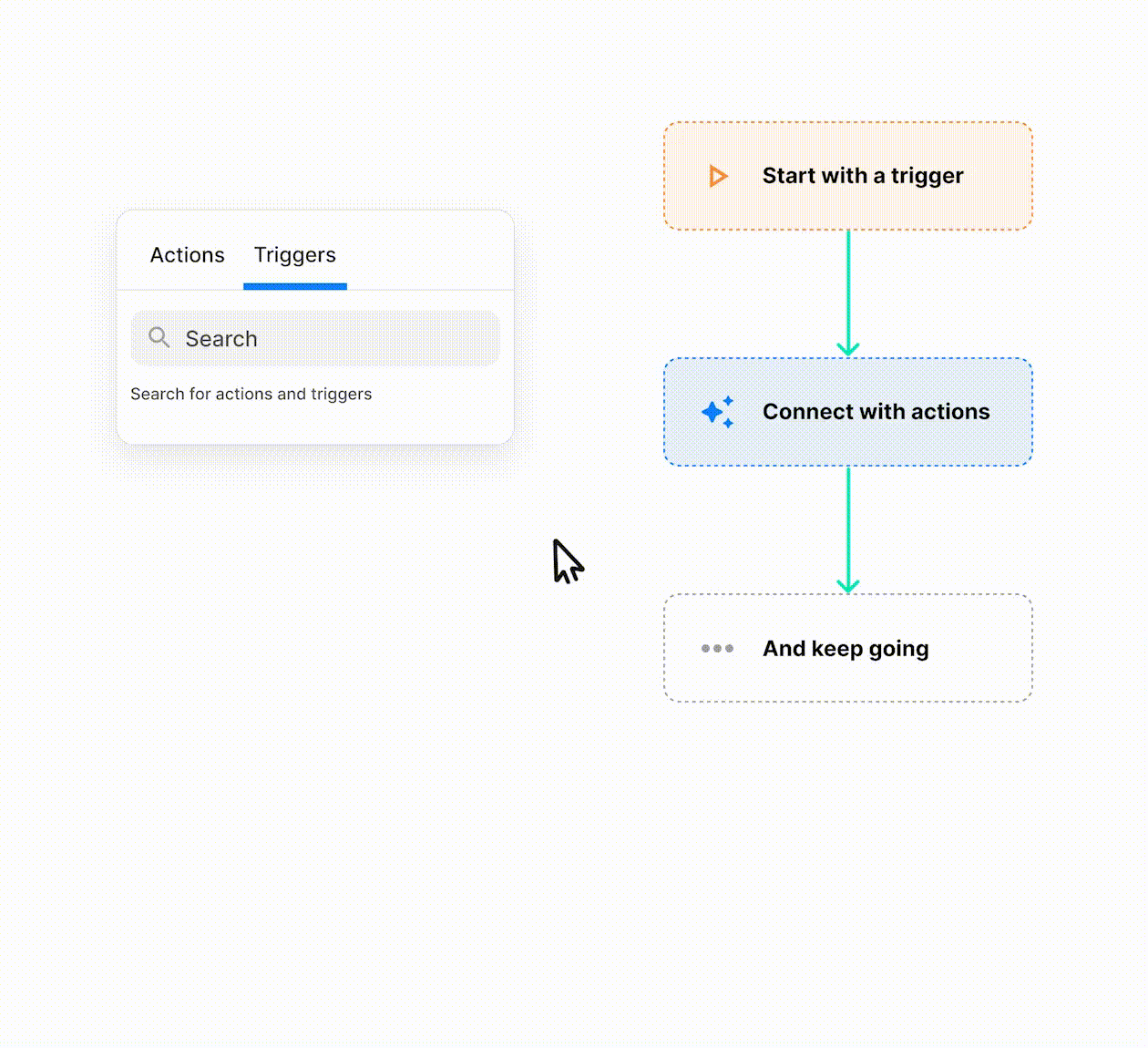 Phrase Orchestrator lets users automate custom localization workflows with drag and drop from a single interface
Management experience
Management experience enables users to manage, organize, and monitor their workflows. Users can create folders to keep their workflows organized, create multiple versions of a workflow, edit them and switch between them.
On top of that, users can monitor functionality to keep track of workflow performance and errors, inspect every single execution of their workflow, and see if and which problems occurred.
Benefits of using Phrase Orchestrator
Phrase Orchestrator is available as an add-on for Phrase TMS and Phrase Strings customers with an Enterprise subscription, allowing them to:
Save money: Because there's no need to build middleware or hire a third-party agency to build custom scripts and automated workflows, costs reduce significantly.
Save time: By automating tasks and speeding up localization processes, organizations can spend more time innovating their product and building their brand to grow across markets.
Improve scalability: An infrastructure-as-a-service model as resilient and robust as Phrase's can easily scale up to meet the organization's growing requirements.
For a full overview of the capabilities and benefits of Phrase Orchestrator, make sure you watch our on-demand webinar.
Take automated localization to the next level
By taking localization automation to the next level and with flexibility worth its weight in gold, Phrase Orchestrator redefines connectivity by enabling you to build customized localization workflows that are fully tailored to your needs. Get your hands on the 30-day free trial of Phrase Orchestrator, and you'll be amazed by what you can do with it.
Get your free trial
Try Phrase Orchestrator for 30 days for free and take localization to the next level by building automated workflows like never before.
Last updated on September 25, 2023.