Localization strategy
Cracking the Code of SaaS Marketing Localization in 5 Key Steps
Discover the 5 essential steps to crafting a strong localization-friendly B2B marketing strategy for your global software and create demand from day one.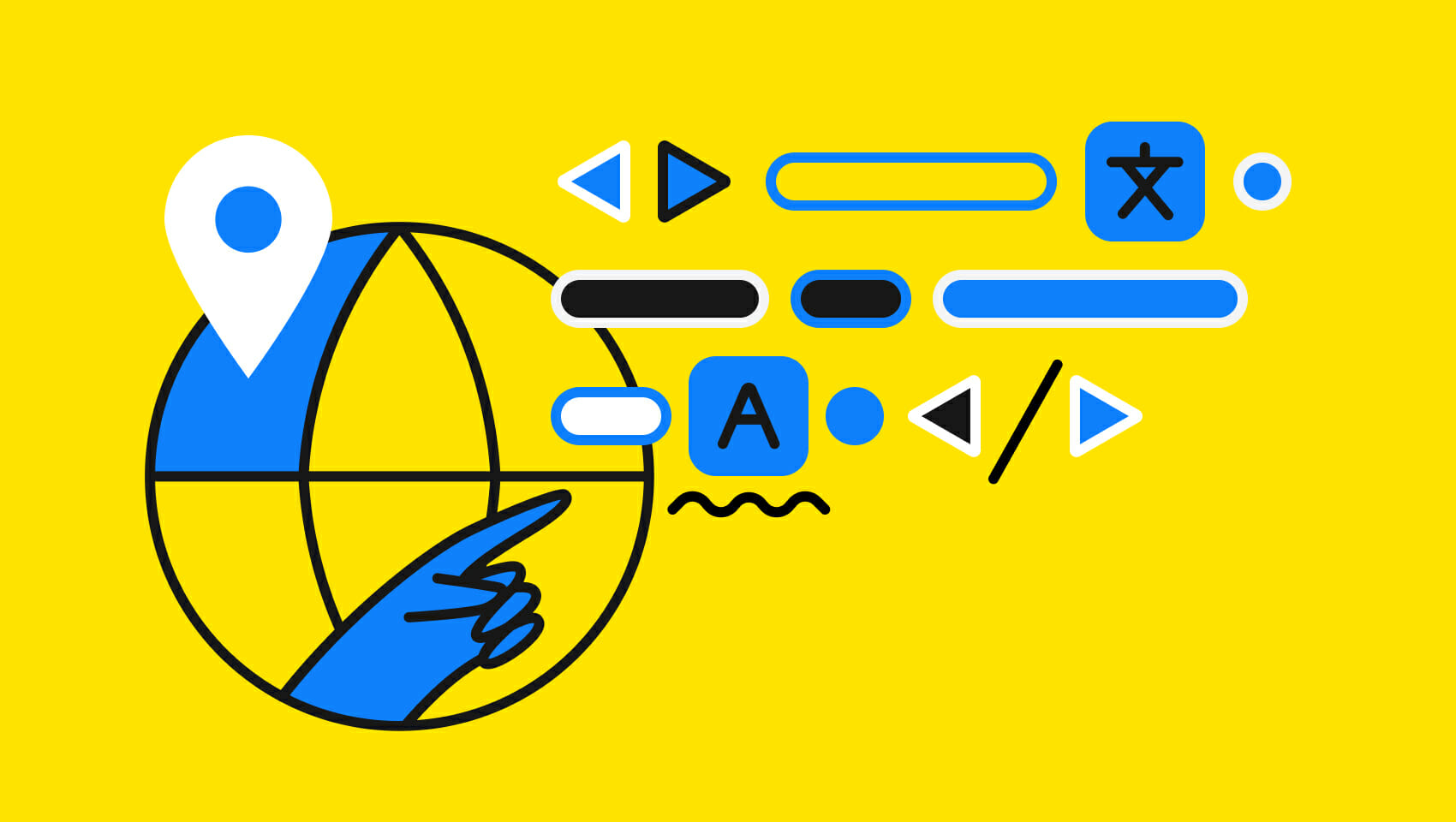 Courses, entertainment, shopping, and just about everything else have all gone digital in a big way, and societies have adapted lightning fast. Similarly, software products must also attune their look and feel to the unique characteristics of each society they land in. Otherwise, no matter how good the product, it may quickly become irrelevant.
Software localization enables enterprises to create products that are accessible, relevant, and appealing to users from different cultures—driving higher customer engagement and global revenue. However, for that to happen, customers need to be aware that the product exists in the first place. This is where SaaS marketing teams act as a "come-hither" finger.
Through targeted campaigns, marketing teams are tireless in beckoning potential customers to try out the product—and just like the innocent single-finger beckon in the US is demeaning in the Philippines, a one-size-fits-all marketing strategy can hardly cut it. Keep reading to uncover the 5 essential steps to creating a localization-friendly marketing strategy to effectively promote global software.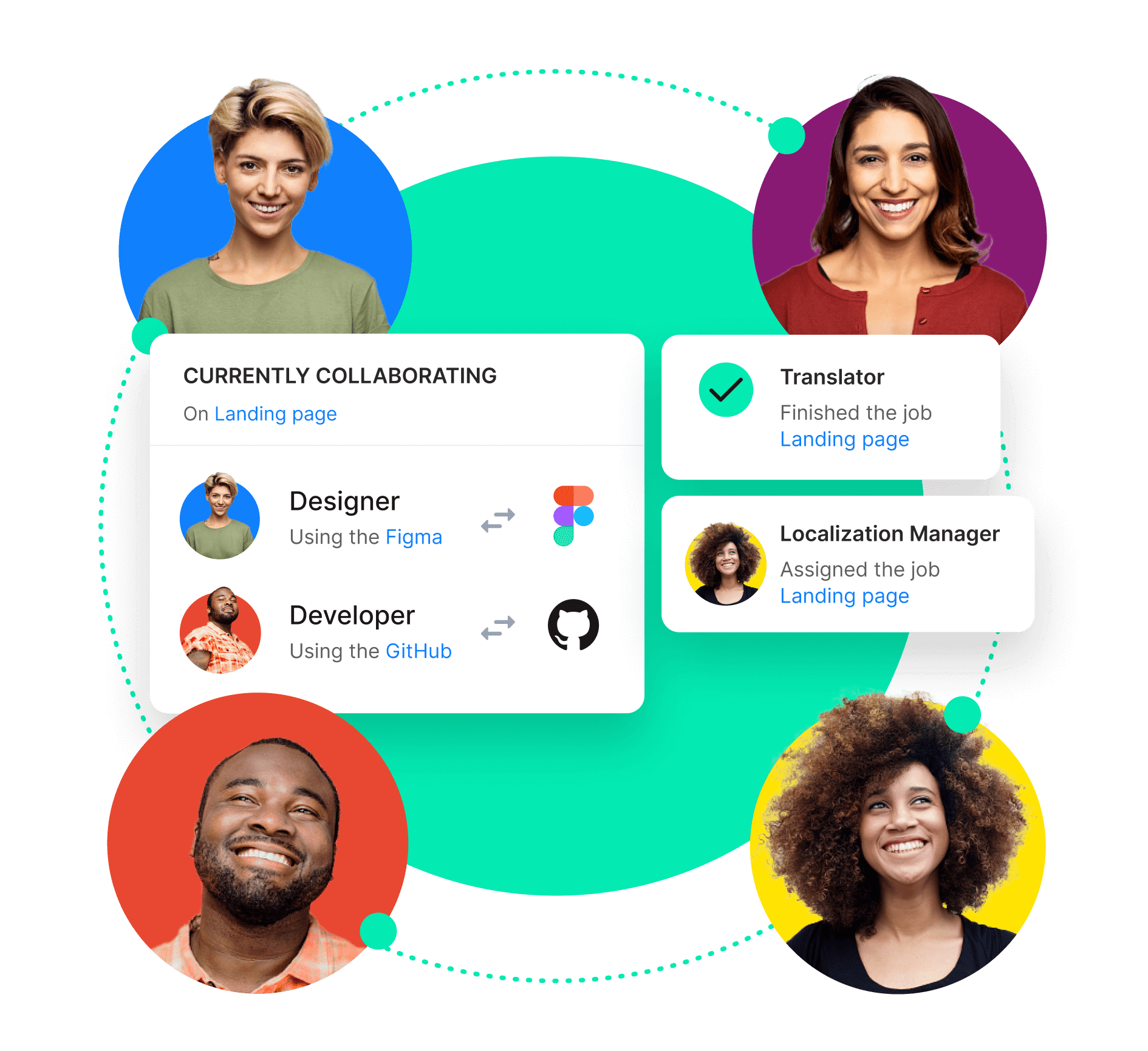 Unlock global business with the Phrase Localization Suite
Expand into new markets with all the tools you need in one technology suite for high-quality, fast, and scalable localization.
Navigating the global software market: Major hurdles to overcome
Marketing software to other businesses is already an intricate challenge. Add the complexity of several languages, cultures, economies, and business systems into the mix, and you have a veritable labyrinth of variables to consider.
To succeed in the ever-growing global software market, B2B marketers must:
Speak the customer's language: Gartner's Digital Markets 2022 Global Software Buyer Trends survey revealed strong buyer preferences for localized marketing assets, with percentages ranging from 68% to 82% across various categories—from support services and user interfaces to training materials and more.
Understand the target market and audience: Marketers must be able to speak their audience's language both literally and figuratively. That means understanding cultural decision-making processes, purchasing trends, value systems, pain points, etc.
Localize whole strategies: Some countries might respond better to user-review-based campaigns, others find flexible pricing models most appealing, and yet others might prefer a more aggressive "free-trial" approach.
Use relevant channels: Marketing through WhatsApp in the US might be a flop, but it could be the only way to reach users in certain parts of Latin America.
Nurture customer relationships: Even before customers have converted—and whether they are using a competitor's solution or none at all—marketers should be engaging them in meaningful conversations and providing helpful content that goes beyond pushy sales propositions.
Rely on data: Marketers must be able to continually analyze performance to drive data-based decisions.
Stay agile: The continuous delivery of multilingual content can often challenging, especially when quality and brand consistency can so easily be compromised.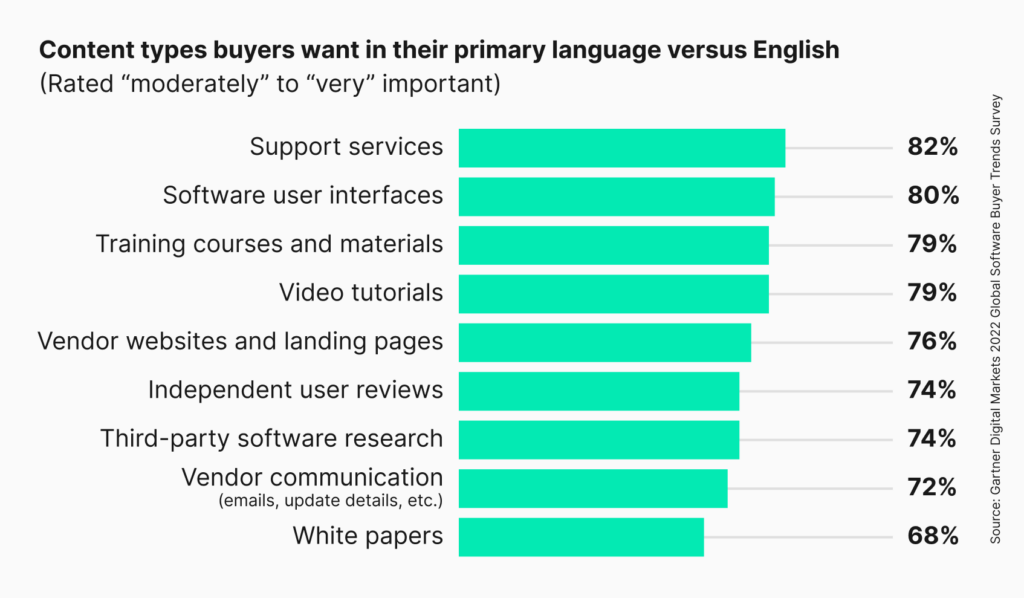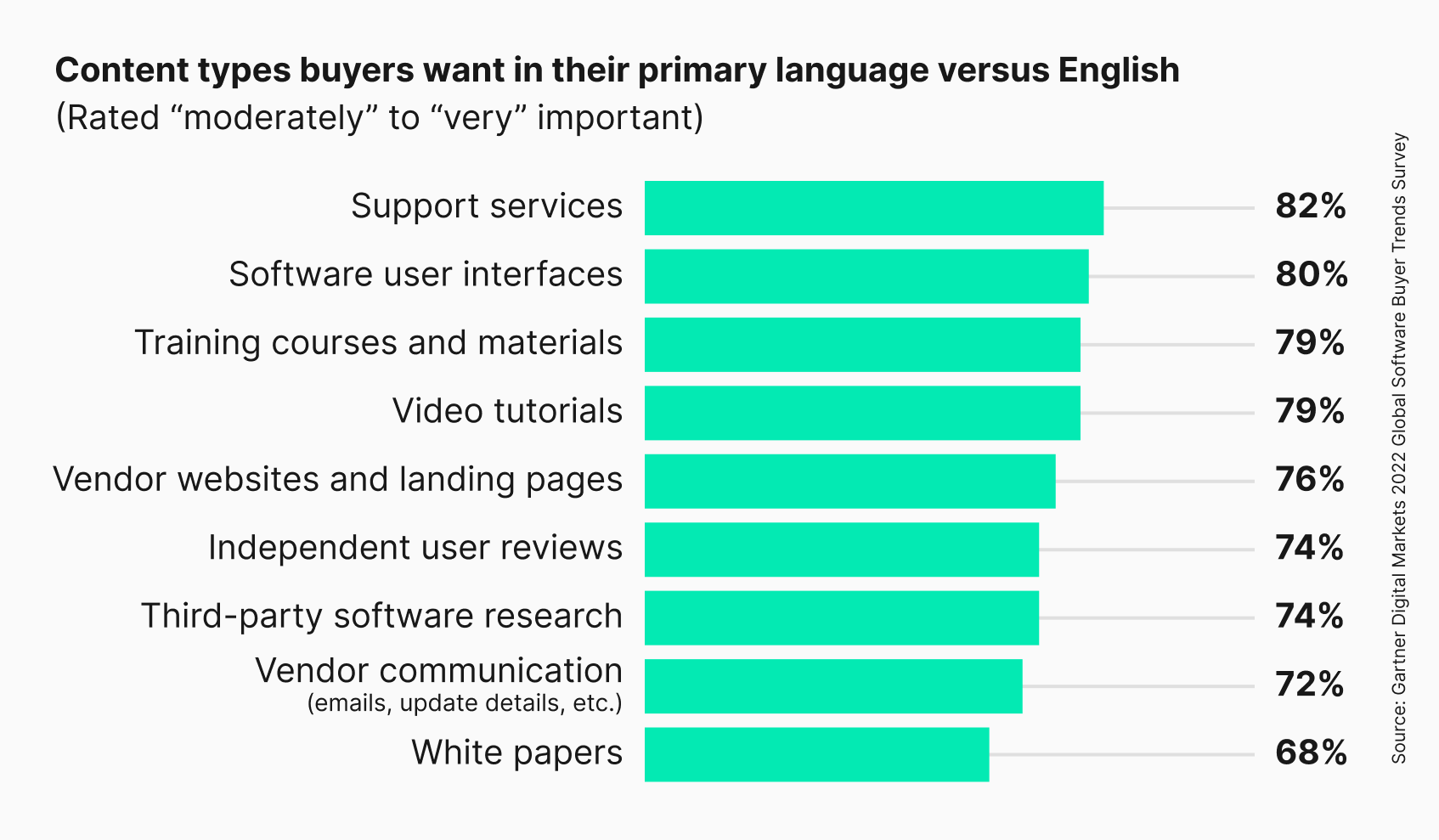 Building a localization-friendly SaaS marketing strategy
The key to a localization-friendly marketing strategy in the software industry is to consider localization from the outset—instead of relegating it to an afterthought.
By swapping half-translated copy, generic images that don't jive with the culture, and out-of-context approaches for custom-built localized campaigns, software marketers can ensure that the customer journey is as smooth and glitch-free as possible from the first contact to post-purchase interactions.
This requires making localization an integral part of the entire marketing cycle—from analysis, design, and content creation to execution and performance tracking.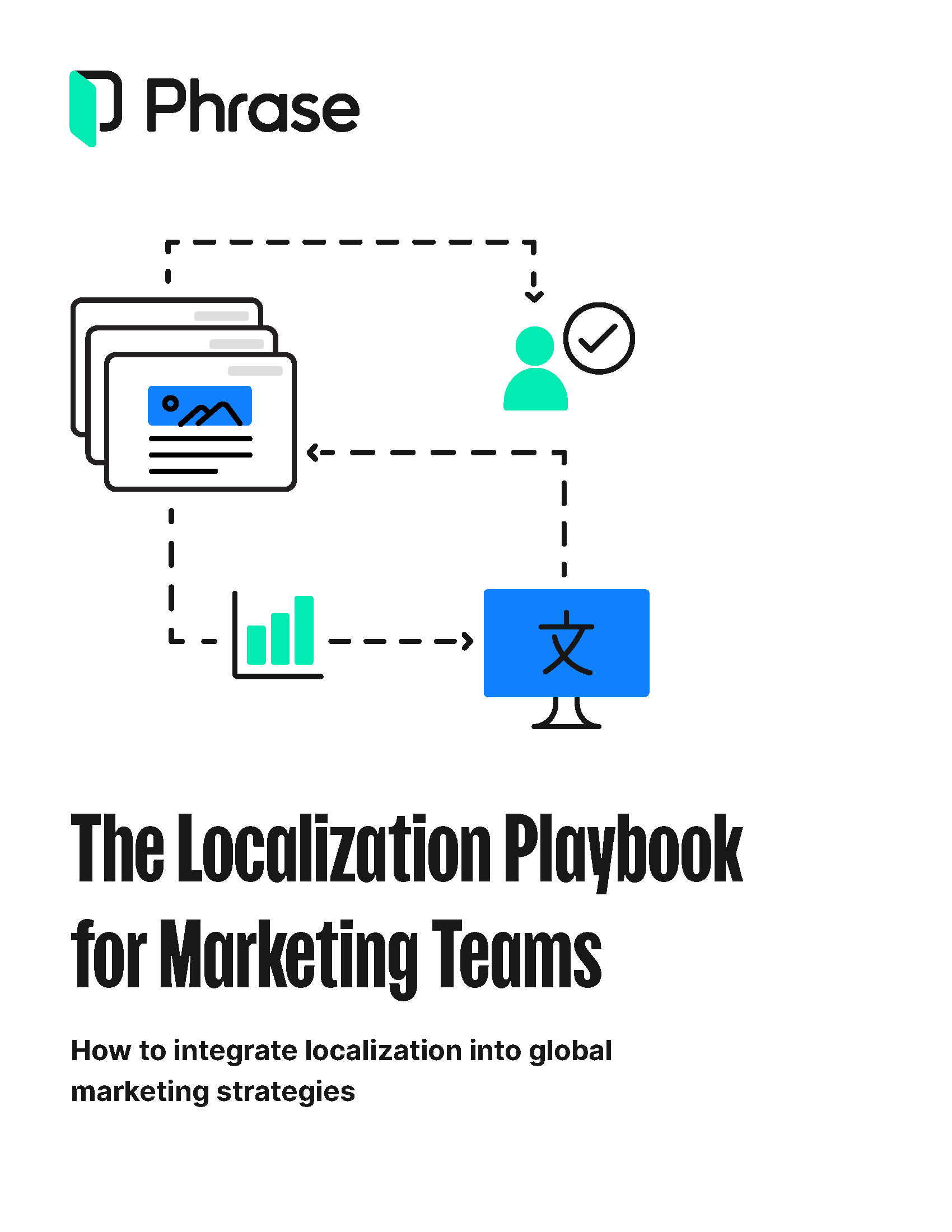 Free download
Make global marketing strategies work in local markets
Harness the power of localization to effectively connect with audiences worldwide and discover best practices for making your next global marketing endeavor a success.
Here are 5 crucial steps to creating a successful SaaS marketing strategy that's both localization-friendly and highly effective across markets:
Research each target market and create local customer profiles
What markets show a rising GDP and disposable income? What local activation methods can you use to capitalize on untapped potential growth areas? What businesses are you targeting? Which of your existing content resonates with them? How do competitor sites address the same target group? What problems can your product solve for those businesses in each target market?
The answers to these questions should come from researching each market and crafting local customer profiles that consider the market's unique characteristics—demographics, behaviors, business models, etc. All of this will help you get a better understanding of the cultural nuances of different markets and what pain points drive companies to purchase software in those regions. 
Gather all the information you can about your current and potential customers and use it to inform your localization strategy. Often, there's more low-hanging fruit than you think. For example, if you see a significant number of visitors from France, but your site isn't available in French, that's an obvious localization opportunity.
Set up a cross-functional team with localization capabilities in key markets
To ensure the localization efforts are as seamless and efficient as possible, marketers should set up a well-oiled machine with contributors from different departments: marketing strategists, localization experts, content creators, developers, designers, project managers, etc.
A clear process for moving content through the team should be in place. Additionally, appointing a localization manager who reports directly to the VP of marketing or CMO while working closely with on-the-ground marketing teams in each region helps ensure that localization integrates seamlessly into the company's global marketing strategy.
Local-market quality leads—whether in-house or outsourced linguists, or in-country marketing teams—are crucial to flag any issues or inconsistencies in the localized content before it goes live. These teams can also champion local activation efforts, liaise with local press and influencers, and act as the bridge between global marketing strategies and local market needs.
Finally, a cross-functional marketing localization team requires shared goals and data. By having a joint understanding of key marketing and localization-specific metrics, the team can make informed decisions to optimize localized content. For example, if marketers want to improve click-through rates (CTRs), translators can focus on adapting CTAs in a way that will resonate with users in different markets.
Create audience-specific content
If you have a lot of existing content in English, it might be tempting to just send it off for translation and call it a day. However, text that doesn't consider cultural nuances, local preferences, and target audience habits won't be immersive or effective. Audience-specific might mean rewriting some of the copy, creating video content, adapting email templates, etc.
Some assets, like SEO content, might need to be completely remade from scratch or highly localized to account for the absence of equivalent keywords, different search intents, varying format and content expectations even when the keyword does translate, unequal levels of buyer education across regions, local link-building requirements, and more.
Some other assets lend themselves better to regular translation—like product descriptions, to machine translation—like product reviews, or to an optimized combination of both—like whitepapers.
On-demand webinar
Localization: Why you need it, and how to start
Learn from our expert panel how to prepare for global expansion, overcome common localization obstacles, and drive international growth.
Prioritize assets for localization based on their return on investment
You don't always have to go all-in with localization right from the start. Take the time to analyze every asset and investigate how much return on investment (ROI) each one can bring.
In many cases, it makes sense to begin by localizing your most successful and prominent content pieces and then expand gradually. If you want to localize in full, it can be useful to identify the type of content that won't harm user experience if run through machine translation (MT).
For content that doesn't get much traffic or isn't as crucial, for example, you can use MT, at least initially. You can also decide if you'll have a linguist edit the output. Since users typically scan through website or app content, looking for specific keywords and important information, MT can deliver a satisfactory result in many cases.
For example, users don't normally expect product reviews on the app store—highly dynamic and quickly perishable content—to have the same level of linguistic quality as a testimonial that you're featuring front and center on your homepage. Similarly, a CTA below your homepage fold should always be manually translated for maximum impact, while the footer of your product page can be harmlessly machine translated with minor touch-ups.
Let localization technology do the heavy lifting
Regardless of the exact localization setup you go for, automation should be part of any localization workflow, and you need the right platform and tools to support it. However, the company size, the type of content involved, and the required languages will all affect the degree of automation needed and the features you can't do without.
In general, any marketing localization process should include the following as a minimum:
A single point of truth for all your multilingual content: This is crucial to store all your localization assets, manage the content in multiple languages, reuse previously translated content, monitor progress and performance, share terminology and contextual data with translators, and generate reports for data-driven decisions.
A centralized wiki: Documentation is key to ensure your team is on the same page regarding processes, procedures, brand and style guidelines, how to write localization-friendly content, etc.
Integrations with third-party marketing software: Your chosen localization platform should offer native integrations—i.e., without any middleware—with the rest of your marketing tech stack. From your CRM and CMS to your ecommerce platform and marketing automation tools, system integration is what facilitates scalable marketing localization.
Open communication channels: When members of different teams with a stake in the localization process can communicate effectively and quickly, bottlenecks are cleared instantly, and issues can be addressed faster. For example, marketers can provide feedback or clarification directly to translators, translators can ask designers to add space for UI elements with longer translations, etc.
Make the most of SaaS marketing localization with Phrase
Adopting localization technology is key to maximizing the impact of your global marketing campaigns. Growing SaaS businesses worldwide with groundbreaking software products trust Phrase—a fully integrated suite of translation automation technology—to reach more people, make deeper connections, and drive global growth.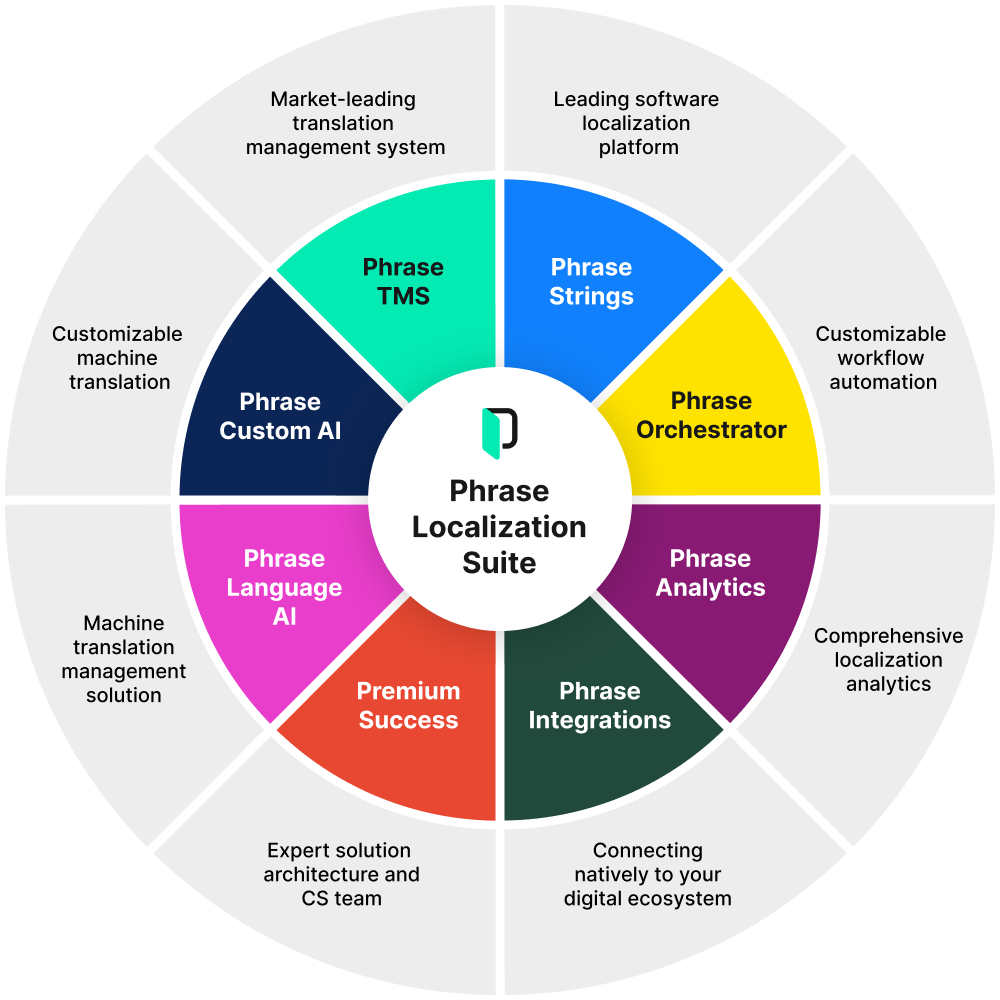 The Phrase Localization Suite seamlessly connects with your digital ecosystem, catering to your current needs while scaling effortlessly as your requirements evolve. Add fully flexible pricing, and it's easy to see why marketing teams around the world choose Phrase to launch multilingual B2B campaigns with the best possible quality and consistency:
Eliminate repetitive, manual work with smart automation.
Keep all team members across time zones on the same page and all files in one place through a single, cloud-based localization platform.
Combine traditional translation technology like CAT tools, translation memories, and term bases with AI-powered machine translation capabilities.
Submit content for translation in familiar file formats: DOCX, PSD, SVG, HTML, etc.
Attach screenshots to segments for translation and enable comments to provide context for linguists.
Let linguists check their work in its native format with real-time changes in an in-context preview.
Leverage out-of-the-box integrations with your preferred marketing automation platform, CMS, or CRM—HubSpot, Adobe Experience Manager, WordPress, Drupal, Contentful, Contentstack, Sitecore, Kontent, etc.
Rely on a holistic approach to data security and encryption through an information security management system.
Speak with an expert
Want to learn how our solutions can help you unlock global opportunity? We'd be happy to show you around the Phrase Localization Suite and answer any questions you may have.
Last updated on September 15, 2023.