Why Migrating to Phrase Is Easier Than You Might Think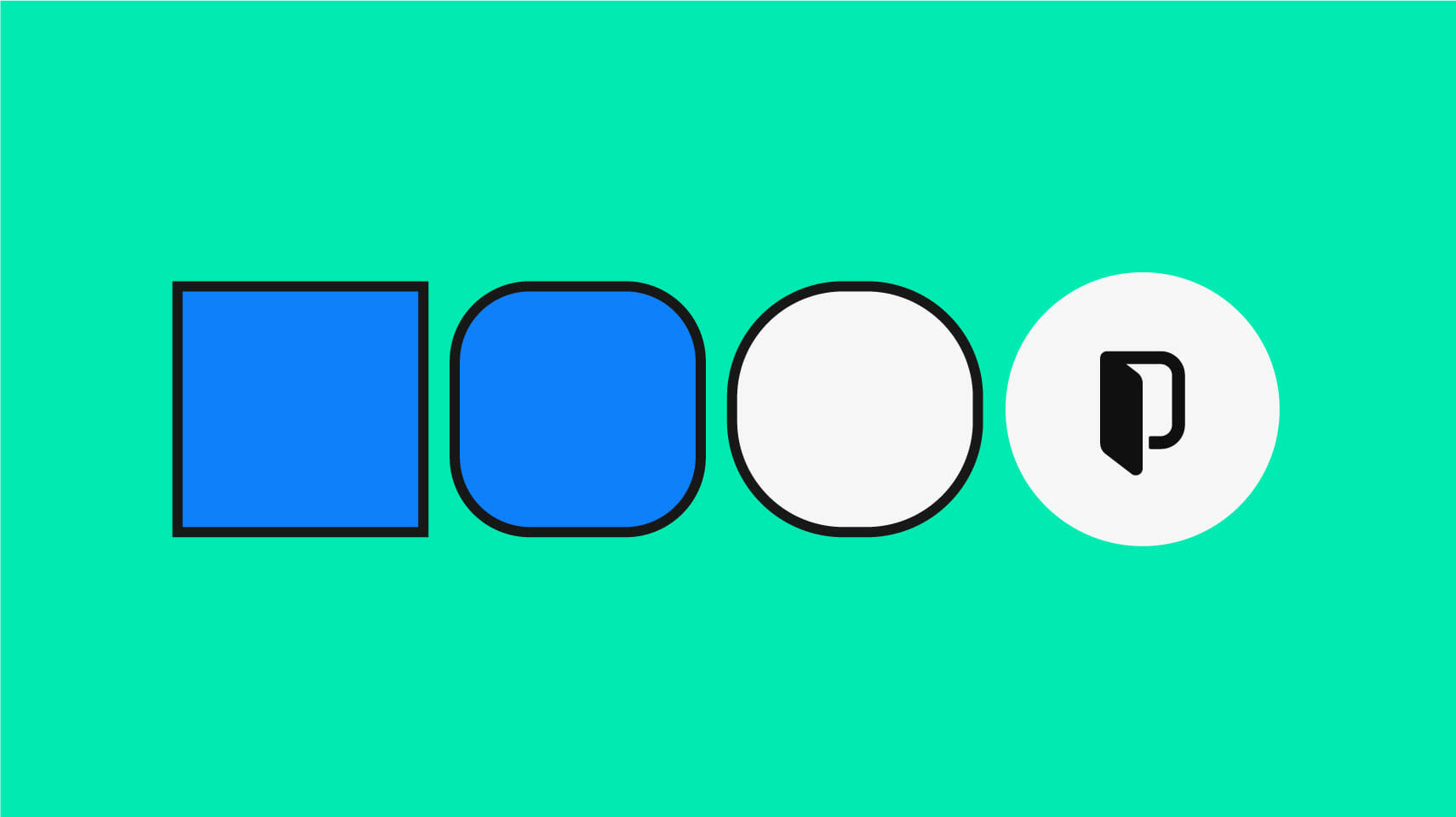 The thrill is real: Companies that implement localization technology are overjoyed with the improved visibility into their translation pipeline, the time and cost savings derived from automation, and the ability to speed up the localization process. If only they would have done it earlier.
Nevertheless, as time goes by, their chosen solution may stop being fit-for-purpose, and concerns start creeping in. This is usually the point where organizations start thinking about migrating to translation software that can better cater to their needs. Until the prospect of migration is met with a few other worries, that is:
How much effort, time, and money will the migration process cost?

How will migration affect productivity across the organization?

How is data migrated safely?
Feeling overwhelmed by concerns like these is perfectly understandable, given that any migration is often a big undertaking. However, these challenges are usually not an issue when you rely on the right technology partner who can guide you through the process from start to finish.
Phrase is a fully integrated suite of translation automation technology that makes the migration process a truly seamless experience. To help you get started down this path yourself, we've put together this roadmap to assessing, planning, and preparing the migration to the Phrase Localization Suite.
Why may a business need to migrate to another localization solution?
For many growing companies, the appeal of migrating to a different localization platform begins to grow when the existing solution starts showing signs of aging. They might need to scale beyond what their tool is able to handle, or they may simply want more resources and capabilities.
Some common reasons for considering the migration to another localization solution include:
The current translation tool hasn't released any updates for a while.

Changes to business processes call for new functionalities that only a different solution possesses (and that the current vendor can't offer due to lack of custom development).

The company has outpaced its current platform, requiring increased scalability.

The migration to a new operating system or other technical infrastructure might require integrations that the current tool doesn't support.

The migration to a cloud-based solution might be seen as better matching the company's overall digital transformation.

A need has been identified to use high-quality machine translation (MT) in some projects, and the MT engines of the current vendor fall short.

The current solution is a proprietary system with high development and maintenance costs, frequent outages, and knowledge loss resulting from employee turnover.
The common theme is that migration is normally the best way to obtain access to new functionalities that the current technology vendor doesn't offer.
What makes Phrase unique compared to other localization solutions?
Phrase is a fully integrated suite of translation automation technology that helps growing businesses connect, automate, and manage any and all localization activity across their organizations.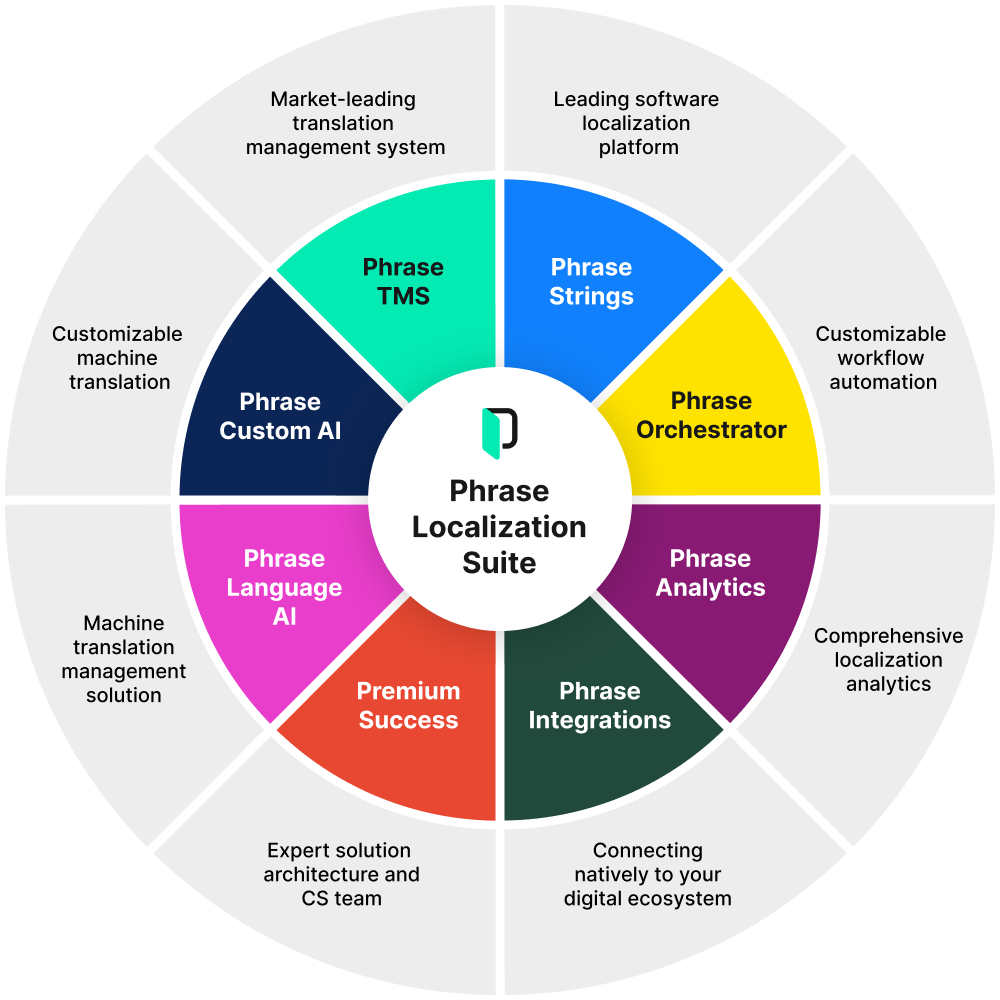 Based in the cloud, the Phrase Localization Suite lets you leverate the combined power of: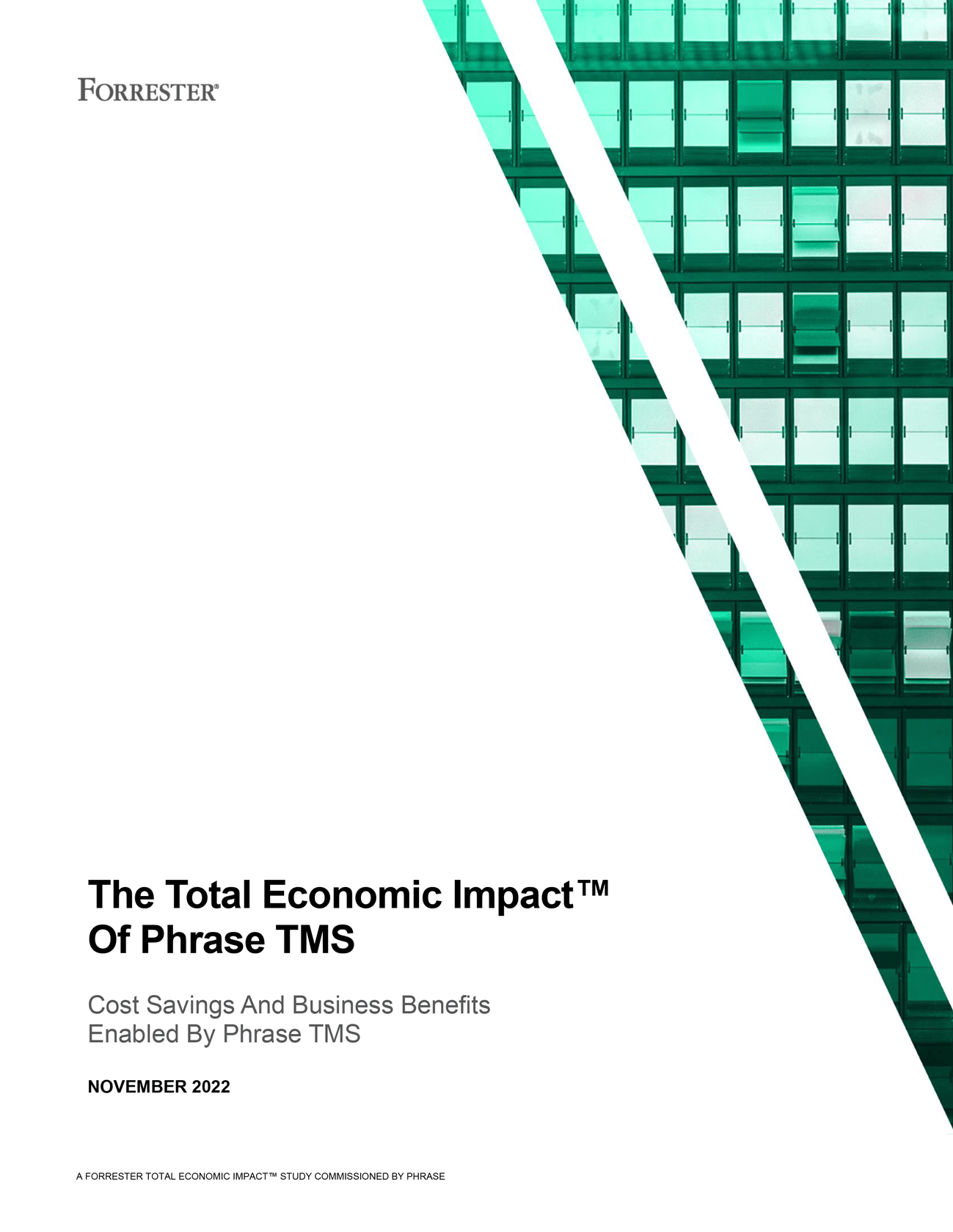 Forrester Consulting
The Total Economic Impact™ (TEI) of Phrase TMS
Find out the potential cost savings and business benefits enabled by Phrase TMS—with this study by Forrester Consulting.
Does Phrase integrate with external services, systems, or platforms?
The Phrase Localization Suite offers out-of-the-box integrations with dozens of other systems, from large players to small vendors, to cover your localization needs and completely automate processes within your digital ecosystem.
The list of Phrase integrations includes among others:
Content management systems like Contentful, HubSpot CMS Hub, Contentstack, and WordPress

Marketing platforms like Adobe Commerce (previously Magento), Adobe Experience Manager, Hubspot Marketing Hub, and Marketo

Storage services like Dropbox, Google Drive, and FTP

Source code repositories like Bitbucket, Git, GitHub, and GitLab

Documentation services (help centers and knowledge bases) like Salesforce Knowledge, Help Scout, and Zendesk

Design software like Sketch and Figma

Third-party services like Captionhub, Gengo, Gridly, Paligo, Plunet, TransPDF, and XTRF, etc.
Your familiar file formats
Discover which file formats are supported by Phrase TMS and which work with Phrase Strings.
In a nutshell, the Phrase Localization Suite boasts a whole range of features to cover all aspects of localization across an enterprise and includes all the must-have features for a localization solution to streamline translation workflows for a growing business end to end:
Comprehensive API to automate as many translation-related tasks as possible

50+ out-of-the-box integrations to connect with your preferred tools

Zero downtime deployment and 99.9% average uptime

24/7 technical support, so you never get stuck while waiting for help

Intuitive user interface to onboard your teams easily and get started in minutes

Flexible workspace that allows you to work from your desktop or mobile devices

Vendor-agnostic approach, so you're never conditioned to choose pre-selected translation vendors

Automated MT-engine selection based on your needs and project requirements

Accurate MT quality estimation with automatic scores prior to post-editing

Scalability and low upfront costs, so you only pay for what you really need
To top it all off, dedicated solution architects and customer success managers can help with custom configuration, personalized consulting, and extensive support for the migration from a different platform, which goes as far as helping with the migration of legacy content—more on that later.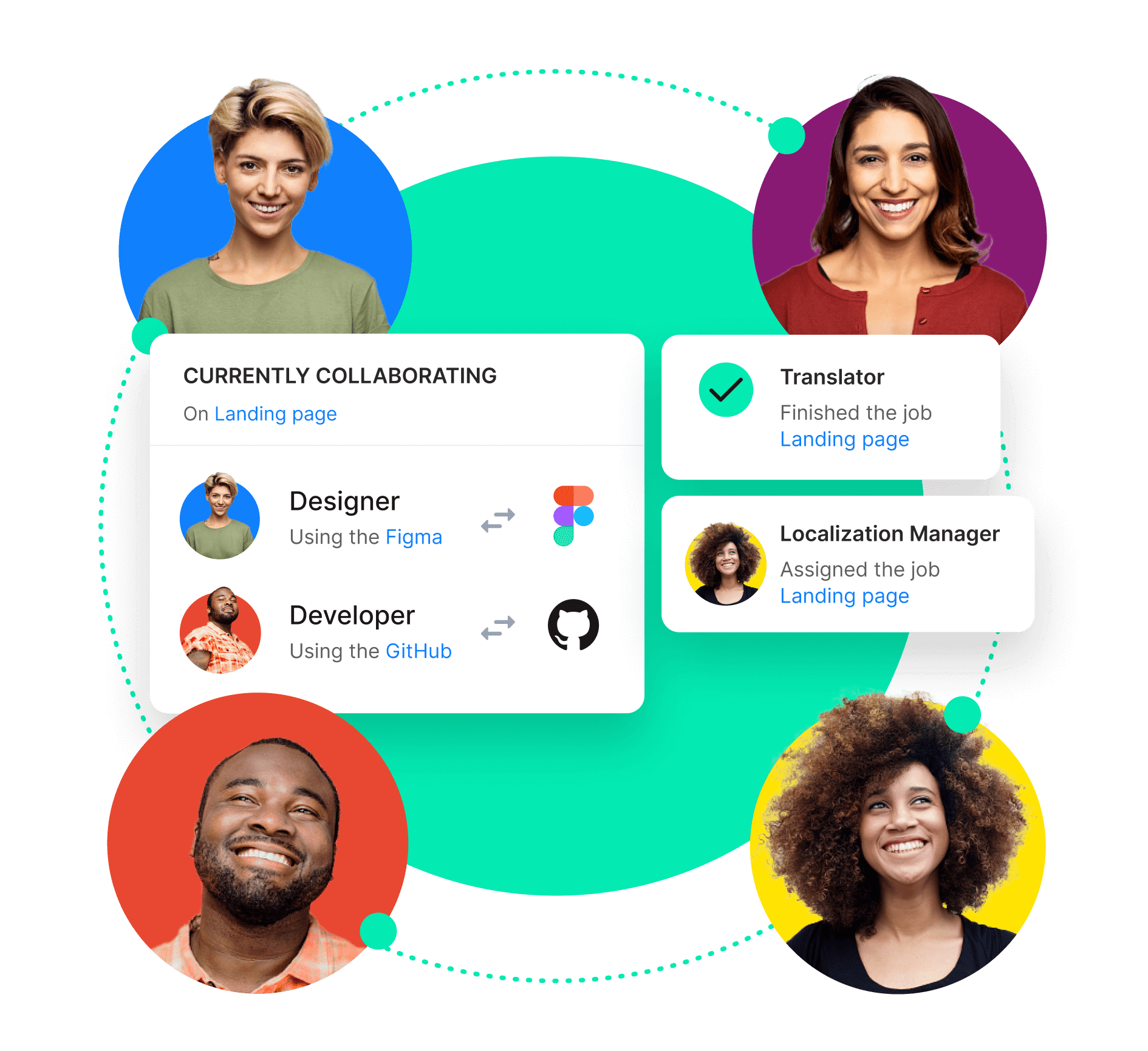 Unlock global business with the Phrase Localization Suite
Expand into new markets with all the tools you need in one technology suite for high-quality, fast, and scalable localization.
Is it simple to migrate to the Phrase Localization Suite from another tool?
The simplicity of migrating from a different localization tool to Phrase will always depend on factors such as:
The complexity of your existing architecture

How many integrations you might need to port

The number of users, screenshots, and content streams

How much legacy data needs migration

Whether you want to integrate proprietary systems via an API
Based on these factors, migration can be from relatively simple to significantly involved. We always recommend that migration be done with the guidance of architects who'll work with your designated team to assess all components and prepare a comprehensive migration plan.
Phrase is an incredibly modern solution and has extensive experience in migration projects. We work closely with our customers to ensure a smooth transition, so no matter what migration scenario you have, we have a solution for it.
Is it necessary to update existing processes after the migration?
The whole point of migrating to a new solution is to take advantage of new functionalities that will allow you to simplify processes, resulting in higher efficiency.
That's what makes migration the perfect opportunity to identify ways to optimize your overall localization process and update your workflows accordingly.
In this sense, Phrase gives you the flexibility you need to transform your localization process from the ground up—all the way from simple manual project creation, to automation via third-party integrations. Full automation becomes an easily achievable goal, even for the most complex projects, without a need for deep technical knowledge.
Is it possible to migrate from any translation and localization management solution?
Normally, migration is possible and smooth from most translation and localization technology systems.
There can be exceptions to that rule, but these typically involve complex scenarios, like the below:
A proprietary system is in place, with deep workarounds or customizations that can't be easily mapped to standard migration scenarios.

The existing solution conceals context data by hashing previous and next context references—which complicates translation memory (TM) exports and makes any future matches in a new system unable to reach full contextual match status (they reach 100% at the most).
In both cases, however, migration is still possible—it'll just likely take significantly more time and effort (that always pays off in the long run, of course).
For context-concealing systems, in some cases, it's possible to identify and reverse a hash or to demand a clean export with non-hashed references. There may even be an option to allow you to export readable context.
Another way to retain context is by bypassing the exported translation memory and resorting, instead, to bilingual resources that can be parsed and captured in translation memories, such as Microsoft Excel, CSV, XML, or XLIFF documents.
When it comes to migrating from a proprietary system to Phrase, it's important to mention, first, that the Phrase Localization Suite, while full of advanced features, won't be an identical copy of your current solution (we've addressed why this will actually help you optimize your processes).
However, if a proprietary system is still something you feel you need for full flexibility, the Phrase API—one of the best on the market—makes it possible to exchange data between the two systems. You'll still need to migrate your content, but that is a necessary step in any type of migration. Moreover, the team of experts at Phrase includes a dedicated data migration unit that will ensure a streamlined migration of your content.
How does Phrase support the migration from another translation platform?
Whether consulting on data migration, API use cases, machine translation, or data analytics, Phrase is able to meet you where you are with the level of support you'd like to receive. Depending on your needs, Success Plan subscriptions are available that can include migration support from basic consultation to full-on migration assistance, like helping with the migration of legacy content or automating the migration of large amounts of content.
Success Plan
Suitable for those who
Available to
Basic Success Plan

Use Phrase TMS on a Team Start or Team plan

Everyone at no extra cost

Use Phrase Strings on a Basic plan

Have standard workflows to cover their translation needs

Haven't used a TMS before Phrase

Standard Success Plan

Used a different TMS before Phrase

Included in the Enterprise plan, available as add-on (extra cost) for other plans

Have a pretty straightforward setup

Prefer to be trained and handle things themselves at their own pace

Premium Success Plan

Have a complex setup requiring custom workflows, integrations and need data migration at scale

Available as add-on (extra cost) for the Enterprise plan

Prefer Slack over emails

Want to have a data-oriented operation

Need help in automating tasks in workflows

Plan to integrate heavily via API and are looking to optimize your design

Want their team to grow its knowledge on localization related topics

Want to stay up to date with the latest trends in the industry
Regardless of the level of support you may need in terms of migration, you'll typically be asked to get involved in the process throughout, as a way for your team to learn about migration techniques and best practices—and get familiar with the new platform.
If you need additional assistance to adjust your workflow or optimize your new solution for even greater efficiency, the specialists at Phrase will always be at your disposal during the migration process and after its completion.
What preparation is required for migrating data and content to Phrase?
Before the migration can start and to ensure successful completion, it's crucial to document your existing processes and assets, including but not limited to:
All current work streams and related workflows that need to be migrated to Phrase—think of where, when, and how something is done.

All the users needed and their respective roles: Which users perform which tasks, based on the existing user profiles in the system?

All assets such as translation memories and term bases, exported in the relevant formats (TMX or XLSX for translation memories, TBX or XLSX for term bases).

After content migration, the source files that can be fully leveraged in your legacy system—this helps with leverage testing as well as filter configuration and any necessary adjustments to segmentation rules.

An asset strategy, i.e., size, maintenance, naming, and ownership rules and conventions for them in the new platform—this helps define who can modify the content of your assets and who will just consume it.
How do training and onboarding work at Phrase?
Phrase's onboarding process focuses on migration training and support. This makes the experience warm, personal, and smooth for your team. From the very beginning, you'll have access to our certification program, webinars, and monthly training.
Higher-tier subscribers can rely on a dedicated customer success manager for onboarding-related queries, personalized training on our platform, regular check-in meetings, and quarterly or monthly business reviews.
Top-of-the-line package subscribers also receive exclusive access to events, help with scripting support, exclusive efficiency tools, dedicated API training and consultancy, as well as regular quarterly training sessions as a refresher or to focus on new features and functionalities.
Don't hesitate to ask for a full list of available options.
What languages and file formats does Phrase support?
Phrase is a language-independent platform—it supports practically any standard language with various writing scripts.
This includes bidirectional text, i.e. texts that use a mix of right-to-left (RTL) and left-to-right (LTR) directionality.
The Phrase Localization Suite supports 50+ file formats
.doc, .docx, .dot, .dotx, .docm, .dotm, .rtf, .ppt, .pptx, .pot, .potx, .pptm, .potm, .xls, .xlsx, .xlt, .xltx, .xlsm, .xltm
Google Docs, Sheets, Slides imported via Google Drive Connector are converted to MS Office format.
OpenOffice or LibreOffice documents (.odt, .ods, or .odp) are supported, but it's recommended to save them in MS Office formats before importing.
.htm, .html
.idml, .icml, .mif (version 8 and above only), .psd, .svg
.ttx (pre-segmented), .sdlxliff
.xml, .xhtm, .xhtml, Android .xml
.xliff (1.2),.xliff (2.0), .xliff for Drupal/WordPress, mqxliff (MemoQ xliff), tmx
.dita, .ditamap
.md, .markdown
.pdf
.catkeys, .csv, (Magento).csv, DocBook (.dbk), .desktop, (Mozilla).DTD, .epub, (Joomla).ini, .json, .arb (import as JSON), .lang, .Plist, .po, .properties, (Java).properties, .rc, .resx, .srt (Windows-1252), .strings, .sbv, .sub (SubViewer only), .ts, .txt, .vtt, .wiki, .yaml
.tag, .xtg
.zip
Moreover, you can define custom file types based on XML, HTML or JSON by filename and extension for Phrase to automatically detect and import them (including batch import of the defined file type when creating a job).
Your preferred tools
Check out the full list of integrations with Phrase and learn how to customize localization workflows to your business needs.
If you need to create your own integration, Phrase's powerful APIs (Phrase TMS API and Phrase Strings API) will enable you to do so in no time.
To ensure that our integration options are compatible with our customers' use cases, we're constantly releasing new integrations with the leading software providers across industries.
How does Phrase integrate with machine translation engines?
Within Phrase TMS, you can rely on the Phrase Language AI add-on as your go-to place for all things machine translation. With a single click, you can either enable fully-managed engines or add any supported engine via an API key to take full advantage of features like MT autoselect, MT glossaries, MT quality estimation, and MT customization.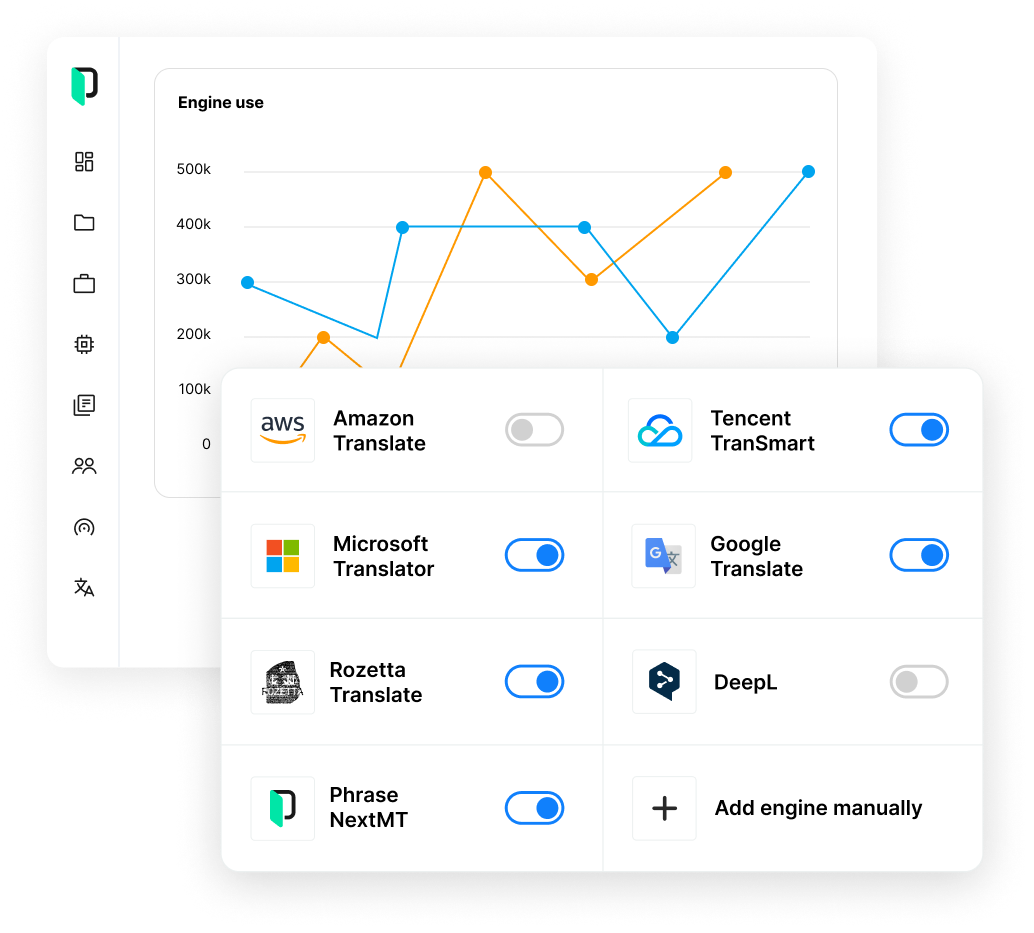 Phrase TMS includes MT engines from leading providers and can auto-select the optimal one for your content
Among others, Phrase Language AI supports the following fully managed, third-party MT engines:
Amazon Translate

DeepL

Globalese

Google AutoML

Google Translate

Human Science

Microsoft Translator

Systran

Yandex Translate
Phrase Language AI also includes Phrase NextMT, a generic neural MT engine developed internally by Phrase. It's available as one of the fully managed engines and comes with features such as advanced translation memory integration, advanced glossary support, automated tag placement, and advanced security.
How does Phrase guarantee security?
Keeping your data safe during and after migration is a top concern for every business. Phrase ensures that your data is safe at all times by following the ISO 27001 standard for information security management and guaranteeing full compliance with governmental regulations on personal data protection (including GDPR and CCPA).
Additionally, security awareness training is mandatory for all employees at the start of their employment and at regular intervals.
This helps them familiarize themselves with information security management system, information security best practices, and their responsibilities in upholding Phrase's strict data protection policies, such as:
The encrypting of all data in Phrase using Linux LUKS or AWS encryption

The storage of all customer data in the cloud and the creation of regular backups

The limitation of access privileges according to the Principle of Least Privilege—this means that each user has access only to the data that's absolutely essential for their job

The use of single and multi-factor authentication

The physical protection of Phrase premises by 24/7 security and CCTV cameras
In terms of security audits, Phrase undergoes frequent security assessments by an external auditor to ensure that processes and tools are always up to date with current threats. Moreover, a monthly third-party-hosted vulnerability disclosure program allows Phrase to scan its software stack to ensure they are free from known vulnerabilities.
Migrating to Phrase has never been easier
Localization and translation technology is a worthwhile investment to expand the global footprint of your business. However, you can only ensure a strong return on investment by relying on a technology partner who can cover all localization needs across your organization.
The Phrase Localization Suite is designed to connect, automate, and manage any and all localization activity across your organization in one place. We're not just transforming localization workflows—we're embedding value-adding processes across your company, providing enterprise-grade solutions to automate, manage, and enhance the entire localization process.
This approach isn't only about adapting to new software—it's about optimizing the entire ecosystem where multilingual content flows, ensuring a streamlined, effective journey from creation to deployment.
This is where Phrase's expertise truly shines. With the best-in-class teams to support you throughout the transition process and beyond, we're committed to guiding you every step of the way.
Our aim is to ensure your transition is as smooth as possible, bolstering your business growth with the latest technology innovations to help you navigate the ever-evolving marketplace with confidence and agility.
Speak with an expert
Want to learn how our solutions can help you unlock global opportunity? We'd be happy to show you around the Phrase Localization Suite and answer any questions you may have.