Localization strategy
5 Key Strategies to Speed Up Time to Market for Global Ecommerce Growth
Employ effective localization management strategies to help teams across the business get their products and content to each target market more quickly.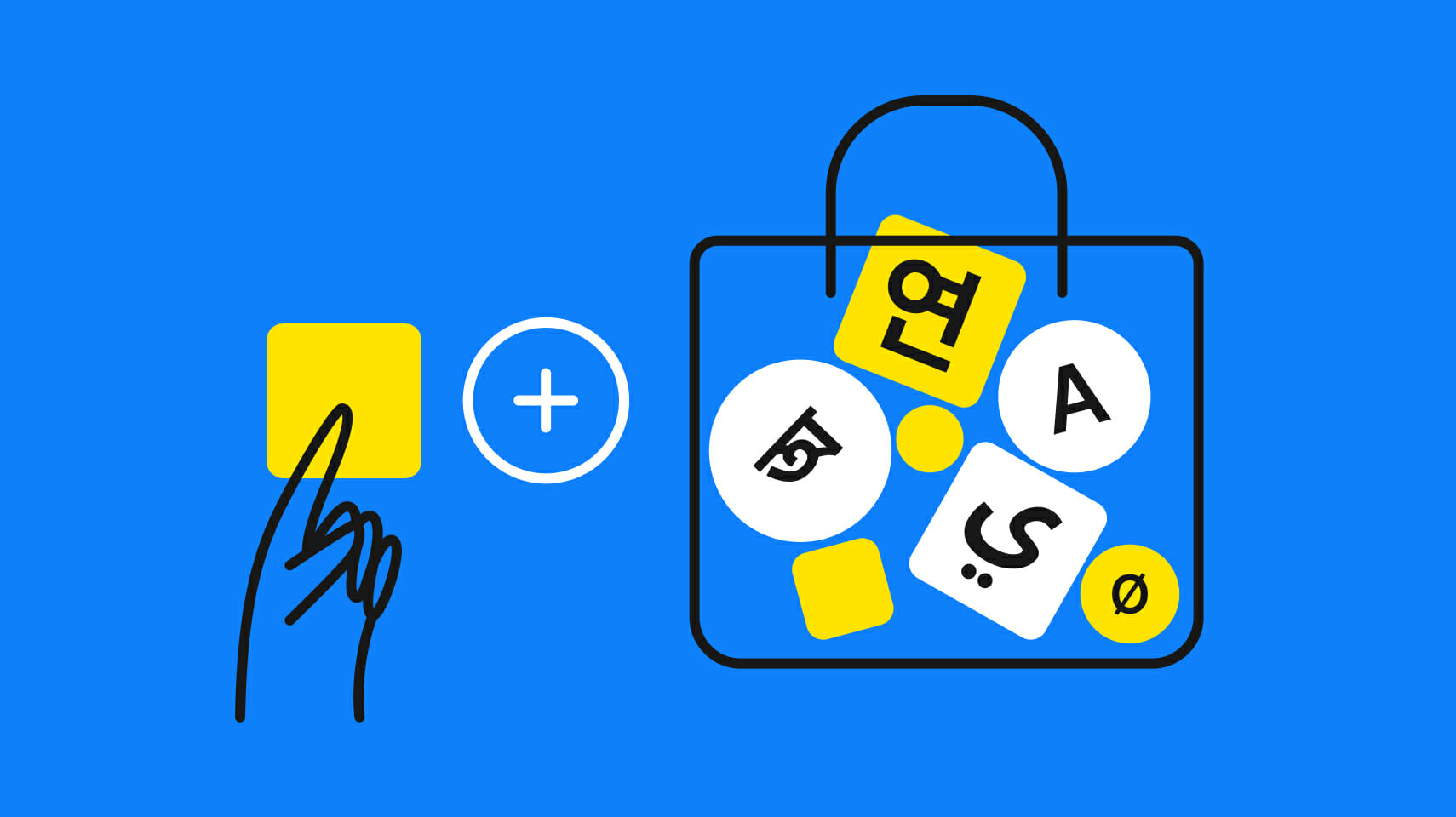 Asia is home to more than half of the world's top 10 ecommerce markets, making it a prime destination for ecommerce and online retail companies seeking to expand the global footprint of their business. However, with so many diverse cultures, local regulations, and purchasing behaviors at play, growing brands often realize that they can hardly keep up with the continuous demand for multilingual content.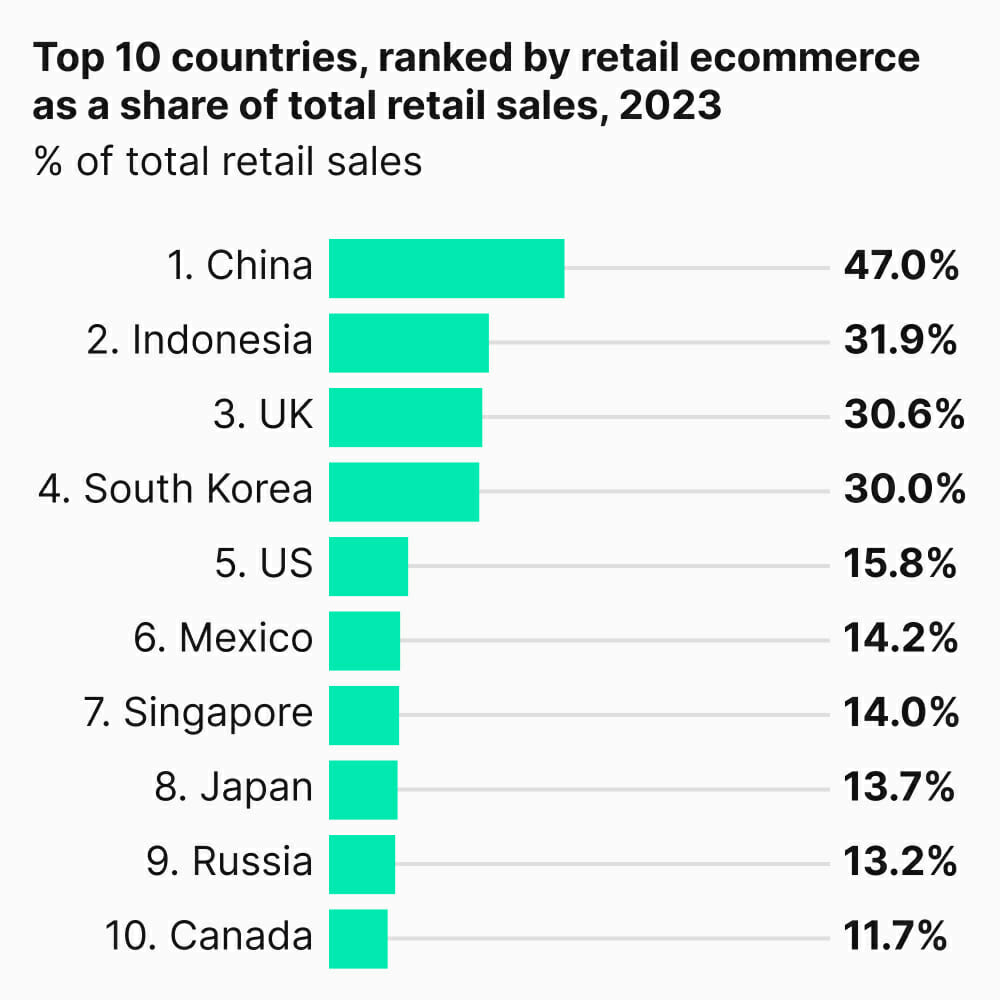 Source: Insider Intelligence
For localization managers, who are on the frontline of global expansion, this can be a major challenge. Localization is often not valued and aligned enough with business goals across departments, hindering a localization manager's ability to ensure the fastest time to market for all stakeholders. Keep reading to uncover best practices for localization management so you can drive global growth for your business by acing multilingual content delivery at speed.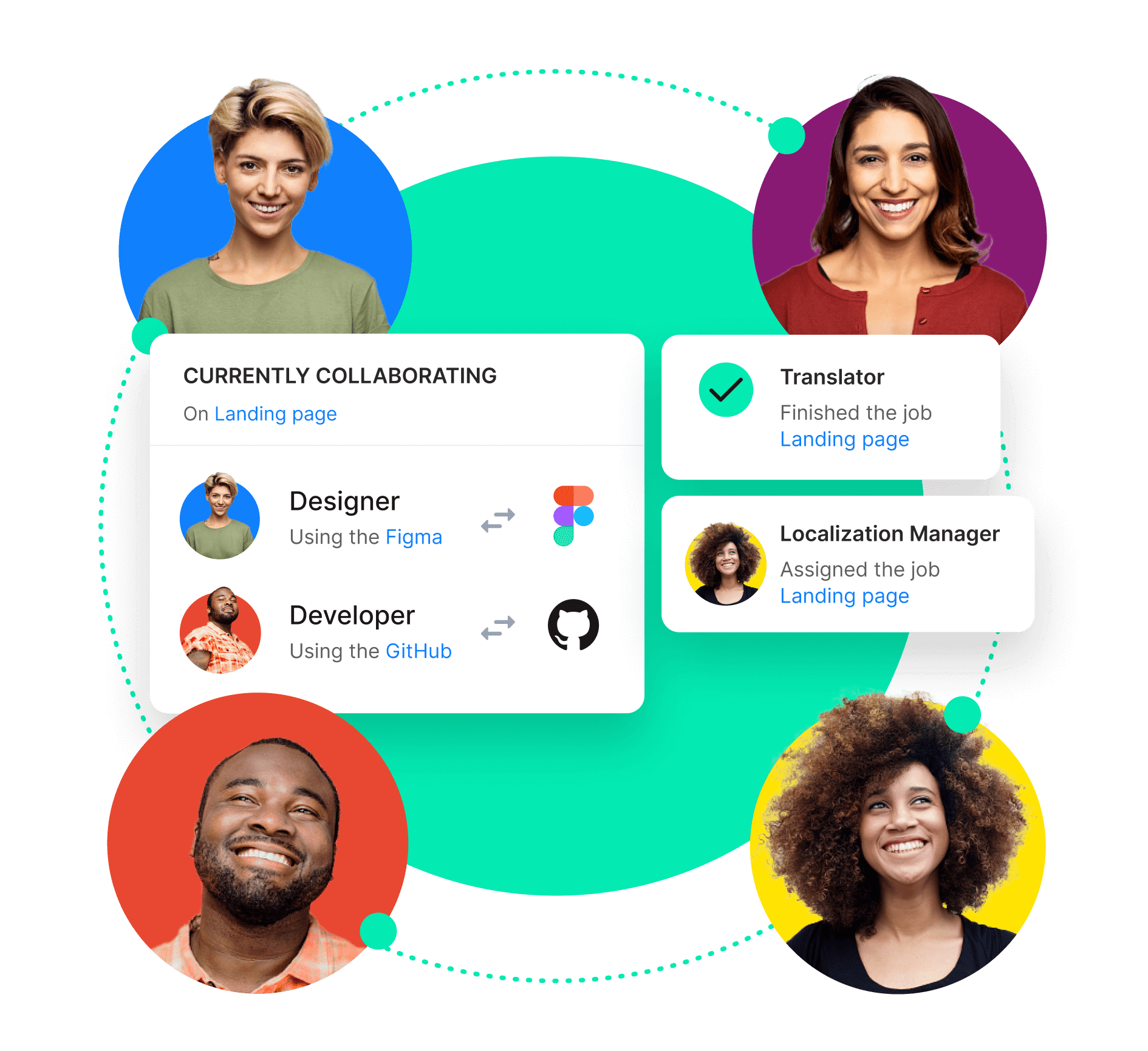 Unlock global business with the Phrase Localization Suite
Expand into new markets with all the tools you need in one technology suite for high-quality, fast, and scalable localization.
Undervalued and misaligned: Confronting key localization management challenges
Do you constantly find yourself chasing after teams? Have you ever felt frustrated when emphasizing the importance of localization within company-wide timelines—only to be overlooked? In many businesses, localization is often undervalued and not well aligned with business goals across teams, including product, engineering, support, and marketing.
Localization managers continually put in every effort to demonstrate that they're more than just an in-house translation agency. However, when they're solely seen as project managers who take translation orders, it can be challenging to shake off the perception that localization is a necessary evil or even a roadblock to seamless product and content delivery.
This ultimately limits the value that a localization manager can bring to the business in the long run—prompting the need to rethink the strategy.
Equally concerning, the lack of understanding and appreciation can lead to localization operating in isolation and being out of sync with business goals. Different teams have their own priorities and workflows—and rarely take localization needs into account from the get-go.
For example, product teams expect localization to keep up with their frequent release cycles, which often involve deploying code multiple times a day. Similarly, marketers prioritize the quality of their translated materials but may lack a deep understanding of the products being offered. As a result, it's not uncommon for localization teams to find themselves in a frantic race against time to adapt the online store's user interface or marketing collateral on a short notice.
This sense of urgency increases the risk of delivering translations that are filled with errors, duplicates, or missing points—calling for revisions.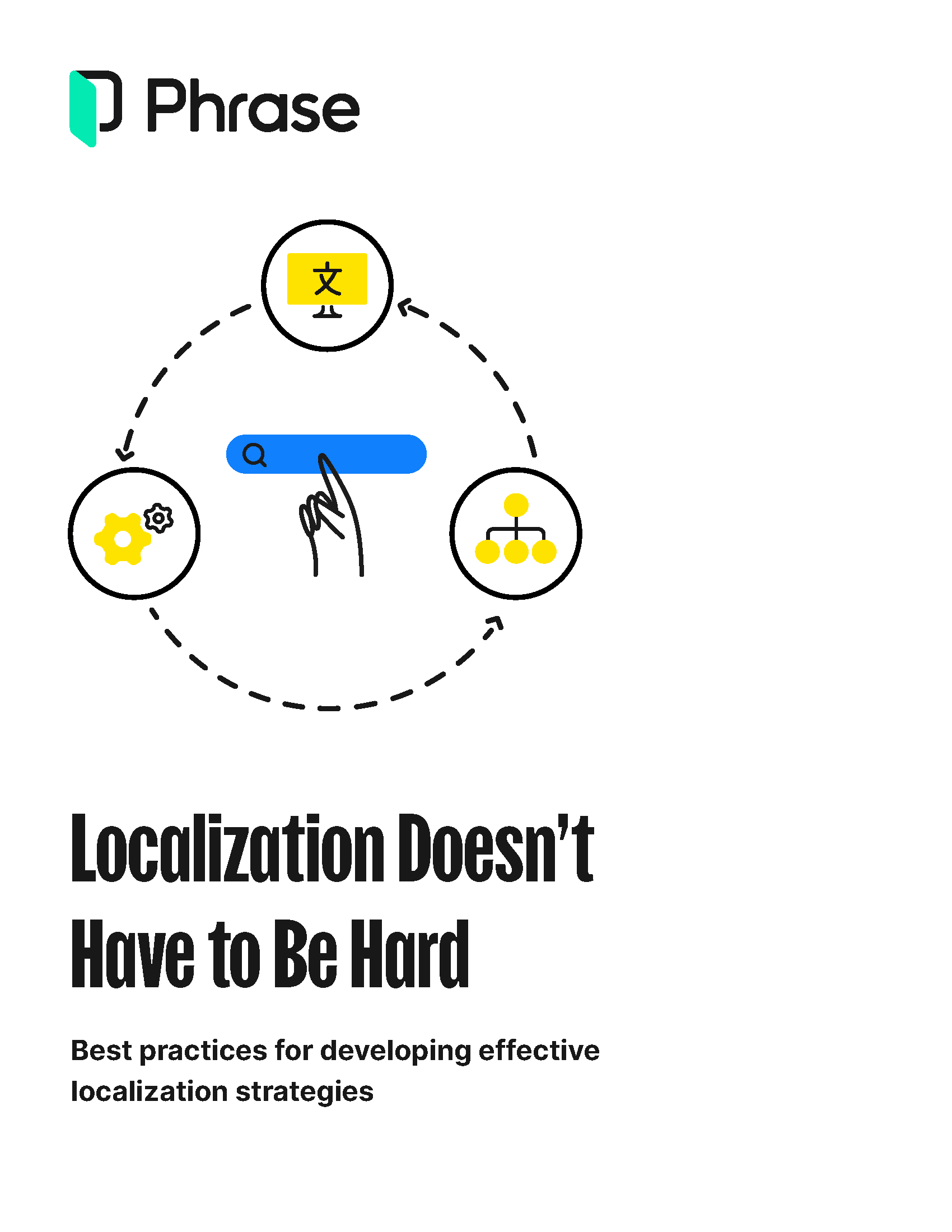 Free download
Best practices for developing effective localization strategies
Explore how to tackle localization management efficiently and engage customers across the globe in their native languages and local experiences.
Localization management best practices: Faster from strategic planning to continuous delivery
Amidst the challenges discussed above, localization managers might overlook the fact that they have the power to streamline the end-to-end localization process for the business. By employing effective strategies and relying on the right technology, you can steer clear of common pitfalls and support all the teams involved in getting their products to market more quickly.
The key lies in skillfully combining these best practices within the specific context of your global ecommerce operations. Unleashing the full potential of your ecommerce localization efforts can help your company make a strong international impact and stand out from competitors. Let's take a detailed look at each of these key strategies:
Adapt localization playbooks for each team
Prioritize asset streams by visibility and longevity
Nurture a long-term partnership with a trusted translation vendor
Embrace flexibility in localization quality assurance
Connect teams and processes in one technology suite
Adapt localization playbooks for each team
To build trust and foster collaboration for improved results, it's advisable to compile a set of best practices tailored to each team individually and in the language that best resonates with them. This way, the "what's in it for me" factor becomes readily understandable for everyone.
These packages should ideally include all the necessary resources, guidelines, KPIs, and metrics specific to each team's localization projects, ensuring that everyone is aligned with the localization requirements. For example, you can create internal wikis for website, product information, marketing, or help content localization, incorporating specific glossaries, style guides, market guides, etc.
Furthermore, it's important to ensure alignment on how to measure success. By establishing a shared understanding of key metrics, you can make informed decisions to optimize localized content. For instance, if the marketing team aims to enhance newsletter click-through rates (CTRs) in a specific market, your translators should prioritize making call-to-action (CTA) elements more engaging in the target language.
Prioritize asset streams by visibility and longevity
Every team has its own set of goals and objectives, so it's crucial to avoid getting tangled up in conflicting interests. It's also not always feasible to manage all assets at once and maintain top-notch quality across languages. That's why it's a smart move to align early on with all teams on which assets will have the highest impact on the target audience in each market.
In other words, always try to prioritize assets based on visibility and longevity. On one hand, by focusing on key customer-facing assets, you ensure that the localized versions accurately represent your brand. On the other hand, by localizing content that will remain relevant for an extended period, you ensure that your efforts have a long-lasting impact across cultures.
With this prioritization approach, you can make smarter decisions about when to utilize machine translation, focus on post-editing efforts, or engage professional linguists for translation or transcreation. Ultimately, it enables you to allocate your localization budget more effectively and maximize the return on investment (ROI).
The right translation method for the right content type
Content type
Visibility
Method
Internal documentation

---

Website footer

---

Instruction manuals

---

Product reviews and other user-generated content

---

Chat or email support messages

---

Customer inquiries

Low
Machine translation
Product titles

---

Product descriptions

---

Knowledge base articles

---

FAQs

---

Back-end metadata (image alt texts, captions, meta titles, or descriptions)

Medium
Machine translation post-editing
Homepage

---

Landing pages

---

Blog posts

---

Ebooks and guides

---

Campaign emails

---

Newsletters

---

Press releases

---

SEO content

High
Human translation
Brand names

---

Campaign slogans and taglines

High
Transcreation
Nurture a long-term partnership with a trusted translation vendor
Finding a translation vendor who truly understands your brand, products, and organization takes time and resources. This is particularly true for companies that offer unique, specialized products, as a high turnover rate among translators can often result in delays.
That's why establishing a long-term partnership with your language service provider (LSP) is essential. Instead of seeing translation vendors as just transactional suppliers, think of them as strategic partners who support you in achieving your business goals.
How to choose the right LSP
Selecting the best LSP for your needs depends not only on the nature of your business but also on your long-term global expansion strategy. Here is how to make an educated decision.
Establish regular communication channels. Have honest conversations and be receptive to feedback so both sides can continue to improve and support each other. Provide them with comprehensive project briefs, style guides, and screenshots or comments for more context.
By nurturing a long-term partnership, you benefit from improved translation quality, increased efficiency, and a deeper understanding of your target markets. In the long term, a strong partnership will facilitate smoother project execution and reduce potential risks.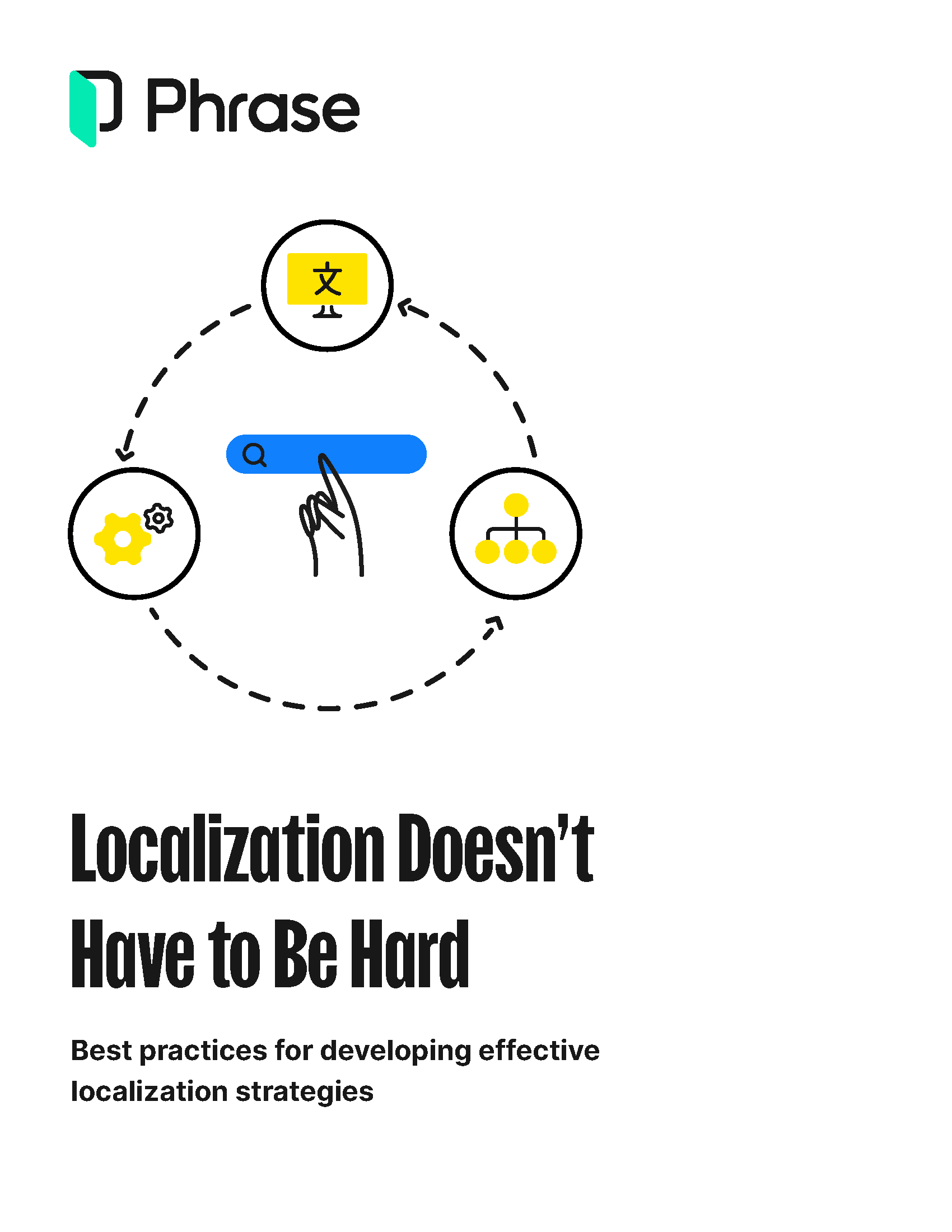 Free download
Best practices for developing effective localization strategies
Explore how to tackle localization management efficiently and engage customers across the globe in their native languages and local experiences.
Embrace flexibility in localization quality assurance
Localization quality assurance (QA) is a crucial step in ensuring the accuracy and consistency of your localized content. However, no matter how strict your established rules may be, it's important to maintain flexibility throughout the process.
Tailor your quality assurance processes to the specific content and its purpose. Recognize that different types of content may require varying levels of quality assurance. While marketing materials may demand meticulous attention to detail, user-generated content or internal documentation may not need the same level of scrutiny.
This flexibility allows you to allocate your resources effectively, focusing your testing and QA efforts where they are most needed. Additionally, encourage collaboration between your localization team and in-country reviewers to share knowledge, refine processes, and continuously improve the quality of localized content.
Connect teams and processes under one technology suite
Effective localization management is the natural consequence of aligning stakeholders, reducing human error, and increasing efficiency. While you have likely been striving for all of it through automation, maintaining multiple workflows for different types of content across disconnected tools can hinder scalability as your business continues to expand into new markets.
Given the rapid progress in technology, it's worth reconsidering your current technology stack to advocate for an even tighter integration of all localization efforts. By bringing together teams and processes under one technology suite, you can create a unified environment that encourages seamless team collaboration, efficient asset management, and continuous delivery.
Forward-thinking businesses around the world trust Phrase, a fully integrated suite of translation automation technology solutions, to seamlessly connect, automate, and manage any and all localization activity across their organization. From planning to execution, you deserve the peace of mind that you're driving growth by delivering quickly and with the best possible quality.
The Phrase Localization Suite seamlessly connects with your digital ecosystem, catering to your current needs while scaling effortlessly as your requirements evolve. Add fully flexible pricing, and it's easy to see why Phrase is the preferred choice for ecommerce businesses looking to expand their global footprint more quickly and efficiently.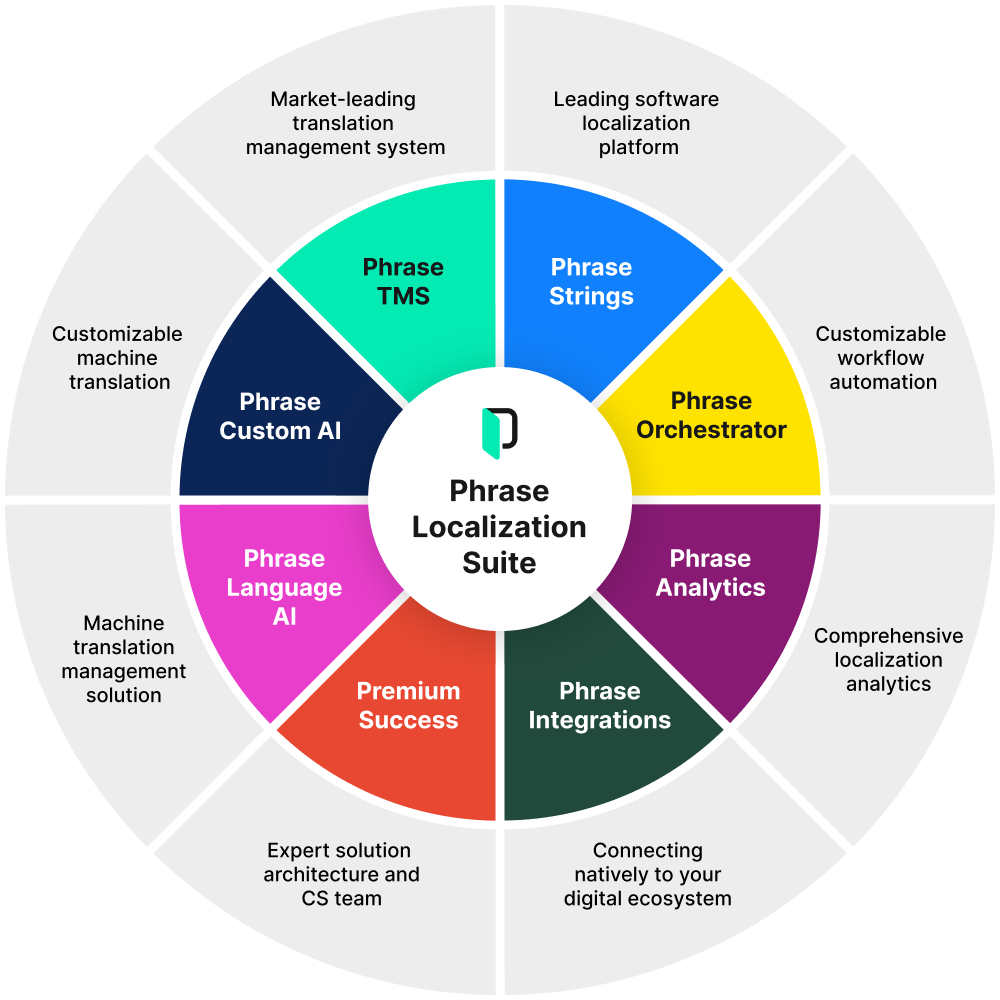 You have the power to ace your localization management game
Localization managers are the driving force behind global growth. You work extremely hard to enable the shortest time to market for all stakeholders across departments, and relying on strong technology partners is critical to your success.
As you're constantly innovating and finding new ways to excel at your job, why settle for a standalone translation management system that can't evolve as your needs do? Technology should suit the user—not the other way around—and nobody knows this better than you.
That's why the Phrase Localization Suite is the right partner with a vision for any growing ecommerce and online retail company looking to expand globally. It only takes a step forward to discover the opportunities that lie ahead for your business.
Speak with an expert
Want to learn how our solutions can help you unlock global opportunity? We'd be happy to show you around the Phrase Localization Suite and answer any questions you may have.
Last updated on September 15, 2023.