Localization strategy
Revving Up Localization: How to Accelerate Automotive Expansion into Untapped Markets
A purpose-driven, data-powered localization program and comprehensive technology partner enable automotive companies to accelerate global growth.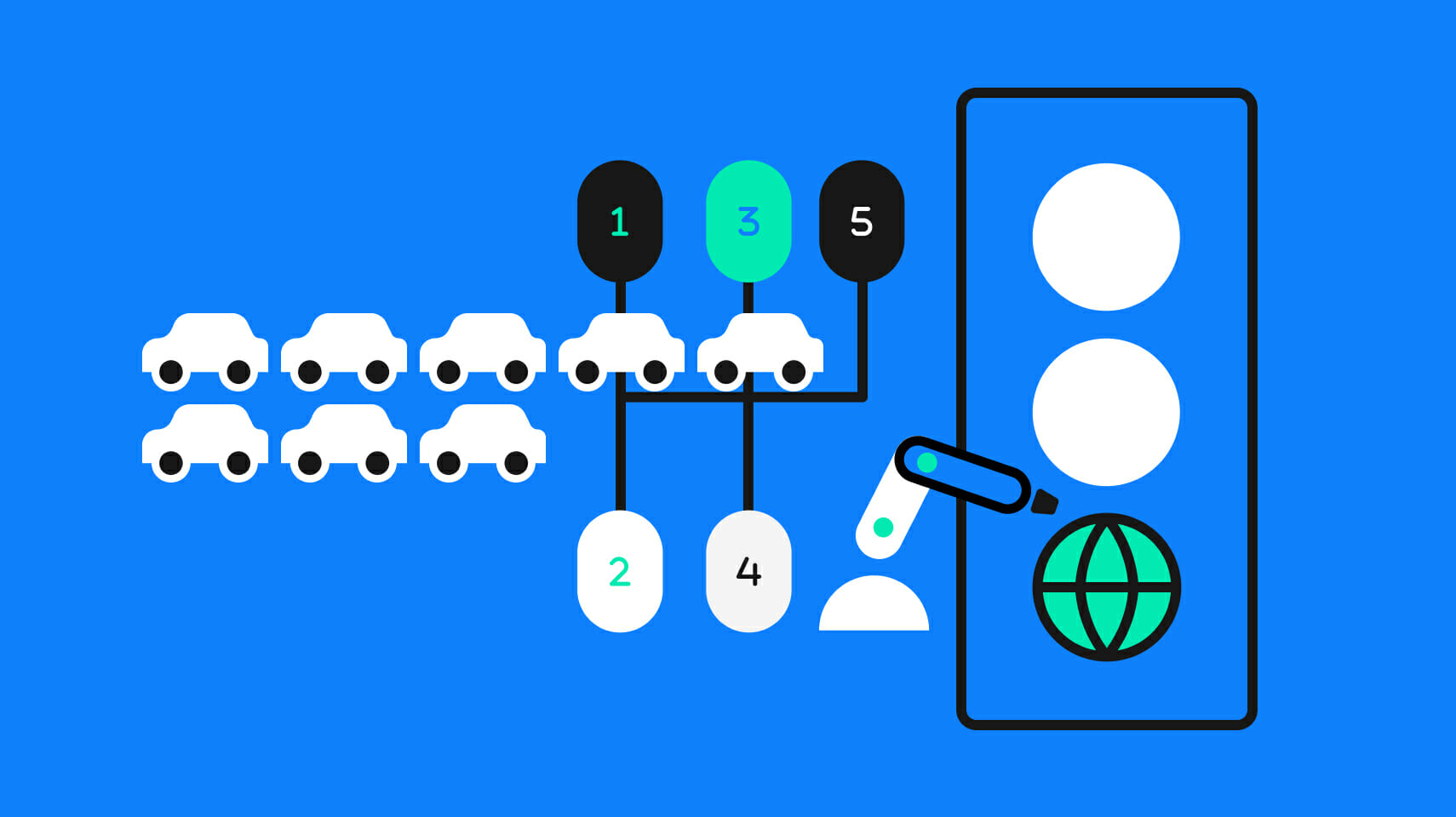 It's time to shift gears: Globalization has transformed the automotive industry, forcing today's car manufacturers to compete in a more connected world than ever before. The US is no longer the only big player—9 non-English nations sit among the top 10 global car-producing countries—and it's a survival-of-the-fittest fight.
A strategy that adapts products and content to the demands of an ever-evolving global society while also considering the specific needs of local markets is the only way forward. Localization managers take the driver's seat in this journey—balancing speed, scope, costs, and quality to turn automotive localization into a lever for growth.
All of this can be a massive challenge in a context of disconnected processes, data, and tools. Fortunately, you can effectively overcome it by adopting a purpose-driven, data-powered localization program with streamlined workflows and a technology partner that covers every aspect of the global content life cycle. Keep reading to find out how the Phrase Localization Suite makes it possible.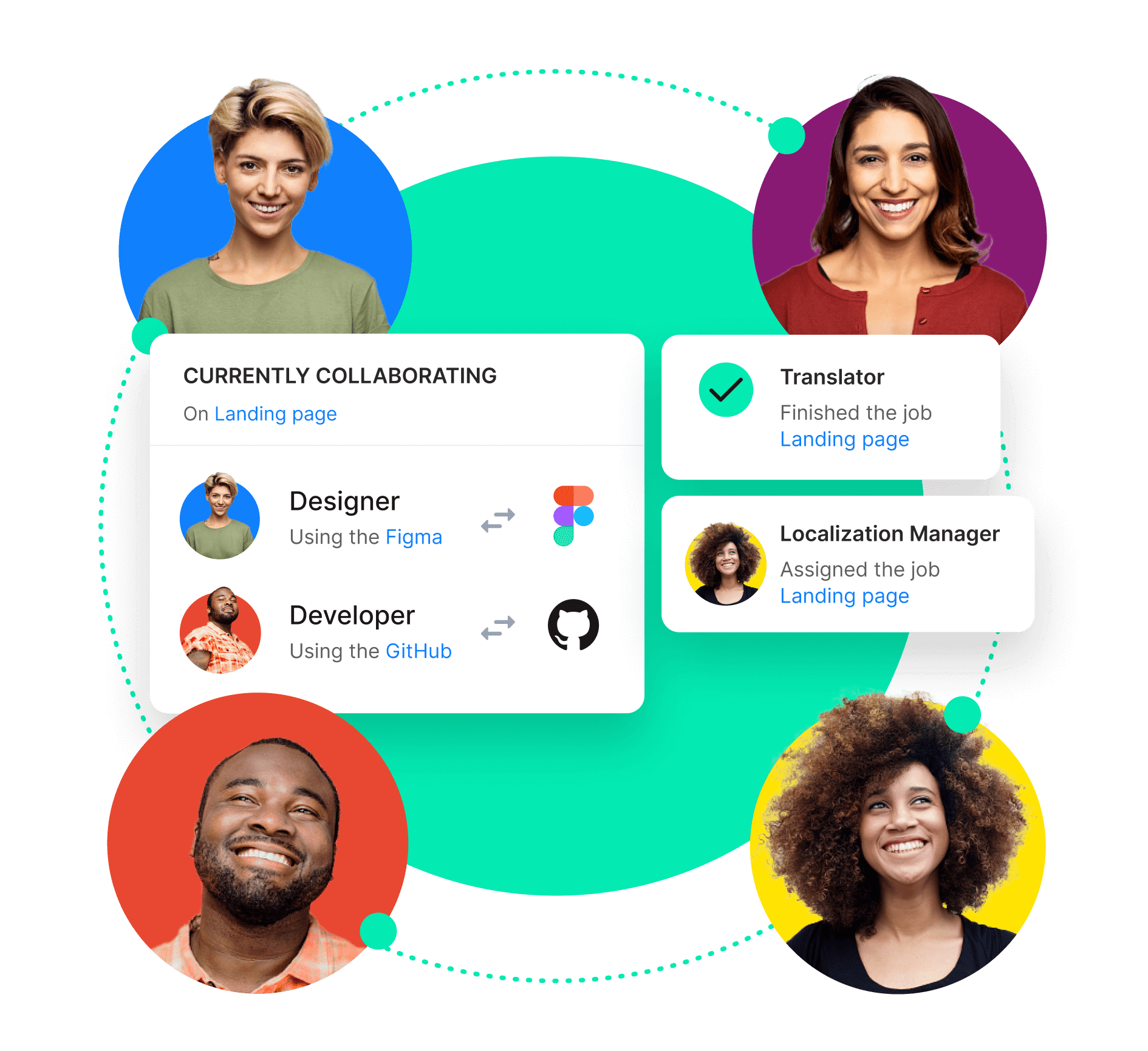 Unlock global business with the Phrase Localization Suite
Expand into new markets with all the tools you need in one technology suite for high-quality, fast, and scalable localization.
The impact of globalization on the automotive industry
Globalization has profoundly impacted the automotive industry, transforming automakers' operations and global market dynamics. One notable change is the seismic geographical shift in the competitive landscape. The United States, once the unrivaled powerhouse, now faces fierce competition from nine non-English car-producing nations. China, in particular, has emerged as a formidable competitor, intensifying the competition within the industry.
Additionally, with increased access to a larger customer base, automakers must now tailor their products and content to the needs and preferences of a more diverse international audience. The exchange of ideas, technology, and best practices among manufacturers worldwide that globalization has enabled has also led to advancements in:
Vehicle design
Manufacturing processes
Safety standards
Green technologies
Operational and supply-chain efficiency
The result is an ever-evolving landscape in which automakers must stay agile to remain competitive. Add the regulatory and trade complexities that come with a global presence to the mix, and you have all the ingredients for an incredibly complex environment.
The new race: automotive vs tech in the evolution of mobility
A challenge that possibly dwarfs the ones posed by globalization is the rise of technology. Arguably the most significant challenge facing automotive companies today is the convergence of sectors blurring the lines between traditional automotive companies and those outside the industry.
This convergence is particularly evident with the entry of technology and ride-sharing companies—leveraging their digital expertise and experience with service business models—into the mobility ecosystem.
The race is now centered around innovation and digital enablement, as each player strives to outdo the others in this rapidly changing environment. Hyper-connected vehicles. Voice-controlled assistants. Real-time traffic information. Predictive maintenance.  Personalized in-car entertainment. Autonomous vehicles. Electric and hydrogen-powered engines. The future of mobility is here, and the stakes are high.
Globalization teams must be ready to move fast. In a world where connectivity and in-car features can either deeply engage or completely alienate customers, localization must be comprehensive, quick, accurate, and strategic.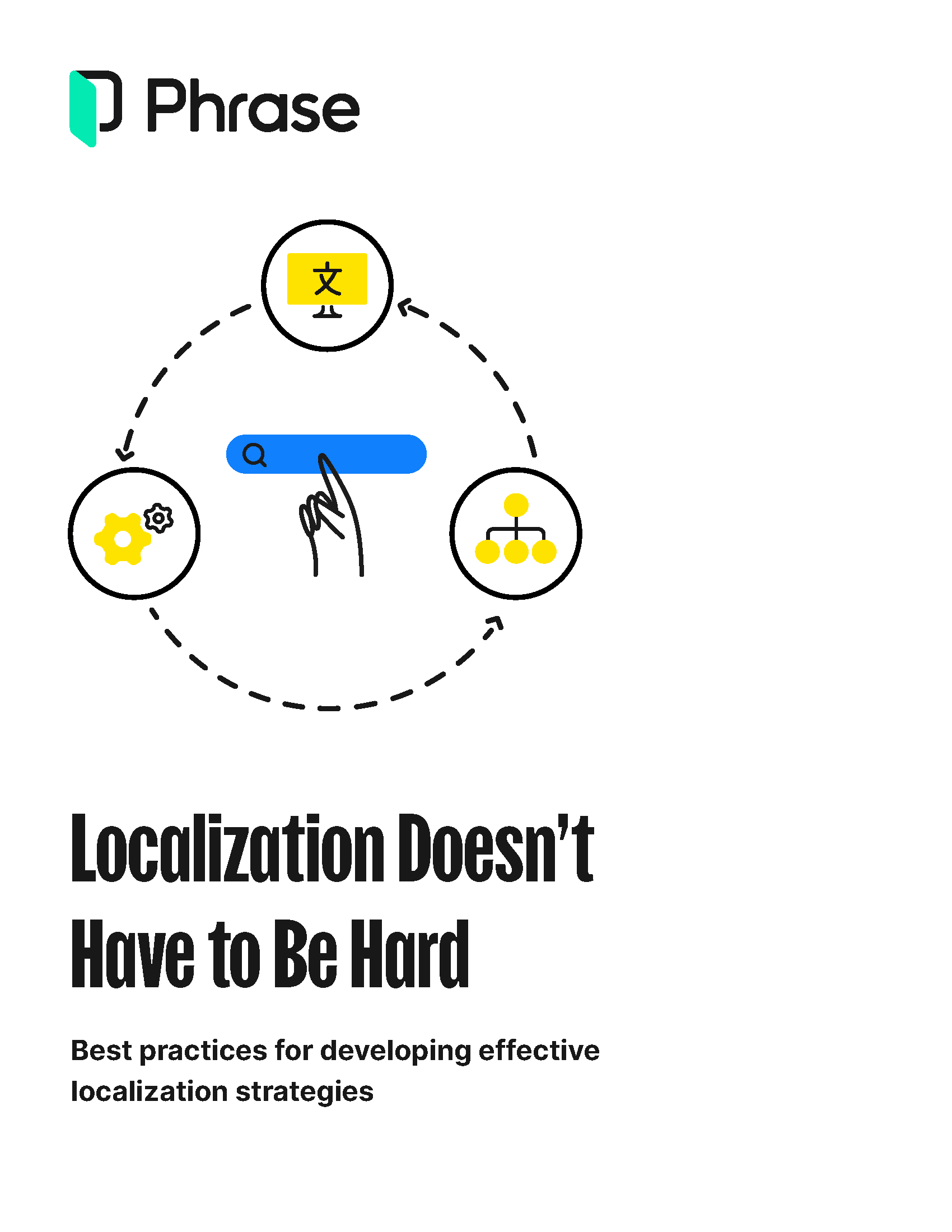 Free download
Best practices for developing effective localization strategies
Explore how to tackle localization management efficiently and engage customers across the globe in their native languages and local experiences.
Operational complexities in automotive localization management
While localization is one of the most powerful enablers for global growth, its execution requires taking into account various operational complexities.
Multiple workflows across disconnected tools
One significant challenge lies in maintaining multiple workflows for different types of products and content in disconnected tools across the enterprise and outside of it. CAD drawings, owner's manuals, service portfolios, safety documentation, in-car software—when each type of content follows its own workflow on a separate platform—including those used by language service providers (LSPs)—it's hard to ensure consistency and streamline processes.
The lack of a centralized platform for storing and managing content also results in duplication of efforts, fragmented workflows, and inefficient use of resources. Additionally, it can be hard to guarantee the quality and consistency of localized products or keep track of localization progress across different projects without an integrated view.
Without an integrated, connected approach, companies waste time and money, struggle with quality control and consistency, and risk compromising their global brand image.
Balancing speed, scope, costs, and quality
Another complexity arises from the triple constraint or triangle of localization management, which consists of speed, scope, and costs. Automakers must deliver localized content quickly and accurately while ensuring the scope of localization remains manageable in terms of the volume of content to be localized and the number of languages involved. At the same time, they must also stay within budget by optimizing costs without sacrificing quality or speed.
These competing objectives can create a difficult balancing act for localization managers. Failure to maintain equilibrium among these elements can severely hurt the bottom line, which doesn't help the perception of localization as a cost center that localization managers fight so hard to change.
Lack of recognition and alignment
Finally, one major challenge many businesses face is the insufficient recognition and alignment of localization efforts with the overall objectives of various teams, including product, engineering, support, and marketing. This lack of visibility and integration can lead to missed opportunities for synergy and collaboration.
Localization managers consistently face the challenge of showcasing their value beyond being perceived as mere project managers responsible for translations. They work hard to dispel the perception of localization as a "necessary evil" and demonstrate its potential as a driver of growth, but precisely because it's undervalued, the actual contributions of localization to the business are often overlooked, and localization teams struggle to gain a seat at the table.
In turn, with localization left to linger in a silo, detached from the rest of the organization, and viewed as a cost center, the value that localization efforts can bring to the entire business is limited.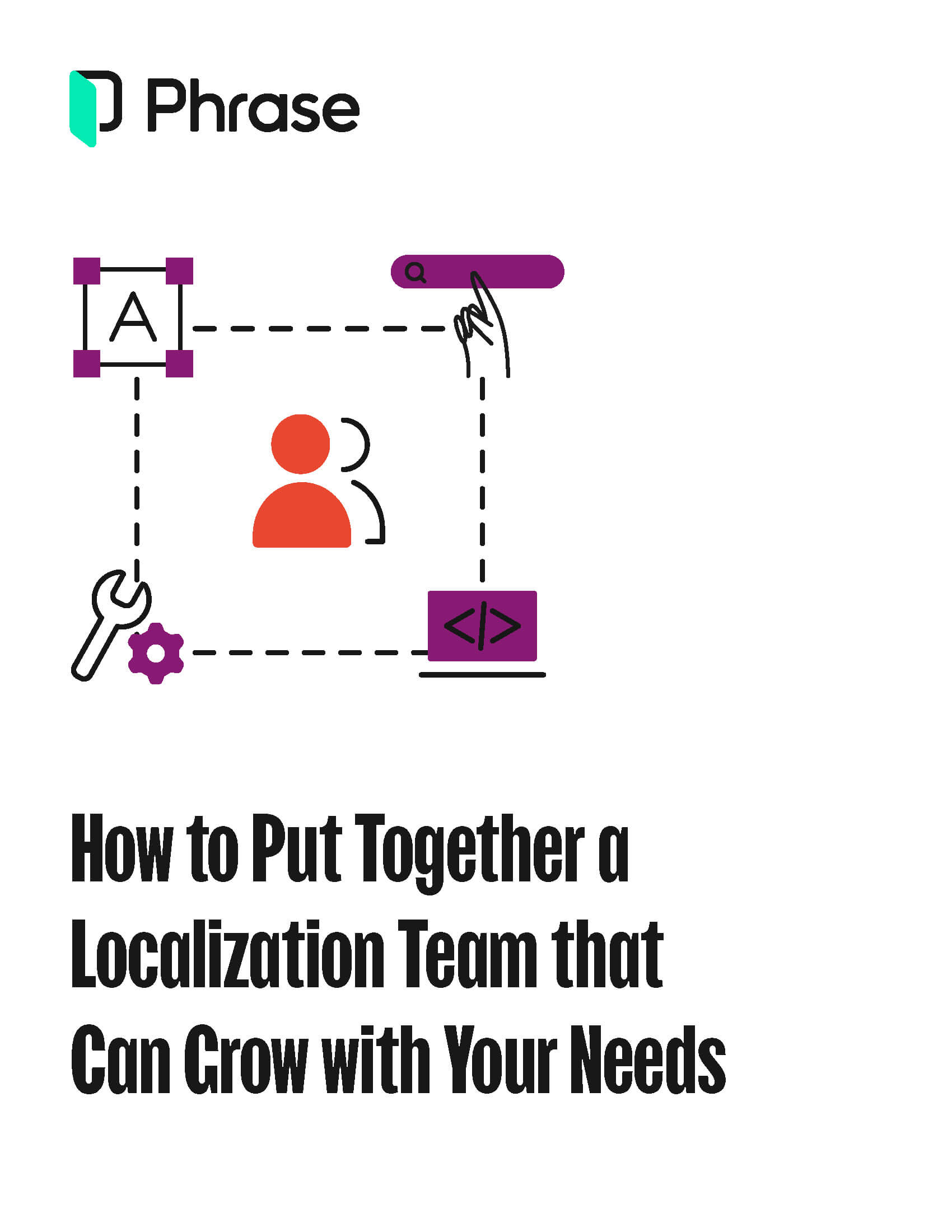 Free download
How to choose the right people for your localization team
Discover the secrets to putting together the right team members to take your localization program to new heights.
The key components of a successful automotive localization roadmap
The solution to tackling the challenges outlined earlier is to adopt a proactive approach, consistently seeking ways to optimize your localization program. A well-defined localization roadmap that considers goals, workflows, and technology serves as a blueprint for success. Let's have a detailed look at the 3 main components of a successful localization roadmap.
Create a centralized localization ecosystem
Aligning stakeholders, reducing human error, and increasing efficiency requires more than automating processes—it requires a centralized ecosystem where any and all localization activity, such as automotive software development, across the organization converges. In other words, automation must be accompanied by integration and ease of management.
The tighter the integration of all localization efforts, the easier it is to increase efficiency, reduce costs, and ensure consistency. A centralized platform brings together teams and processes under one technology suite, in a unified environment that encourages seamless team collaboration, efficient asset management, and continuous delivery.
With a fully integrated suite of translation automation technology solutions like the Phrase Localization Suite, trusted by some of the world's leading brands, localization managers can ensure a seamlessly interconnected and automated localization process—from planning to execution.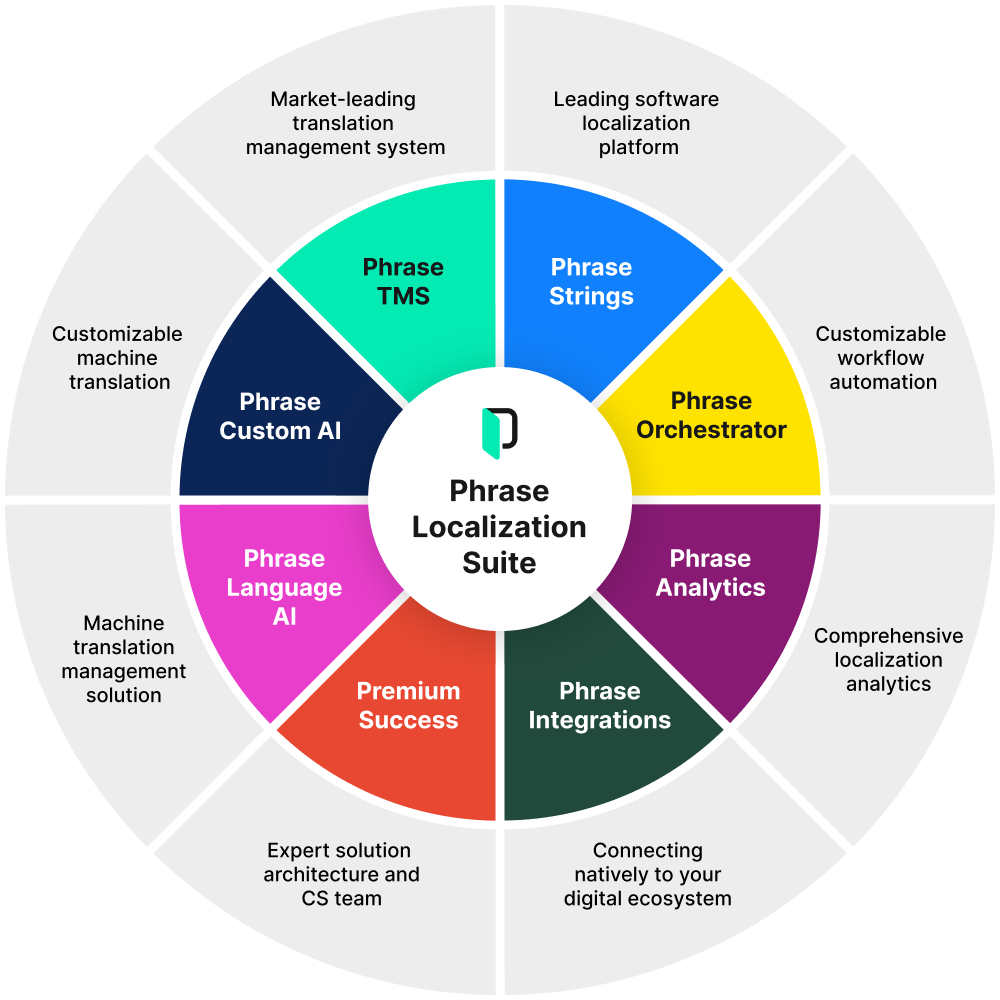 Adapt team-specific playbooks and automated workflows
Defining internal processes for every team involved in the localization process is essential to ensure alignment, build trust, and foster collaboration. A set of best practices tailored to each team's individual needs—in the language that best resonates with them—can go a long way in this sense. A playbook like this should ideally include:
Guidelines for collaboration, communication, and process flows
Market guides, style guides, and any other resources relevant to the team
Recommended processes and best practices—e.g, how to write localization-friendly copy
KPIs and metrics specific to each team—e.g., on-time delivery rates for the sales team, website bounce rate for the marketing team, customer satisfaction rate for the support team
Shared key metrics that enable informed localization decisions—e.g., crafting engaging CTAs in each local language can help the marketing team achieve better newsletter click-through rates.
Once these playbooks are in place, you can build automated end-to-end localization workflows that connect every aspect of your company's specific requirements. Phrase Orchestrator is a comprehensive, fully customizable solution that lets you construct the exact workflows you need, using the functionality that the Phrase Localization Suite provides.
Phrase Orchestrator is an all-around, flexible automation solution that connects the different parts of the localization chain. By letting you orchestrate complex localization workflows within a single graphical interface, it eliminates the need for workarounds and manual, time-consuming, and resource-heavy processes, enabling you to:
Increase operational efficiency and productivity with enhanced visibility throughout
Boost cross-functional alignment, eliminating potential bottlenecks early on
Break down data silos and make better-informed decisions
Allocate resources more effectively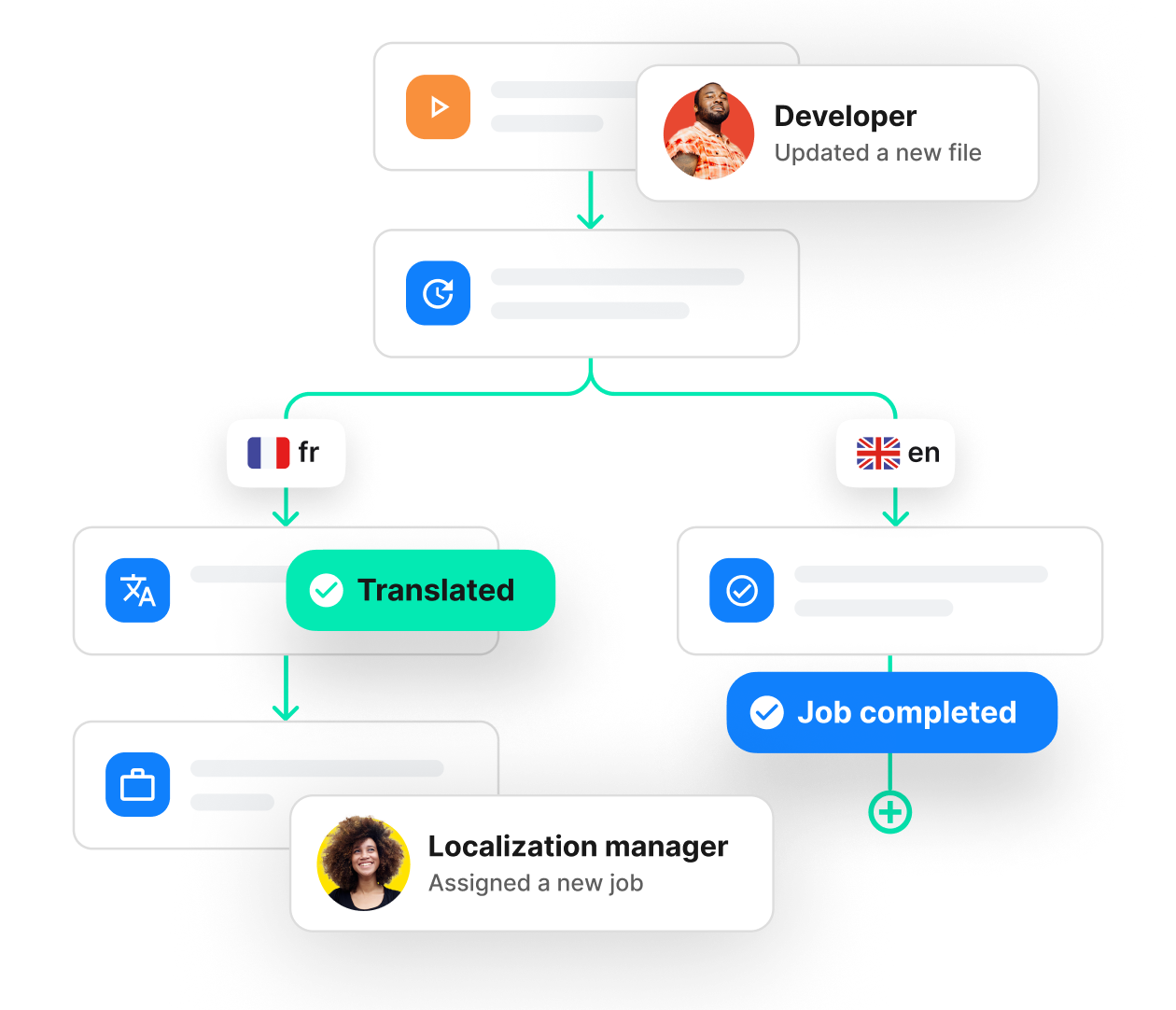 Phrase Orchestrator
Cutting-edge workflow automation editor
Easily create automated workflows, connecting all products across the Phrase Suite, for unparalleled speed and control in your localization process.
Establish a performance measurement system with advanced analytics
The insufficient recognition of localization's strategic role often stems from the lack of visibility into the impact of localization efforts. To tie localization performance metrics to business outcomes—which helps in the quest for alignment with the rest of the organization—you need reliable data and insights.
With Advanced Analytics—part of Phrase Analytics, an add-on within the Phrase Localization Suite—localization managers can get a powerful set of data-driven insights into the performance of their localization program. Having data at their fingertips enables them to make informed decisions, optimize processes, and demonstrate the value of localization to stakeholders.
By unifying relevant KPIs and metrics in one place and leveraging self-service reporting, localization managers can easily uncover the patterns and correlations between localization performance and business results:
Optimize costs with insights into words processed per project or provider, and which language pairs have the highest word count.
Improve workflows by tracking the number of on-time deliveries, average job duration, and editing time per workflow step.
Take control of translation quality across their organization with reporting on Language Quality Assessment—which evaluate scores by category, error severity, language pairs, and providers.
Phrase Analytics
Unleash the power of data-driven decision-making
Create custom reports from one simple and intuitive platform to optimize translation workflows and drive smart business decisions that enable growth.
You can push the limits of localization
The automotive industry is navigating a complex landscape shaped by globalization, the need to cater to local needs, and the convergence of technology. Localization complexities, including disconnected tools, balancing efficient management and quality, and a lack of recognition, can seriously hinder growth.
Through centralized localization ecosystems, automated workflows, and data-driven analytics, localization can live up to its full potential as a business-critical asset. With a technology partner like the Phrase Localization Suite, which connects all solutions needed to covering every aspect of the localization life cycle, localization managers can finally have the peace of mind that they're driving growth.
Speak with an expert
Want to learn how our solutions can help you unlock global opportunity? We'd be happy to show you around the Phrase Localization Suite and answer any questions you may have.
Last updated on September 15, 2023.