Translation management
Business Translation: What It Is, and How to Manage It
Business translation is the process of translating any type of text into one or more target languages to accompany global business activities.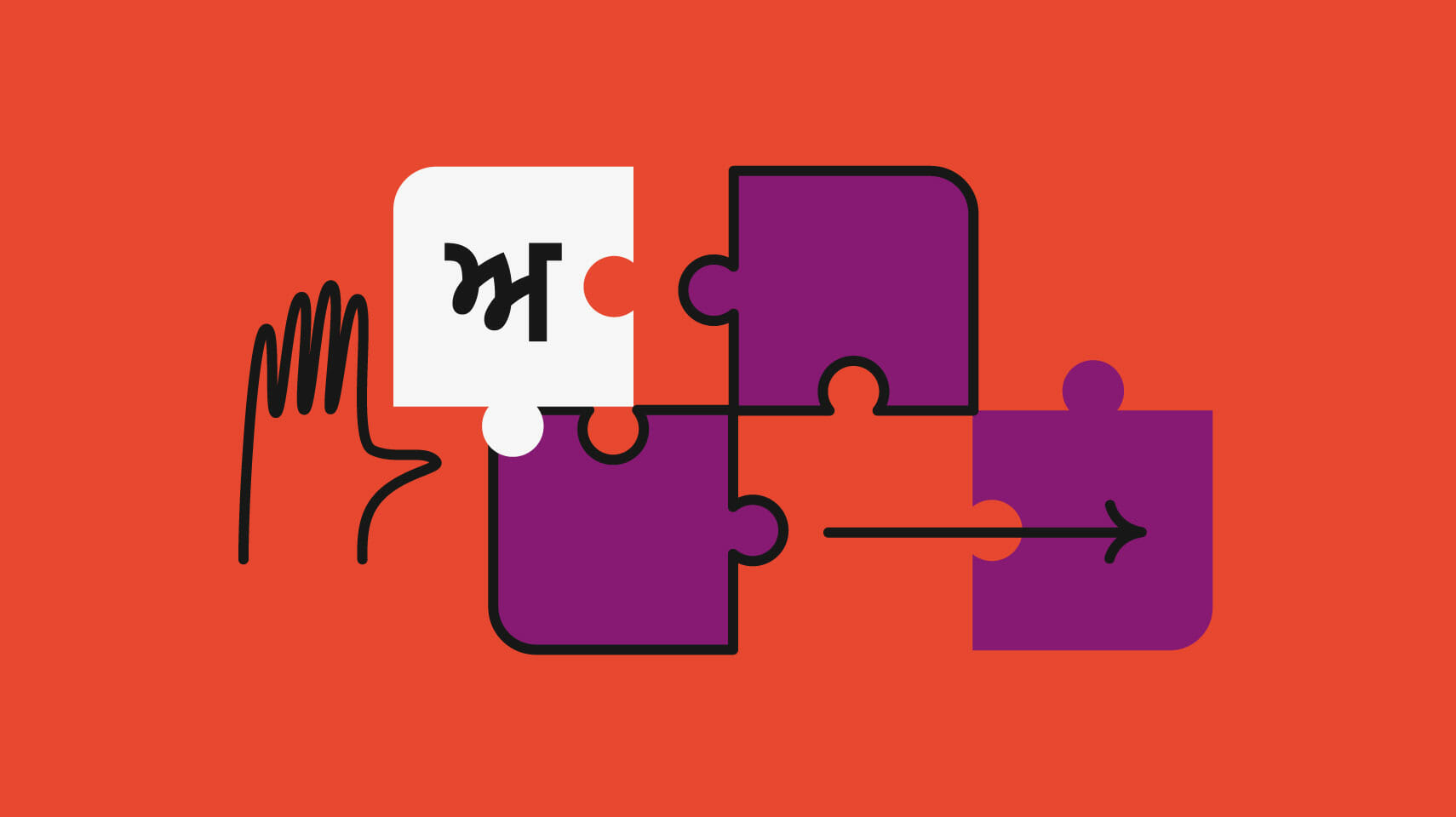 If we were to think of a mantra for today's business environment, it'd probably be some variation of "Go global or go home." Continuously seeking new opportunities to generate revenue and increase market share globally is the name of the game—and that requires a strong global expansion strategy.
For companies that are on track for global growth, one of the biggest questions is how to overcome the language barrier to doing business in foreign markets. When devising a global strategy, most of them find business translation to be the answer. Nevertheless, only a few truly manage to make it support their market expansion.
A key piece of the global growth puzzle, business translation can lead to higher exposure and boost revenue worldwide when integrated from the start with the right technology. This guide will introduce you to 3 key strategies so that learning how to plan, execute, and manage business translation can quickly become second nature.
What is business translation?
Business translation is the process of translating any type of text into one or more target languages to accompany global business activities.
Depending on their size, structure, and needs, companies rely for business translation on in-house linguists or outsource it to business translation services or a pool of freelance translators.
The first step in understanding how to best approach business translation is knowing that it may involve multiple types of translation.
While this might seem obvious, it's easy to underestimate the sheer volume of information that needs to be translated when a company is focused on entering global markets.
Let's look at the 3 main types of business translation, what challenges they present, and how to meet them effectively in the long run.
Internal business documentation
You know all those hundreds of documents that are the backbone of your business? Think HR manuals, operation guidelines, or corporate style guides. Well, before you can even begin to introduce your product or service into a new country, you'll need to translate all of them into the local language.
When you have a large multinational and multilingual workforce, translating internal procedures, policies, and guidelines ensures that everyone is on the same page and abides by the same standards. Compliance is also another big factor here—letting the language barrier affect the ability of your employees to do their jobs can instantly escalate into a compliance or legal stalemate.
The challenge: quantity and fragmentation
Internal business documentation tends to amount to a large volume of text that needs to be handled simultaneously. If you add how dispersed they are across multiple stakeholders worldwide, this quickly becomes a sprawling project with lots of moving parts.
When there are several team members involved, communication often slows down as it becomes harder to keep track of who's working on what and how the different tasks should be broken up. Version control can also become an issue.
The solution: centralization and coordination
Overcoming the challenge of translating internal business documentation is a two-fold task.
First, you need to centralize all internal business documentation into a single multilingual hub or knowledge base accessible by every department. The hub should work as a version-controlled repository and, naturally, as a single point of truth to every employee that needs a particular piece of content in any language.
Examples of documentation services that could help organize your company's internal content include Salesforce Knowledge, Help Scout, Zendesk.
Second, you need to adopt a centralized business translation workflow that allows for the management and organizing of all the dispersed content, leaving behind the non-synchronized and non-centralized translation efforts across departments, teams, and employees worldwide.
Legal and technical documentation
One of the most complex types of business translation are texts of legal and technical nature in different languages. The complexity levels can go through the roof when dealing simultaneously with documents like proceedings, registrations, filings, patents, or user manuals. These types of text use very specific terminology and often require considerable expertise.
What further complicates the picture is that you can hardly avoid dealing with legal and technical documentation. When you expand into another country, each document focused on legal or technical issues must be translated in its entirety. It also needs to be reviewed by a professional in the corresponding domain to retain accuracy and avoid potential disputes or even fines.
Within legal translation, we can differentiate between:
Legal documentation—warrants, registrations, certification, statements, affidavits, etc.
Judicial documentation—proceedings, trials, judgments, expert opinions, etc.
Juridical documentation—decrees, regulations, partnership agreements, contracts, insurance policies, bail insurances, etc.
Technical documentation translation, on the other hand, groups together a broad range of scientific and technical texts that range from user manuals, service guides, and installation instructions to software strings and datasheets.
The challenge: accuracy and quality
The quality requirements that companies need to meet with legal and technical business translation are very high. Not respecting them can result in fines, lawsuits, public embarrassment, or even the inability of your company to continue operating in a certain country (for example, if a patent is rejected because of poor translation).
In other words, with this type of translation, quality becomes paramount not only from a linguistic perspective but from a compliance and corporate responsibility point of view as well.
Every specialty in legal and technical translation has its own prerequisites and terminology. In the case of patents, for example, a very specific and highly regulated language must be followed that is quite impossible to master without being a subject expert in the respective field.
The solution: terminology management and subject-matter expertise
Terminology validation in legal and technical translation is paramount and should be a concerted effort between specialized translators, legal experts, and local-market consultants.
Ideally, before the start of any translation project, a glossary of terms should be created that includes legal and technical terminology, domain-specific expressions, acronyms, abbreviations, etc.
Terminology management, combined with subject-matter expertise, can go a long way in reducing potentially costly mistakes or oversights in your legal and technical translation projects. It may take some time before you can get everyone on board to sign off your organization's glossary, but once it's ready, translators will have a source of truth regarding your industry's jargon and the most recurring specific terms.
This way, you can speed up turnarounds and minimize errors and inconsistencies across your markets. Getting all your product and service terminology validated will also bring value to your global marketing messaging, resulting in a more cohesive end product.
Marketing content and digital assets
In addition to internal, legal, and technical documents, business translation also involves dealing with marketing content and digital assets designed to attract, engage, and retain an external audience:
Press releases
Product sheets
Landing pages
Email templates
Paid advertisements
Social media content, etc.
Since it aims to connect with people on an emotional level, promotional collateral can hardly bear literal translation. Marketing linguists need to capture the spirit of the message you're trying to convey and adapt it to the target market's expectations so it can elicit the same reaction in the new cultural context—a process known as marketing localization.
One of the most effective translation techniques that can be used for marketing localization is transcreation—defined as the creative translation of international advertising content that ensures the tastes, wants, and attitudes of a target audience are respected and matched to equivalent cultural references.
The challenge: global brand consistency
Marketing campaigns should reflect your company's core message as closely as possible. However, it can be difficult not to stray away from your brand identity, especially if you try too hard to adapt to the tastes of every single market.
In other words, if you want to maintain a strong global brand identity that differentiates your company from the competition—but still localize for every market—you need to find a middle ground with both cohesion and individuality in all of your messaging and assets.
This includes not just copy but also imagery and illustrations. For example, every culture is different in the way it perceives certain symbols or colors: While most people around the world associate red with love, passion, or even danger, in some cultures of the Far East, red is the color of good fortune and prosperity. So how do you keep your brand identity intact while still being sensitive to cross-cultural differences?
The solution: collaborative teamwork and localization management
The secret is approaching the process as a joint effort between marketing and translation teams. For example, marketers can ensure that the source content isn't freighted with metaphors that'd be difficult to translate. For the purpose of international SEO, they can also make sure that the content reflects search engine queries in the target language. Put another way, they can prepare content that's easy to localize.
Translators, on the other hand—if experts in marketing localization, based in-market, and native speakers of the target language—can help marketers convey their concepts through more straightforward wording that is also culturally adapted.
What's important for both sides is to be conscious of the other's needs and limitations, so they can work hand in hand on achieving a result that represents the organization's brand identity while still being sensitive to cultural differences.
The way this collaboration is managed varies from one organization to the next. A best practice would be to assign a dedicated localization manager who keeps a helicopter view of the process. They can also ensure that all content being translated is in line with your overarching localization strategy and brand identity.
Additional resources such as brand and communication guidelines, content briefs, and previously approved translations should be made available to both marketing and translation teams to further help improve consistency in marketing localization.
Streamline business translation with a translation management system
Every challenge has a solution, and every solution requires the right tool to get the job done. When it comes to business translation, a translation management system (TMS) is the most reliable technology to let teams across the whole organization work more efficiently together.
A cloud-based TMS, like Phrase TMS, powered by AI-powered technology, brings all business translation best practices together in a single place, allowing you to:
Translate content at scale through smart automation
Foster collaborative teamwork in the cloud
Integrate with your existing tech stack
Ensure translation quality and consistency
Reduce translation costs by speeding up work with translation technology
Streamline the overall translation process
On-demand webinar
The benefits of using a translation management system
Learn how a translation management system can help you open the door to global business by automating, managing, and translating all your content into the languages your audiences speak.
Increase efficiency by combining translation memory and machine translation technology
Translation memory (TM) technology works by keeping a record of previously translated content so that translators can reuse parts of it to reduce costs and time. This way, faster turnaround times and higher output become possible, while equally increasing the likelihood of maintaining consistency throughout all projects.
The benefits of a TMS don't stop there: AI-powered machine translation (MT) technology is another helpful tool available within the most complete TMS solutions. By leveraging artificial intelligence, machine translation creates an automatic translation output that can act as a starting point and then be edited to human perfection by language experts.
The key advantage of using MT technology is its speed. Translating large batches of content need not be a slow and labor-intensive process anymore. Equally important, since MT technology learns from every translation the more it gets used, the better the results become.
Having said that, the right technology for your global business and multilingual projects is a mix of TM and MT capabilities that can adapt to your workflow and deliver the best possible results for your organization.
Ensure accuracy and consistency with term bases
Ensuring translation accuracy and consistency is a tall order to fill when content gets updated frequently and the volume of projects and language combinations increases.
That's exactly how a TMS can help. Best-in-class TMS solutions let you take control of every project's terminology management through term bases that act as central repositories or pre-approved terminology across your organization.
Term bases are glossaries of industry-specific words and phrases with their translation into another language. They can also include context for correct usage, term relationships, and definitions to help maintain the accuracy of all your projects.
Every time content gets updated or new projects get launched, translators pull up the latest term bases so that every bit of content remains consistent across your business.
Integrate seamlessly with other tools in your digital ecosystem
A modern TMS should offer out-of-the-box integrations through an API with dozens of other systems, from large players to small vendors, to help you cover your business translation needs and automate your workflows end to end.
These include, among many others:
Content management systems like Contentful, Hubspot CMS Hub, Contentstack, and WordPress
Marketing platforms like Adobe Commerce (previously Magento), Adobe Experience Manager, Hubspot Marketing Hub, and Marketo
Storage services like Dropbox, Google Drive, and FTP
Source code repositories like Bitbucket, Git, GitHub, and GitLab
Documentation services (help centers and knowledge bases) like Salesforce Knowledge, Help Scout, and Zendesk
Design software like Sketch and Figma
Third-party services like Captionhub, Gengo, Gridly, LBS Suite, Paligo, Plunet, TransPDF, and XTRF
Bring all things business translation under one roof
Adopting a cloud-based TMS is an effective way of getting managers, developers, subject matter experts, translators, copywriters, marketers, and designers on the same page. Whether your team members are in the office, working from home, or outside, it makes no difference when working with a cloud-based TMS.
Moreover, a TMS will help you establish a clear translation and localization workflow, monitor the projects' progress, and, most importantly, invite different departments and branches from your organization to get involved in the localization process.
A translation management system gets you out of the most intricate translation labyrinths with the following features:
Automated importing and exporting of content
Support for multiple languages, concurrently
Progress tracking and time estimation
Automatic assignment of internal resources
Assessment of localization quality and consistency
Cost tracking, and much more
With a TMS at your service, managers can truly focus on what's important: expanding the global footprint of their business.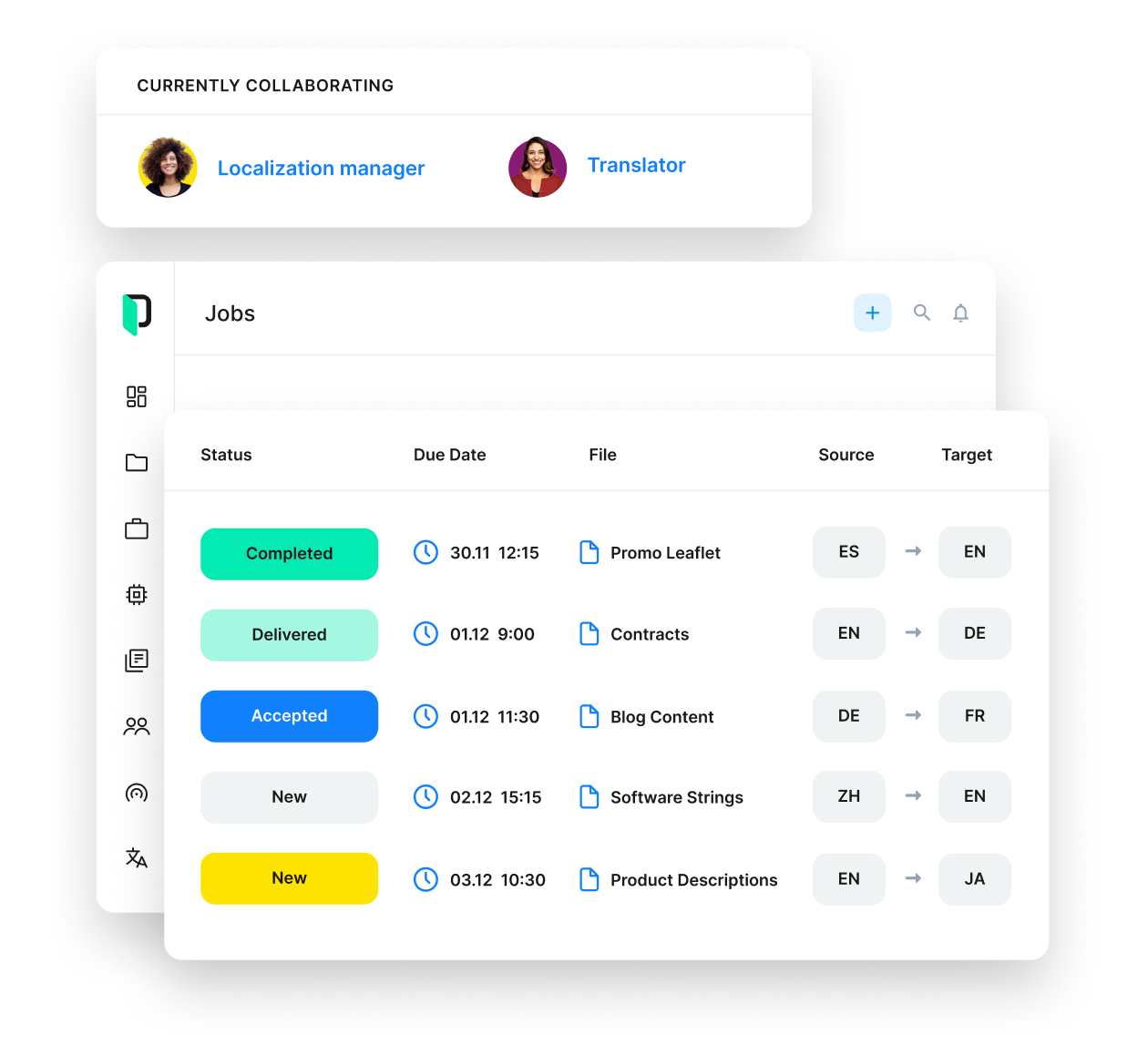 Phrase TMS
The enterprise-ready translation management system
Work with the leading TMS to automate translation workflows with cost control and quality checks.
Last updated on September 22, 2023.