Translation management
Expert Tips: How to Set Up an Effective Translation Process
Looking into establishing an effective translation process? Follow these implementation tips from Phrase and TextMaster for lasting success.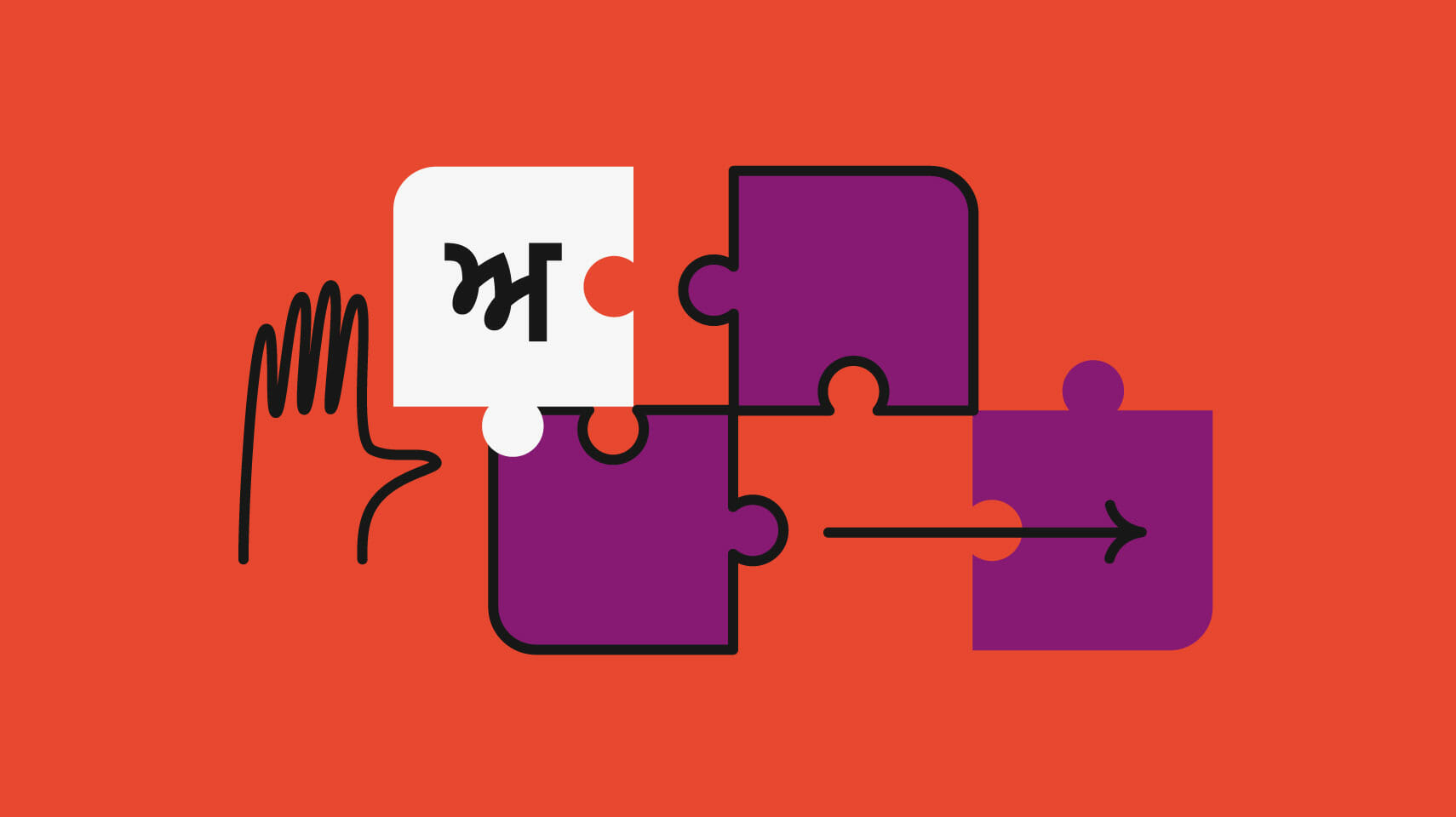 Oh, the joys of global expansion: Suddenly, your business is humming along in more than one language. However, to reap the benefits of your newfound reach, you need to set up a process for translating your content quickly, accurately, and affordably. Combining strong localization technology with professional language services on a single platform can help you achieve that.
With the TextMaster integration in Phrase, you can collaborate with translation experts across domains, maintain cost control, uphold translation quality, and speed up your time to market. Mansoor Khan, Product Manager at Phrase, and Pierre-Louis Gottfrois, Chief Technical Officer at TextMaster, outline an implementation roadmap for an effective translation process.
Automate and scale your translation workflow
Think of all those times you had to copy and paste text from one document to another, email multiple files back and forth to get a project completed, or spend hours formatting text to make it ready for translation. Doubtfully any of these tasks are what you would call "efficient."
Now imagine if you could automate and scale your translation workflow so that you never had to do them again. That's what you can get with the right localization technology and translation services in place. With Phrase and TextMaster, every aspect of your workflow is streamlined, from project creation and order management to quality assurance.
Rely on a scalable network of translators
Multilingual content management is all about flexibility. One month, you might only have a couple of headlines to update. The next month, you might launch 10 new products and need landing pages, product descriptions, and marketing material for each of them.
Relying on only one linguist can pose a challenge here—what if they are unavailable when you need them or they don't have the necessary expertise for a specific type of content? Having access to a scalable network of translators ready to take on the work you require is key to keeping your translation process on track. TextMaster offers this pool of linguists—and you can even choose your favorite ones.
In higher Phrase subscription plans, users can benefit from even more features and settings with the advanced TextMaster integration. It takes, for example, ordering translations to the next level by letting you create API templates with all your preferred settings for translation orders in TextMaster, order those translations from your Phrase interface, and get the localized copy shortly—a truly seamless experience with minimal manual effort.
Optimize your translation budget and keep costs low
Two features come in handy when you want to optimize translation costs: translation memories and machine translation combined with post-editing.
Translation memories
Translation memories (TMs) store previous translations in a database that allows linguists to reuse them in future projects. An industry where this technology is particularly valuable is ecommerce, where similar product descriptions, category names, and even product titles need to be translated time and again.
TextMaster is a leading translation solution provider that uses translation memory technology to help companies from ecommerce and other sectors save on translation costs. Pierre-Louis Gottfrois, CTO explains that TextMaster's collaborative, real-time translation memory MEMENTOTM detects around 30-40% of repetitions in product descriptions.
TMs help avoid the need to retranslate each new product description from scratch and to pay for it again every time. Instead, linguists can reuse already existing product description translations and adapt them to the new product—changing only fields like the name of the product, size, or color. In the words of Pierre-Louis Gottfrois, CTO at TextMaster:
"MEMENTOTM is TextMaster's real-time translation memory that avoids having the same content translated multiple times with up to 45% savings. This accelerates translation timelines and maximizes translation consistency and quality. Our clients benefit from technology that is 10% to 30% more efficient than other solutions on the market."
Machine translation and post-editing
Another way to save money in the translation process is to have your copy translated by a machine and then edited by a human linguist—a process called "machine translation post-editing" (MTPE).
The human linguist adapts the pre-filled translations to the brand's tone of voice and the local market, making sure that the translated text sounds natural and idiomatic.
Machine translation post-editing is generally cheaper than human translation: TextMaster offers best-in-class MTPE services and can help you halve the cost of translations and double the speed without sacrificing quality:
"TextMaster offers the best of artificial intelligence and human expertise with POST-EDITORTM verified machine translation technology (PEMT). This solution offers savings of up to 60% and turnaround times that are 2.5 times faster than a traditional agency. PEMT optimizes quality and simultaneously handles projects of several million words," explains Pierre-Louis Gottfrois, CTO at TextMaster.
Achieve and uphold translation quality
When you use multiple linguists on the same project, a consistent translation style, terminology usage, and tone of voice are essential to uphold quality. You can ensure this through native translators and a well-maintained glossary.
Native translators
In order to obtain high-quality translations that match the target market's needs, it is important to work with expert linguists that are native speakers of the target language and that know their country's culture like the back of their hand. This ensures a translation that really speaks to your users and takes their specific customs into account. TextMaster offers a wide network of professional, native-speaking translators. As Sandhya Mangou, Product Owner at TextMaster  puts it:
"We have a network of over 12K native-speaking translators, in over 365 language pairs, who provide high-quality translations for a range of industries."
Glossary
Different translators might use different words for the same thing. You can call a two-wheeled transport vehicle a bike or a bicycle. In order to ensure the consistent use of brand terminology, it's important to maintain a translation glossary.
A glossary informs linguists working on the same project about terms they should use and others they should avoid. TextMaster's interactive glossary, LEXIOTM, identifies and suggests, in real time, the translation of the terms included in your own glossaries—which you can create in-house and upload to the platform, as we'll see below.
Collaborate effectively with a strong translation team
Now that you have the right software integration as well as the tools to ensure consistent quality, it's time to look at the right team. Once more, two factors ensure a seamless project organization here: the right technology and a dedicated project manager.
Technology setup
Ensure a strong workflow by setting up the right technology to support your collaborative translation process. With a localization platform like Phrase and an API integration to a translation ordering platform like TextMaster, you can easily connect all stakeholders, manage projects centrally, and speed up the entire translation process.
With the advanced TextMaster integration, everything from preferred translators, needed language combinations, and quality settings is already saved in your API templates:
"By using the TextMaster API, you can significantly increase productivity and save your staff from manual processes. Depending on the features you select, you will be able to reproduce all of TextMaster's actions in your system, such as launching your translation projects, communicating with your translators, and automatically reintegrating translations, saving up to 80% of your time," clarifies Sandhya Mangou, Product Owner at TextMaster.
Dedicated project manager
While the right technology ensures a streamlined workflow, a dedicated project manager can provide the human touch that is essential to a successful project. After all, someone needs to oversee the ongoing localization process.
That's where the localization project manager comes into play. They're the human element of the workflow and oversee the process setup, translation orders, and deliveries, acting as a single point of contact for all involved parties.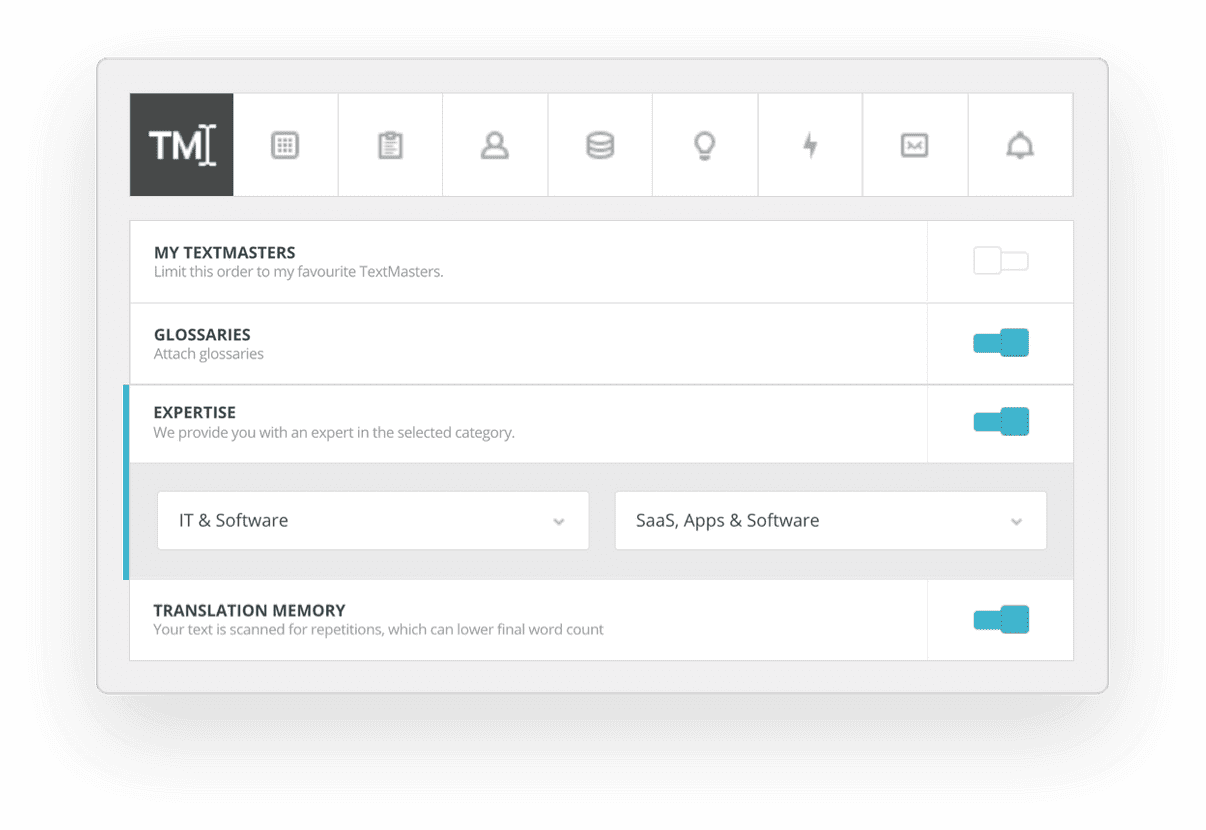 Create a workflow with the advanced TextMaster integration
Now that we're familiar with the theory, let's look at a practical example. How do you actually set up the integration between Phrase and TextMaster, and what does the translation ordering flow look like?
How to send a translation order from Phrase to TextMaster
If you're on Phrase's Advanced or Enterprise plan, you can use the advanced TextMaster integration.
To send a translation request to TextMaster, you simply create an order, choose to send it via "My own TextMaster account" and select the source and target locale together with the category and any style references. On the checkout page, you'll be shown a quote and, if you accept it, you can send your request off to TextMaster.
The connecting API now pushes your request over to TextMaster where the translation order can start. This way, Phrase handles all your content in one place while TextMaster takes care of the translations. In Mansoor Khan's own words:
"Phrase was built to create effortless localization for the whole team—from managers to developers and translators. By leveraging automated processes and workflows for each team member, an average of 48 hours can be saved per release, which clearly reduces time to market."
How to optimize workflows in TextMaster for a faster translation process
Within TextMaster, there are multiple tools that you can use to speed up workflows and build an effective translation process. In addition, it will help you create consistent translations to ultimately reach higher translation quality.
Add glossaries
Glossaries are term lists that define a specific translation for a source word in the target language. They ensure a consistent tone of voice for your localized content. In TextMaster, you can create a LEXIOTM glossary by uploading an Excel or CSV file to the platform. Glossaries help translators find your preferred translation quickly and therefore, enhance the translation quality and speed.
Activate the translation memory
As we've learned above, translation memories allow linguists to reuse previously translated copy for new translations which speeds up the localization turnaround time. TextMaster's translation memory MEMENTOTM is 10% to 30% more effective than other solutions on the market.
Create API templates
This will make the whole process even more seamless. If you wish to, you'll only ever need to use the TextMaster interface once for setting up your API templates. These templates can be used to define language pairs, select TMs and glossaries, choose the subject matter expertise (medical, legal, technical, etc.), select preferred translators, and add briefs to your translation orders.
You can also choose to activate auto-launch, which means that your translation project will be automatically launched once you place the order in Phrase—so you don't need to go back to your TextMaster account to manually start it.
After the initial setup, everything from ordering translations to pushing out localizations into different repositories can be managed directly from within Phrase. When you go to the Orders tab in your Phrase account, you can choose to send your order via "My own TextMaster account" and select one of those previously created API templates.
Setting up an effective translation process can be easier than you'd think
Relying on strong localization technology and professional language services on a single platform can help you reap the benefits of an effective translation process that is set up for success from the start.
With Phrase and TextMaster, you can streamline every single bit of your workflow, from project creation and order management to quality assurance, to maintain cost control, uphold translation quality, and speed up your time to market:
"The usage of the advanced TextMaster integration has been steadily increasing throughout the last year. This is a result of our continuous effort to make ordering translations with TextMaster as effortless as possible," concludes Mansoor Khan.
Start ordering professional translations with the advanced TextMaster integration in Phrase today.
Last updated on January 12, 2023.