Localization strategy
Localization Examples: What Airbnb, Uber, and TripAdvisor Tell Us About Going Global
Learn localization examples by global companies like Airbnb, Uber, and TripAdvisor to inform your own localization plan.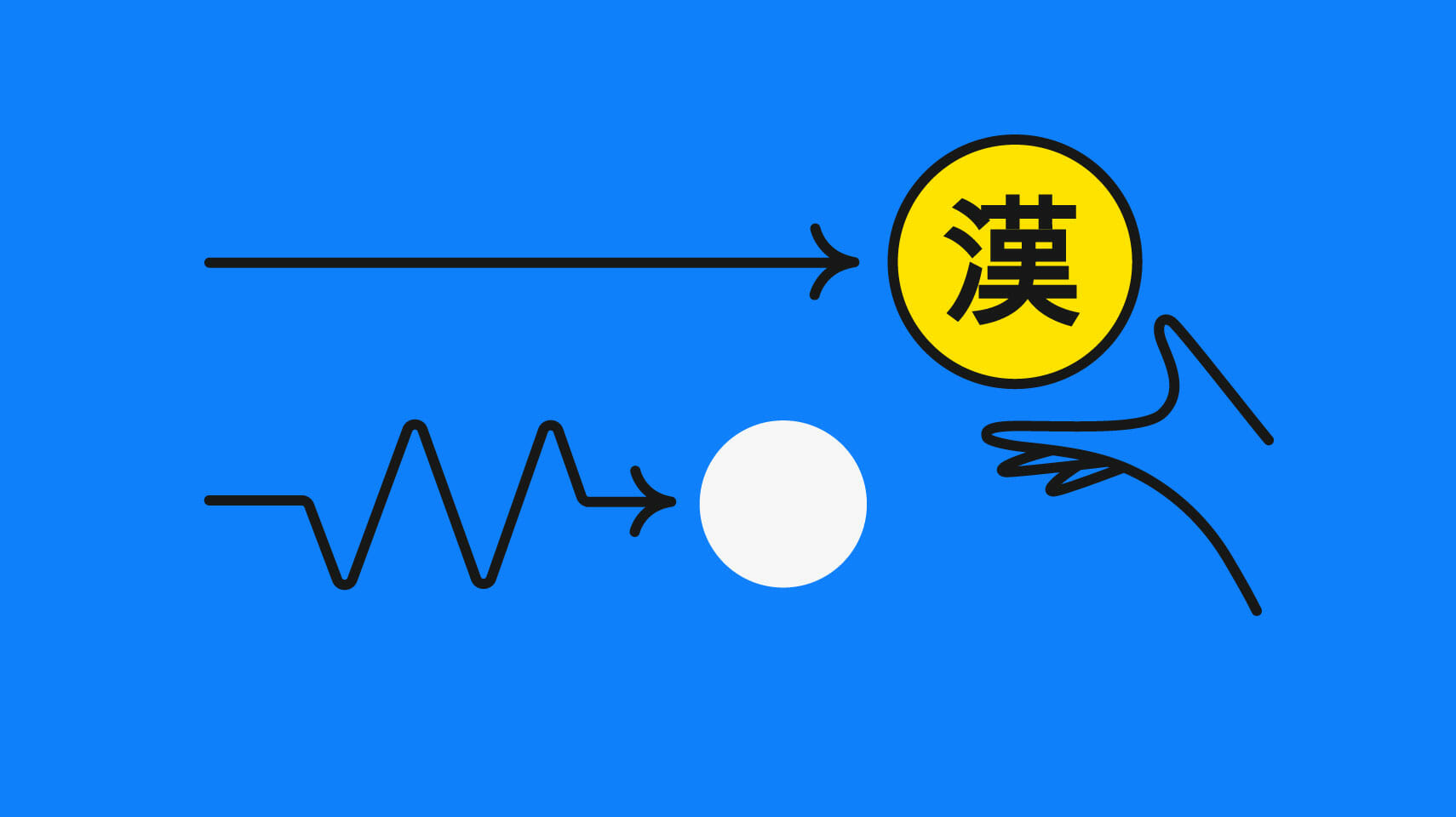 Blockbuster DVDs gave way to Netflix streaming. Google Maps led to the death of the road atlas. Food delivery apps are making restaurant drive-thrus near obsolete. In every case, a technological shift has given rise to new customer expectations and new opportunities for businesses.
Anticipating these changes and adapting quickly is key to maintaining a competitive edge—and that's especially true when it comes to going global. These days, customers around the world expect companies to offer a personalized experience, in their own language and on their own terms. And that's when localization comes in.
Airbnb, Uber, and TripAdvisor are 3 companies that have done an exemplary job of meeting these expectations, and this overview will explore different localization examples from each.
Localization at Airbnb
Airbnb is a prime example of a company that knows how to approach localization the right way. The home-sharing platform understands that localization is much more than just translating content into different languages—it's about offering a completely localized user experience (UX) by adapting to local customs, preferences, and needs.
Airbnb got its start in 2007 when two American entrepreneurs rented out an air mattress in their apartment to some visitors from Europe. Today, the platform:
Has 6M active listings worldwide in over 220 countries and regions and more than 100k cities and towns.
Has a valuation of over $93B.
Lets 4M+ hosts welcome guests from nearly every country in the world.
Is available in 60+ languages.
One of the keys to Airbnb's success is its localization strategy—which involves approaching each market with a deep understanding of the local culture and offering features and services that are relevant to users in different regions. From the Asian preference for group travel—as a result of a culturally low tolerance to risk—to the importance of deals as a travel purchase decision factor for 91% of Canadians, Airbnb tailors its platform to the specific needs of each market.
The examples below illustrate just how Airbnb has been able to successfully localize its platform for users in different regions.
Localization example 1: Personalization of the travel experience
Whatever destination a traveler has picked, Airbnb customizes the content on its platform to match. This is done, for example, by sending clients a selection of must-see places and restaurants in the area, or by providing city guides with local tips, events, and things to do.
This creates a feeling of familiarity and makes guests feel like they're being catered to as individuals rather than just being seen as part of a mass market. It's an effective way to build trust and create lasting relationships with customers.
When you top this up with a market-specific user interface that adapts everything from the visual and the layout to the functionalities and even the color scheme, you've got a platform that feels like it was made just for users in that particular region. Airbnb goes the extra mile to make each user feel at home—literally.
To be able to offer curated and locally relevant content at scale, a solid technological stack is essential. Companies like Airbnb use translation management systems (TMS) to help them manage their website and app localization processes efficiently, as well as a whole host of other solutions—from CRM software to design tools—to power their globalization efforts.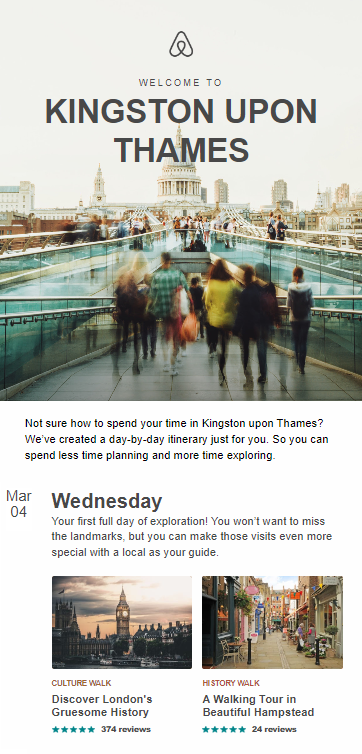 Airbnb customizes its content for users based on their location © Airbnb
Localization example 2: A partnership program in Japan
In Japan—where Airbnb has been operating since 2013—the 2018 Private Lodging Business Act led to changes in the way that home-sharing platforms could operate. This law for private home-sharing prevented hosts in Japan that hadn't obtained the proper permits from listing their homes on platforms like Airbnb. From 62,000 available properties, the number of listings on Airbnb in Japan dropped to just 13,800 overnight.
In response, Airbnb launched a partnership ecosystem program spanning 3 categories:
Demand partners offering specific services such as loyalty programs and mileage accrual
Service partners, providing host support services like host training, listing registration, furniture setup, photography, and cleaning
Supply partners—like real estate developers or professional hosts—offering a portfolio of high-quality and unique listings
The ultimate goal of this program was to make it easier for potential hosts to list their properties on Airbnb and for guests to find quality accommodation easily. This tactic—which turned out to be very effective—wouldn't have been possible without a deep understanding of the Japanese market and regulations.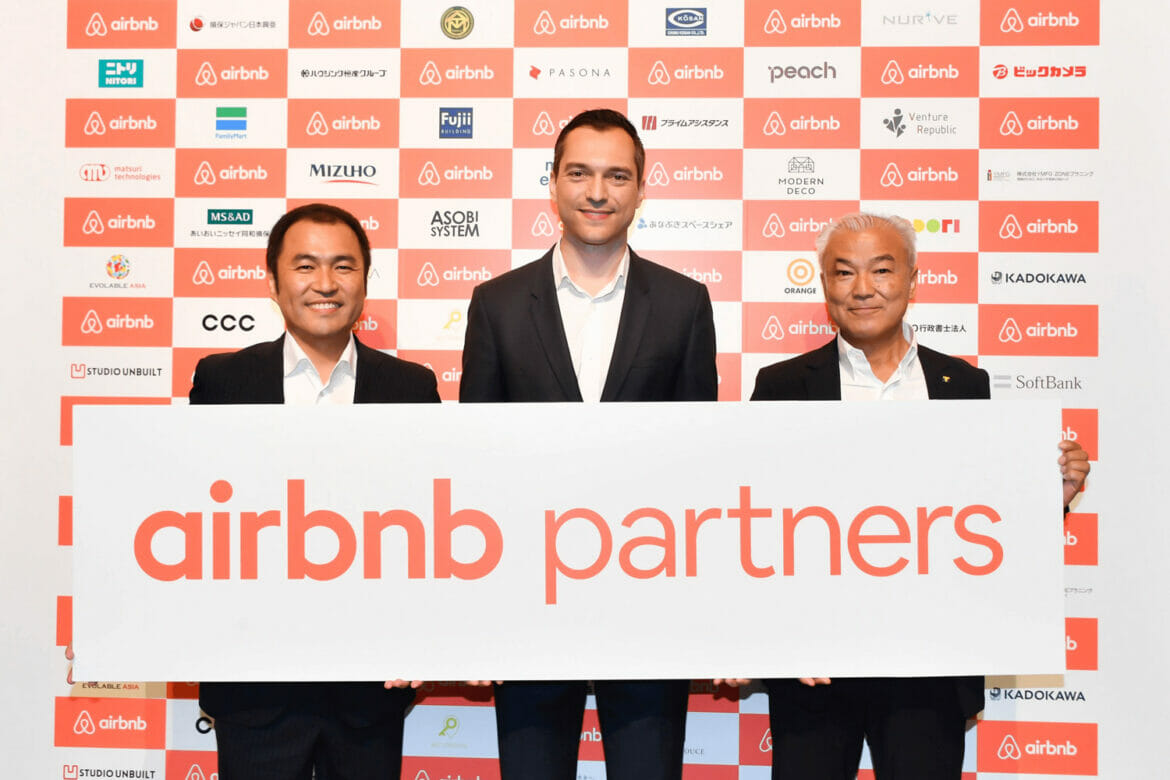 The launch of Airbnb's partnership ecosystem program in Japan © Airbnb
Localization example 3: Localizing user-generated content (UGC)
Studies show that millennials spend 30% of their media time interacting with user-generated content. And not only are millennials—together with Gen Z—the generation that is moving the sharing economy to which Airbnb belongs, but they're also the most influenced by recommendations and opinions from peers.
This is why, on top of its own content, Airbnb gives pride of place to user-generated content (UGC) such as guest reviews, photos, and videos. You can find it all over their social media, their website, and their app… It's even used in some of their marketing campaigns.
On the website and app, in particular, Airbnb took care to localize this UGC to the language of the user. Through leveraging machine translation and language detection, they're able to offer relevant and localized content to users all over the world. Not only is this effective in terms of conversion—nothing beats a recommendation from someone who's already been there, done that—but it also helps create a feeling of community and inclusiveness. Once again, powerful technology—machine translation, in this case—helps Airbnb stay ahead of the curve.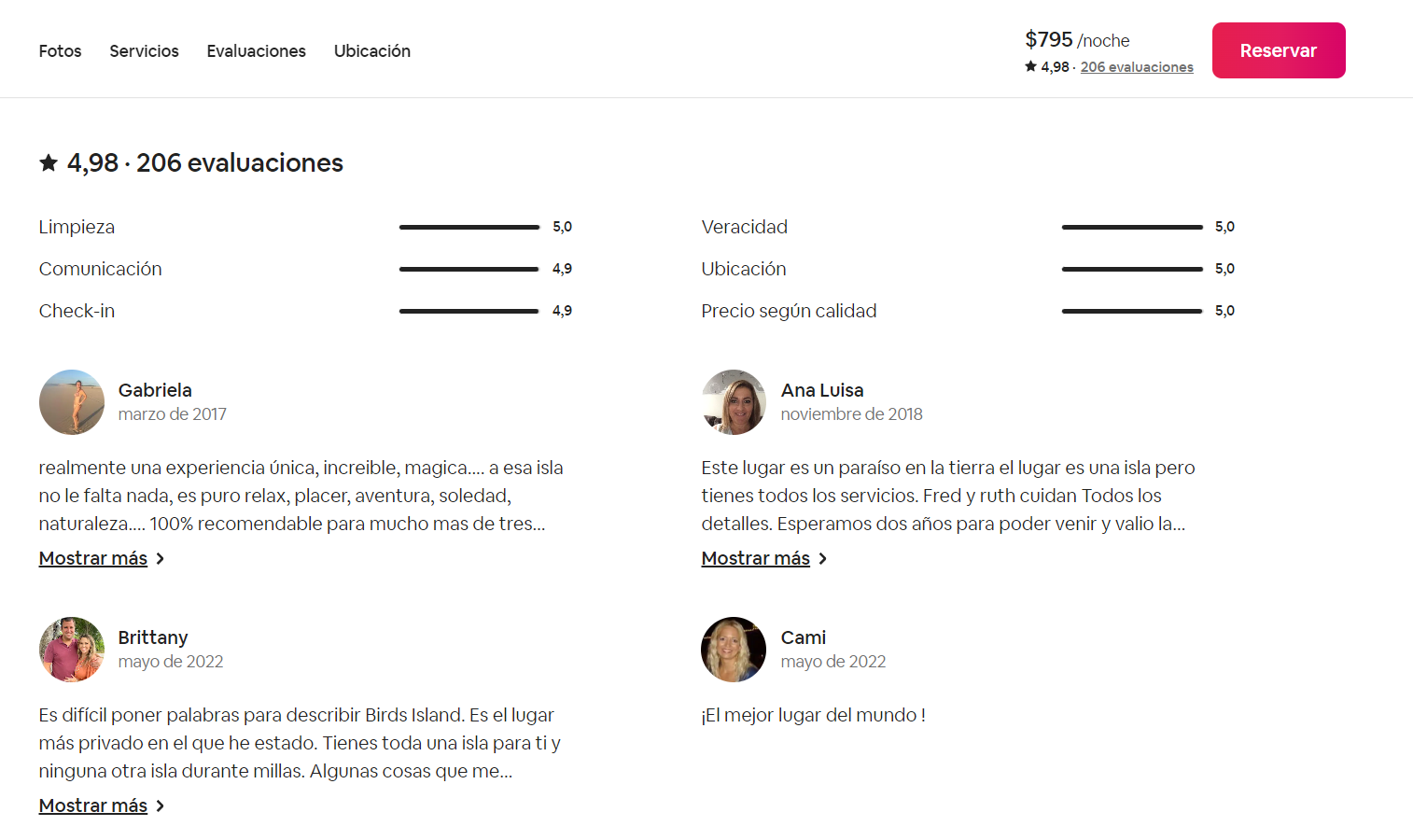 User-generated content translated into Spanish on Airbnb © Airbnb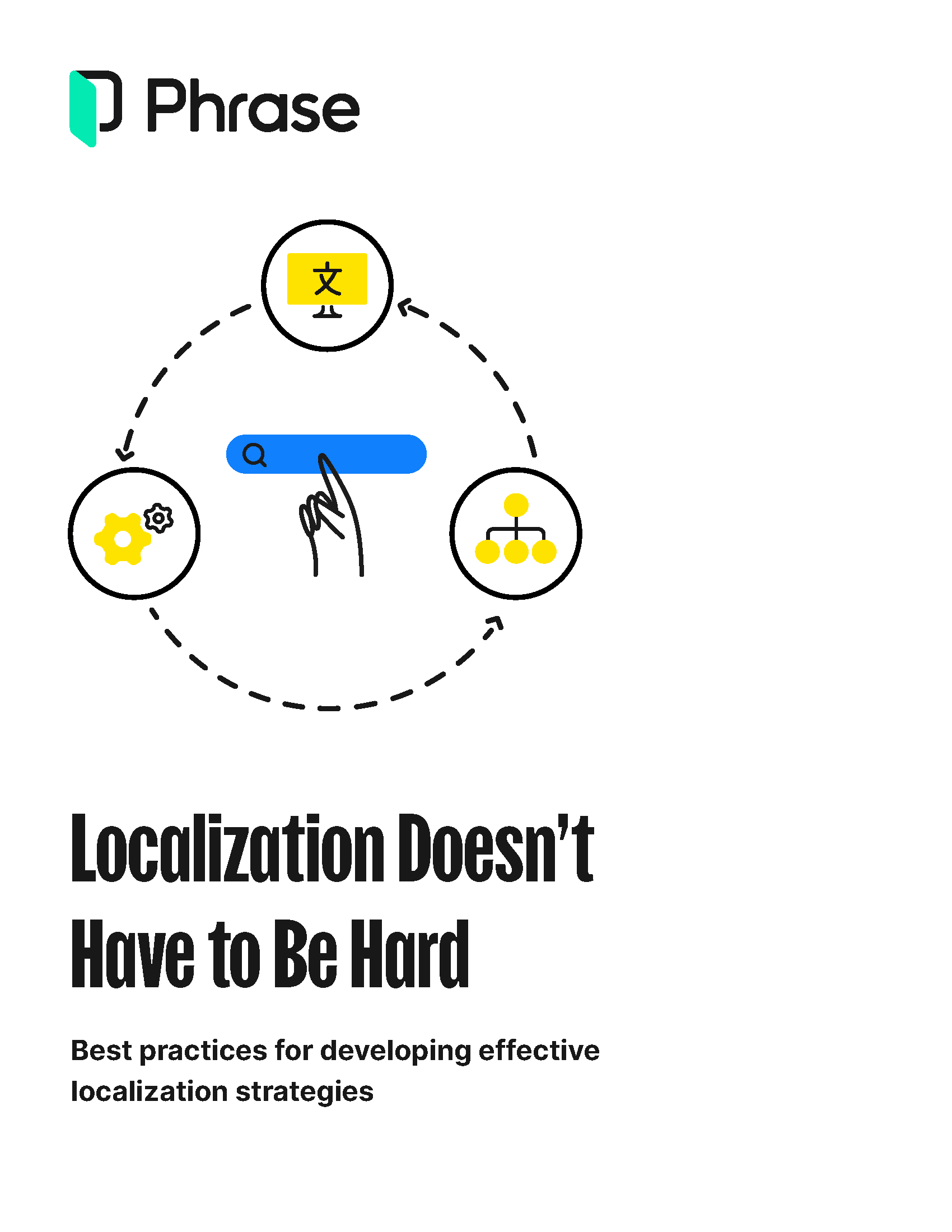 Free download
Best practices for developing effective localization strategies
Explore how to tackle localization management efficiently and engage customers across the globe in their native languages and local experiences.
Localization at Uber
Like Airbnb, Uber has also been very successful in localization. Ever since it was founded in 2009, the company has been expanding rapidly all over the world and is now present in more than 10,000 cities around the globe.
Much of Uber's success is due to its adaptation efforts to better fit the needs of each individual market. Here are a few examples:
Localization example 4: Creating specific products for specific markets
If you think that Uber is only for renting cars with drivers, think again. In some countries—Thailand, for instance—the company also offers motorbike taxis, and in others—like Egypt—it has UberBOAT, a service that lets you hail a boat to get around on the river. Need a rickshaw in India? Uber has you covered with UberAuto. How's that for tailoring the product offer to local needs?
This type of localization doesn't stop at the product level—it extends to the whole user experience. For instance, 2020 saw Uber launch a test program in Arizona to allow riders to request a ride through a 1-800 phone number—from a cell phone, not a landline—without having to use the app. The goal here was to capture the segment of older adults and other users—19% of the population—who don't own a smartphone, and those in the 81% who might not feel comfortable using one.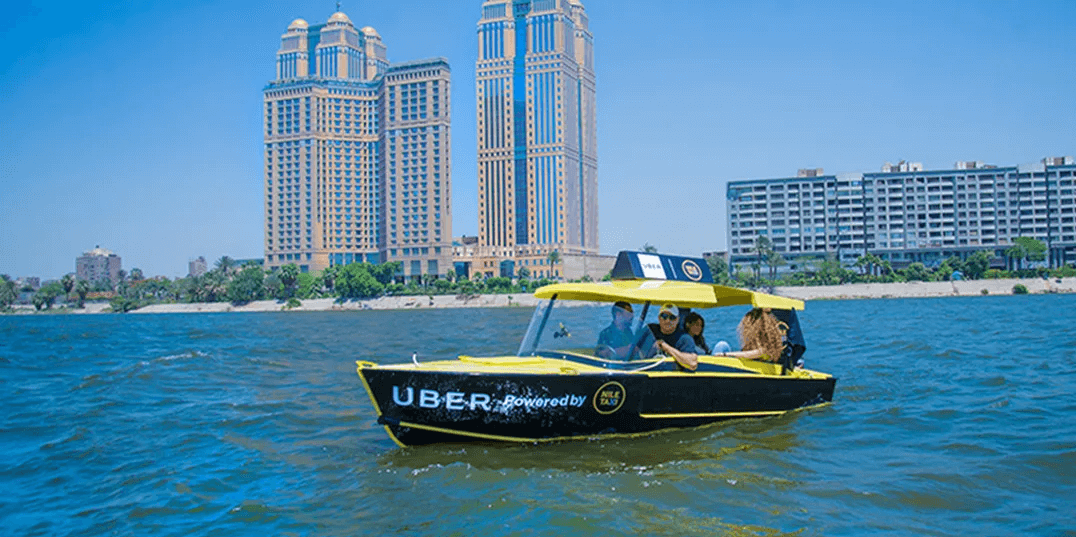 UberBOAT lets you hail a boat to get around on the river © Uber
Localization example 5: Being up to date with local events
In 2015, members of the City Council Transportation Committee in New York City tried to introduce a bill that would require the Taxi and Limousine Commission (TLC) to limit the issuance of new for-hire vehicle licenses. If the bill had been passed, it would have had a big impact on Uber's business in New York.
In response, Uber launched a $3M ad campaign in the city to fight the proposed regulation. The campaign included the "de Blasio's feature"—a pop-up that, when activated, simulated what it would be like to use the Uber app under the new rules: slower pickups, 25-minute longer wait times, etc.
This was quite a smart move on Uber's part. Not only did they manage to effectively mobilize public opinion against the bill—which was eventually dropped—but they also showed that they're invested in the city and care about the experience of their users.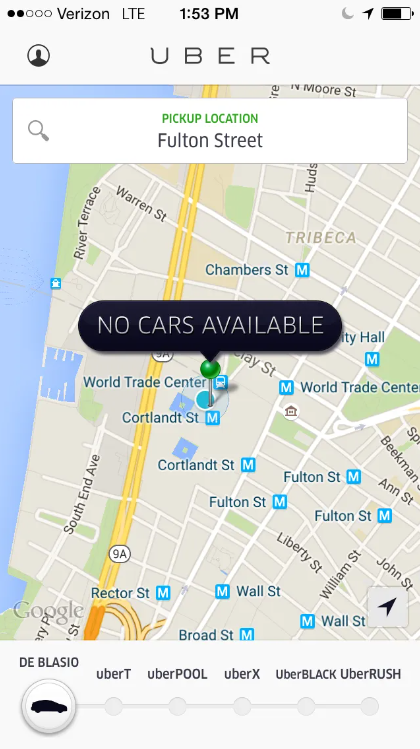 Uber's fake app feature, visible only in NYC, simply saying "No cars available" © Wired
Localization example 6: Adapting the app's UI and UX to local tastes
If you open the Uber app in China, you'll notice right away that it looks very different from the versions in other countries, and that's not by chance. Research shows that implementing culturally preferred design elements—which could apply to choices as seemingly small as colors—can positively influence usability.
In China, the color red represents luck. Uber understood that consumers could be lured by the color, so the app's car icons aren't black or gray as they are in other countries, but bright red.
The tweaks to the app's UI and UX don't stop there. In low-income countries like India, Malaysia, and the Philippines, where cards aren't a popular payment method, Uber developed a cash payment option. While paying cash is now pretty much a universal feature of the app, it was originally designed for these countries and later rolled out to others.
Localization example 7: Need a driver that speaks your language?
In what probably constitutes one of Uber's most impressive localization efforts, the company offers a service in parts of the world that lets riders request a driver that speaks their language. For example, UberESPAÑOL is available in the Central Valley cities of California—Sacramento, Modesto, Fresno, and Stockton—where the majority of the population is of Hispanic origin.
Similarly, UberENGLISH is available in locations where English isn't the dominant language, like some South American cities. Launched originally in Colombia, the service is now also available in Brazil and Shanghai.
In a press release, Uber explained the rationale behind this service: "We've heard from riders and driver-partners alike that they'd like the Uber experience to reflect the multilingual aspects of the multicultural communities in which we operate." A very effective—and thoughtful—way to build trust and strengthen the Uber brand.
Localization at TripAdvisor
When it comes to localization approaches to emulate, TripAdvisor is another company that's worth looking at. Founded in 2000, the world's largest travel platform now has a massive global presence, helping 463M travelers each month find the best hotels, restaurants, and attractions—wherever they are in the world.
Again, rather than trying to offer a one-size-fits-all solution, TripAdvisor has gone to great lengths to tailor its platform to the needs of each individual market. Below are some examples.
Localization example 8: A separate app for China
TripAdvisor expanded to China in 2013, and it took just under two years until the company realized that the platform needed to be adapted to the Chinese market.
In the first four months of 2015, TripAdvisor logged over 60 million sessions from Chinese users worldwide, and Chinese language reviews on the site increased fivefold compared to the same period in 2014. In the face of this impressive growth, the company decided that a separate app for China was needed—one that would be more user-friendly for Chinese travelers.
That's how TripAdvisor came to launch a dedicated Chinese app, 猫途鹰 (Mǎotúyīng), which means "owl" and "journey", leveraging the globally recognized TripAdvisor brand and reinforcing a sense of global brand consistency. The launch is part of TripAdvisor's strategy to better serve Mainland Chinese outbound travelers, Chinese-speaking users from Hong Kong and Taiwan, and Chinese nationals living abroad.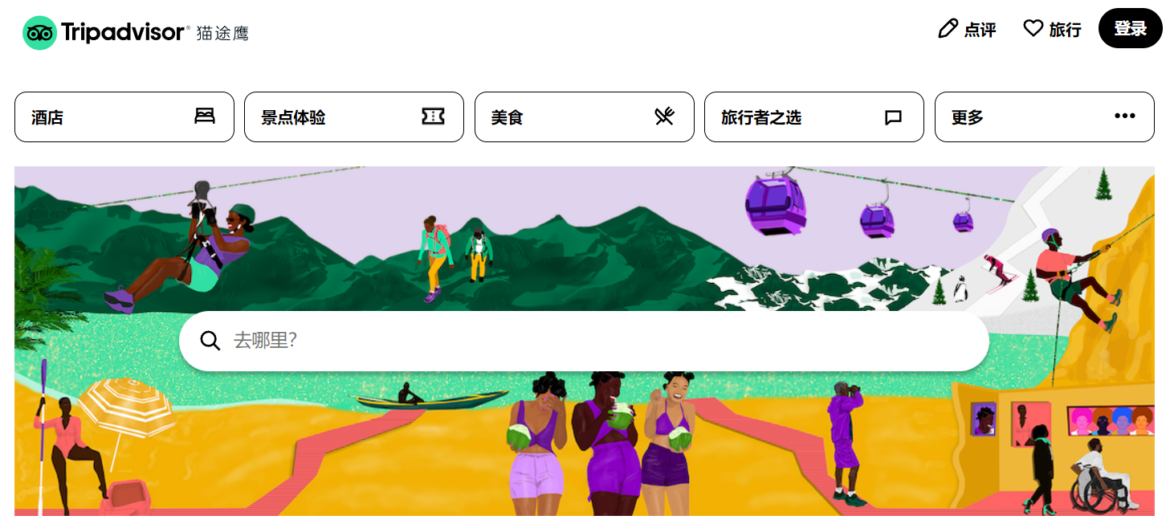 Tripadvisor's look and feel adapted for the Chinese market © Tripadvisor
The Chinese app includes support for the Apple Watch and delivers a fully native iPad experience. In addition to popular global features, it also comes with unique, localized features specific to China such as WeChat integration and Chinese language travel guides.
On top of that, the company operates three Chinese language sites: one for Mainland China, one for Taiwan, and an international simplified Chinese site that further extends the reach of TripAdvisor's services for overseas Chinese living outside of the mainland China firewall.
The fuel behind TripAdvisor's customization efforts is the knowledge that Chinese travelers have different needs and preferences when it comes to planning a trip. "We are delighted to announce this new Chinese name for TripAdvisor—and it is not just a new name but it represents our commitment to provide a truly unique proposition to the global Chinese community," said Lily Cheng, President, APAC at TripAdvisor.
Localization example 9: A partnership with Atout France
The COVID-19 pandemic has dealt a severe blow to the global travel industry, with many countries still imposing restrictions on international travel. But as the vaccine rollout has gathered pace, 2022 is proving to be a year of recovery for the travel industry—and TripAdvisor was ready for it.
In preparation for this, the company announced in November 2021 a new partnership with Atout France, the French tourism development agency leading the country's post-pandemic travel and hospitality recovery efforts.
As part of the partnership, TripAdvisor will promote France as a travel destination to travelers with high intentions of visiting Europe and France. The company will also share key data and insights with Atout France on traveler behavior and preferences, which will help shape the country's future marketing efforts.
Working in partnership with local tourism boards is a move that makes perfect sense for TripAdvisor in the context of its localization strategy—after all, what better way to market a destination than by teaming up with the people who know it best? Atout France can provide the company with the necessary local expertise and knowledge—e.g., how are hotels and restaurants getting ready to welcome back international travelers?—to make its marketing campaigns as effective as possible for travelers both in France and around the world.
Make the user feel at home
Airbnb, Uber, and TripAdvisor are three major players in the global travel industry, and they all have one thing in common: a localization strategy that puts the needs of the user first. These companies know that users, whether traveling domestically or internationally, expect a seamless and personalized experience that makes them feel at home—and they go to great lengths to deliver on this promise.
By offering a mix of localized UI elements, web pages, marketing campaigns, and app experiences, these companies are able to provide their users with the feeling that they are being catered to as individuals, not as part of a mass market.
The examples above show that, when it comes to localization, there is no one-size-fits-all solution. However, a user-centric approach, a willingness to research and understand local markets, and the use of technology to streamline workflows are 3 key elements that all businesses should keep in mind when planning their localization strategy.
Speak with an expert
Want to learn how our solutions can help you unlock global opportunity? We'd be happy to show you around the Phrase Localization Suite and answer any questions you may have.
Last updated on July 26, 2023.