Localization strategy
Automated Translation: How to Speed Up Time to Market for Global Growth
Automated translation refers to using predefined triggers to initiate and execute tasks related to transferring text between languages. Here's how forward-thinking businesses leverage it for international success.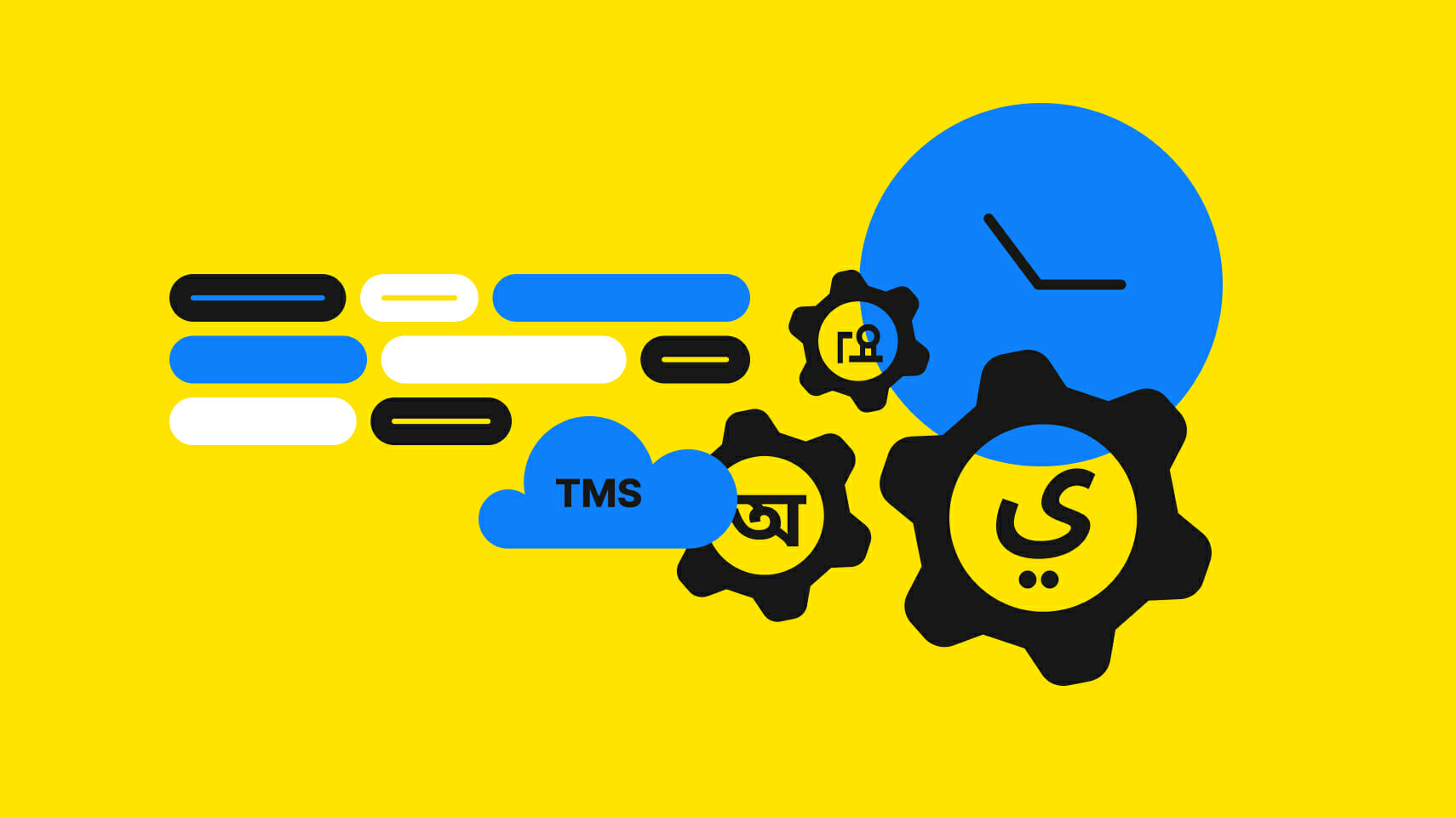 The digital transformation sweeping across every industry is steadily pushing companies to automate manual or repetitive processes for increased efficiency and productivity. According to research by McKinsey, automation remains a top priority for businesses of any size—with the trend leaning towards more specialized and granular workflow automation.
Translation and localization are no exceptions. As more companies seek to expand globally, automated and customized translation workflows become even more crucial in empowering brands to connect with international customers, drive engagement, and improve conversion rates.
This strategic shift unlocks resources for companies to invest in initiatives that can deliver tangible value to customers across the globe. To help you make the most of it, this guide explores how automated translation brings these possibilities within reach with the right technology.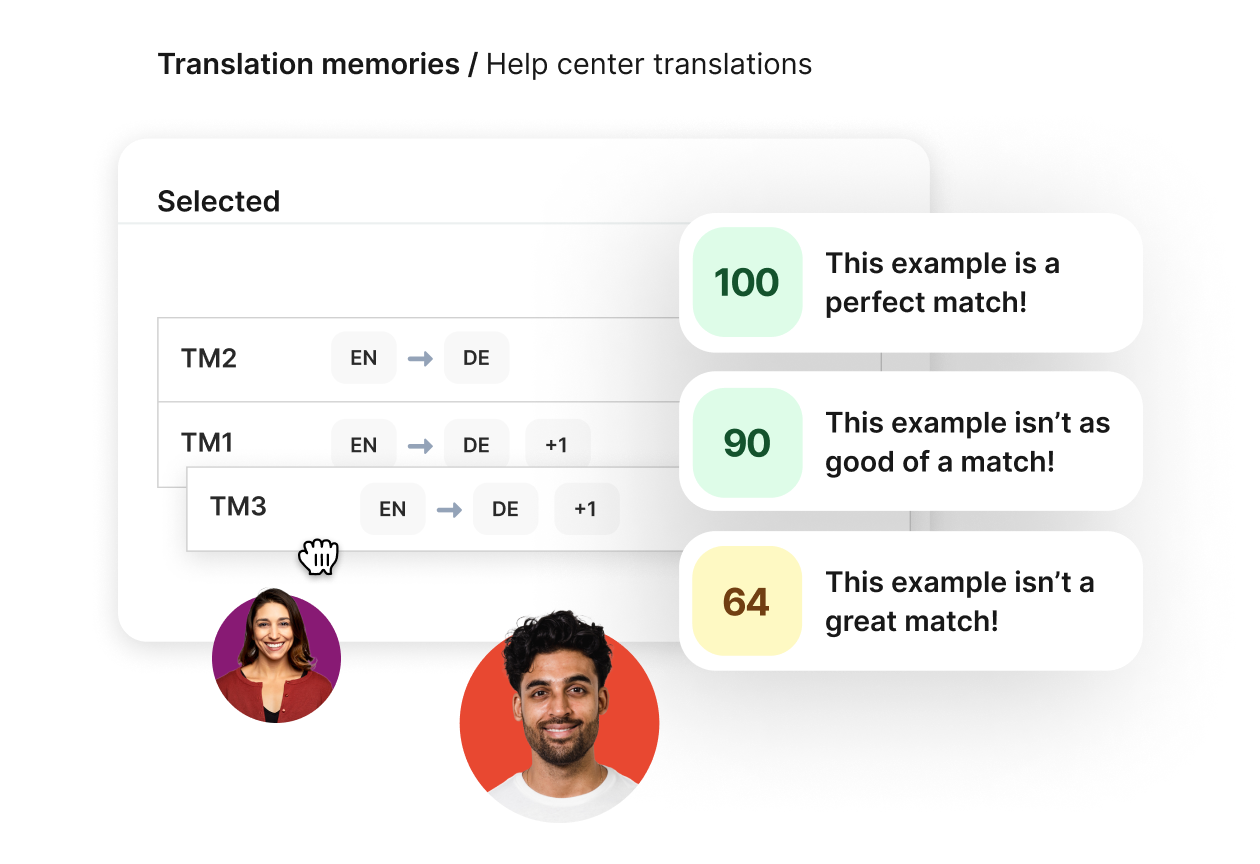 The right translation software for your needs
Drive global growth by automating, managing, and translating all your content with the world's most powerful, connective, and customizable translation software.
Understanding automated translation
In the late 18th century, The Mechanical Turk captured the imagination of many as one of the first chess automatons. The Turk moved chess pieces for a player on a physical board while seemingly calculating intricate variations in the background. Draped in Ottoman robes, the mechanical marvel concealed the fact that a human was orchestrating its actions.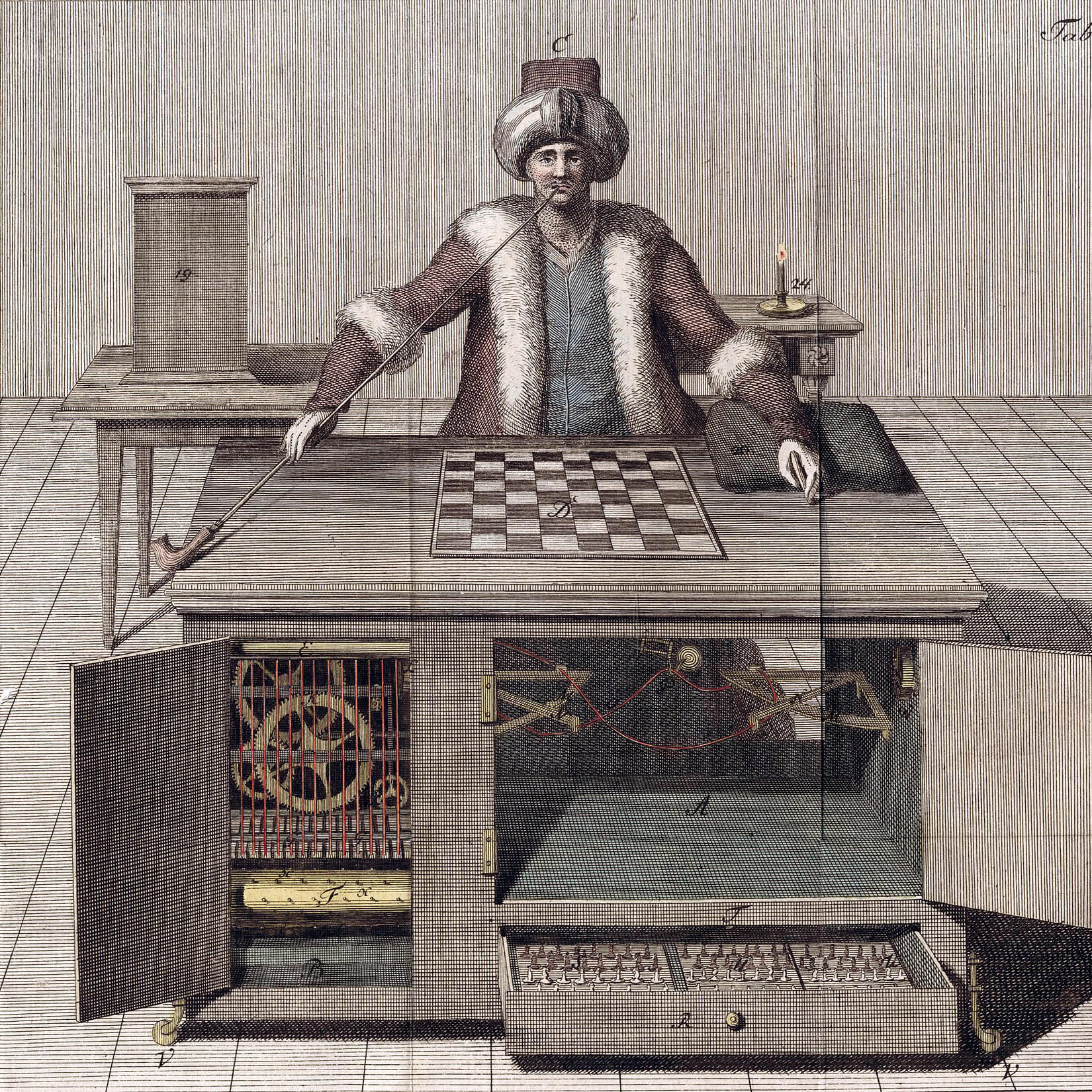 The Mechanical Turk © Joseph Racknitz/Public Domain
The original Turk was lost to a fire, yet its resurrection occurred in the 1980s. By then, a human operator wasn't necessary anymore, and the Turk still exists in a truly independent incarnation—with a chess-playing computer guiding its moves. Likewise, automated translation is the equivalent of giving you the next move in a process as complex as localization.
Automated translation refers to using predefined triggers and patterns to initiate and carry out tasks related to transferring text between languages.
By leveraging algorithms, these triggers aim to speed up the delivery of accurate and consistent translations by reducing as many repetitive or manual translation workflow steps as possible. Automated translation is the secret weapon for growing businesses to achieve impactful outcomes across cultures and languages—without going over budget.
It's common to confuse "automated translation" with "automatic translation." However, the 2 terms mean different things:
Automated translation refers to triggers built into translation software to execute routine tasks, making the overall translation process more efficient.

Automatic translation is another term for machine translation, which is about converting text from one language to another without any human input.
The toll of manual translation and localization processes
For companies on track for global growth, managing and translating content for diverse target markets can often be challenging. Sending files for translation, adding translation segments, or making edits to text-based documents or spreadsheets can all slow down a localization project.
Picture this: A spreadsheet where developers paste the source content, a spreadsheet per language for the translated content, and another one for all the terms to be added to a glossary: "Has anyone inserted the translations back into the code?" No one seems to remember: "Let's send them an email…"
The result is translated content fraught with human errors, duplicates, or even missing segments. From errors and inefficient collaboration to a lack of centralization, the impact of inadequate automation on translation processes can't be ignored. Let's explore each of these consequences in detail.
Dive deeper
Why spreadsheets don't work for localization
From limited context and version control issues to error-prone manual handling—discover why spreadsheets fall short in localization.
Ample room for error
Manual translation processes, particularly when reliant on spreadsheets, increase the likelihood of human errors. From manipulating spreadsheet data to copying and pasting content, even a small mistake can lead to significant issues in translation accuracy, version control, and overall quality.
Inefficient collaboration
Manual translation processes often involve lengthy email threads, a lack of real-time communication, and disjointed collaboration among various stakeholders like product managers, developers, translators, designers, and reviewers. This inefficiency hampers seamless information exchange, contextual understanding, and timely feedback—potentially leading to misunderstandings and project delays.
Lack of centralization
Managing translation through spreadsheets lacks a centralized platform for complete project oversight. This leads to fragmented data, difficulty in tracking progress, and increased overhead. The absence of an integrated system means missed opportunities for automation, which can streamline processes and reduce or eliminate the need for repetitive manual work. More on that below.
Leveraging cloud localization technology for automated translation
Imagine you need to launch a German version of your website along with an email campaign. This means you will most likely be working with translators, developers, marketers, designers, copywriters, local market experts, etc. Throw in several extra steps they all have to follow, and you can see how easily errors and misunderstandings could creep in.
Similarly, if there are any sudden changes to the original content, you have to quickly update the existing translations. This results in restarting the whole translation process: extracting the source content, getting the translation done, reviewing the updated website source files, and then getting a developer to update the web pages—all of which costs time and money.
To eliminate these inefficiencies, forward-thinking companies aiming to thrive globally leverage cloud-based localization technology: With a translation management system (TMS), handling routine tasks in localization becomes a thing of the past.
Dive deeper
Localization technology: How to assemble your toolkit for global growth
Discover how forward-thinking companies build localization technology strategies to automate and streamline globalization processes—and learn how you can do it too.
A translation management system is the engine of automated translation
Being the most advanced form of professional translation software, a TMS combines traditional computer-assisted translation tools (CAT tools) and AI-powered machine translation tools with project management and business intelligence features to cover all localization needs across an organization.
From file transfers and data processing to quality checks, a TMS automates a range of manual and repetitive tasks with the help of an application programming interface (API) so you can enjoy an effective translation process and stay focused on what really matters to your business.
Common automated tasks in translation workflows
Content preparation

Detecting new content for translation

---

Creating a new translation project

---

Recognizing and converting translation file formats

---

Extracting translatable text from source files

---

Removing unnecessary formatting from extracted texts (e.g., images)

---

Detecting the source language of new content

Content translation

Pre-translating text by detecting previously translated segments that can be reused through translation memory

---

Aligning translated terms with a predefined terminology database

---

Suggesting the optimal linguist for a translation project

---

Selecting the optimal machine translation engine based on content type and language pair

Quality assurance, review, and approval

Running quality checks to potential translation errors, inconsistencies, or formatting issues

---

Applying formatting to the translated text to match the original layout and structure

---

Sending notifications or updates to stakeholders when the status of translations changes

Export and delivery

Generating translated files in the desired format (e.g., DOCX, PDF)

---

Integrating with third-party software to seamlessly deploy the translated content to its intended destination

Reporting and analytics

Calculating the cost of each translation project

---

Generating reports and analytics about translation progress, volume, quality, etc.
The real value of automating translation workflows
With customer preferences evolving and content changes occurring daily, managing multilingual content manually can quickly become a formidable endeavor. As your business grows and translation requirements become more complex, manual processes seriously start to hinder progress.
A translation management system addresses all these challenges by providing you with a unified workspace for end-to-end translation project management. Let's look at how a TMS helps growing businesses reach new markets more quickly by making the translation process more efficient.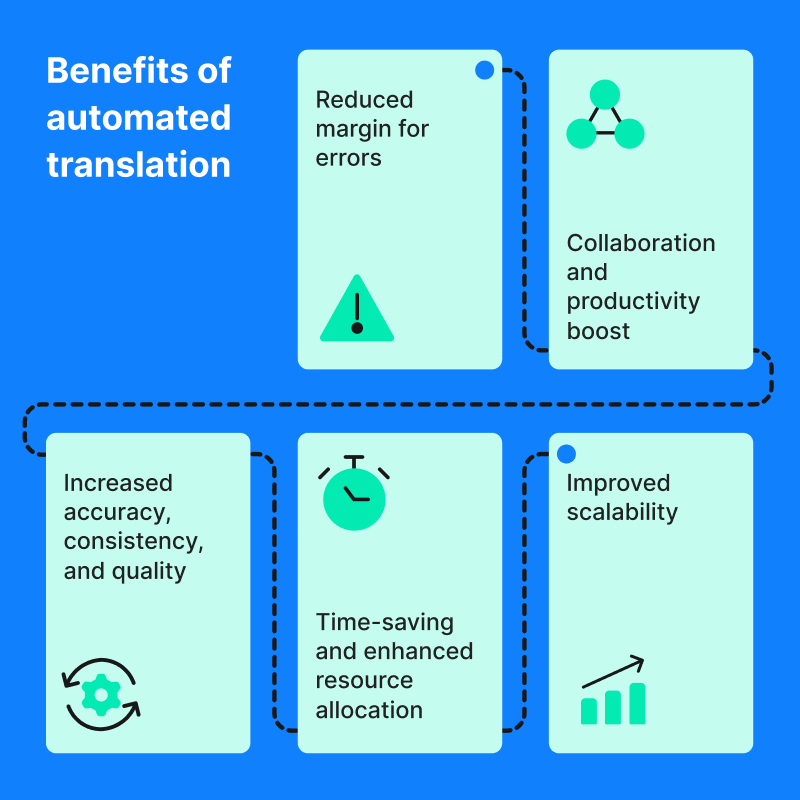 Reduce errors
Completely automated translation processes minimize the risk of mistakes caused by manual tasks and format changes. Team members don't need to dig into older files to find the information they need. Automated processes can ensure consistent formatting across languages, reducing the chances of layout or formatting errors that can occur during manual translation. Additionally, automated translation tools can catch common linguistic errors and suggest corrections, enhancing the accuracy of the final translated content.
Foster teamwork and boost productivity
With a cloud-based TMS, you nurture collaborative localization by enabling open communication, automated notifications, and real-time status updates—resulting in improved productivity. You can organize updated materials without causing chaos within the team and won't have to worry about response efficiency. A TMS provides all the data you need, and your teams can access the information from any device—at any time. This enables you to consistently keep all stakeholders connected.
Increase accuracy, consistency, and quality
CAT tools like translation memory, term bases, and style guides help translators deliver more accurate and consistent translations, all of which improve translation quality. With automatically attached screenshots, they can easily understand the context of each translation, helping them dedicate more time to tasks that are more challenging to automate, such as nuances and local variations. This is important because it often means the difference between effective localization and translation failure.
Dive deeper
The complete guide to improving translation quality
Improving translation quality is a continuous effort with many moving parts. Here's what it takes to set up an effective translation quality assurance process.
Save time and better allocate resources
Automated translation workflows not only trim costs but also free up valuable resources for innovation. With less time spent on workflow management, you can effectively control and reduce translation costs. Moreover, by minimizing the need for extensive manual reviews, automation ensures resource efficiency, enabling you to concentrate your efforts where human expertise and creativity are most impactful.
Improve scalability
If you localized into 5 languages last year, it doesn't mean that you might not need to address additional markets in the future. Once you establish automated translation workflows, you can seamlessly integrate new languages into your TMS without having to start a new localization project from scratch. As a robust TMS is designed to seamlessly integrate with other software platforms, facilitating continuous content translation and distribution across your digital ecosystem, you will be able to handle more projects and languages with fewer people and resources.
Make the most of automated translation with the Phrase Localization Suite
It's possible to get all of the above—and beyond—with Phrase, a fully integrated suite of translation automation technology that companies worldwide rely on to reach global markets more quickly and efficiently. The Phrase Localization Suite comes with an enterprise-ready translation management system (Phrase TMS), a dedicated software localization platform (Phrase Strings), and many versatile add-ons.
To empower business users to make the most of every product, Phrase lets them leverage a whole set of functions that help in customizing and automating translation and localization workflows without the need to write and maintain code.
Say hello to Phrase Orchestrator
Phrase Orchestrator is a drag-and-drop workflow automation builder that allows users to customize, control, and manage the full functionality of Phrase TMS and Phrase Strings from a single interface. The 2 main functionalities in Phrase Orchestrator are the workflow editor and management experience.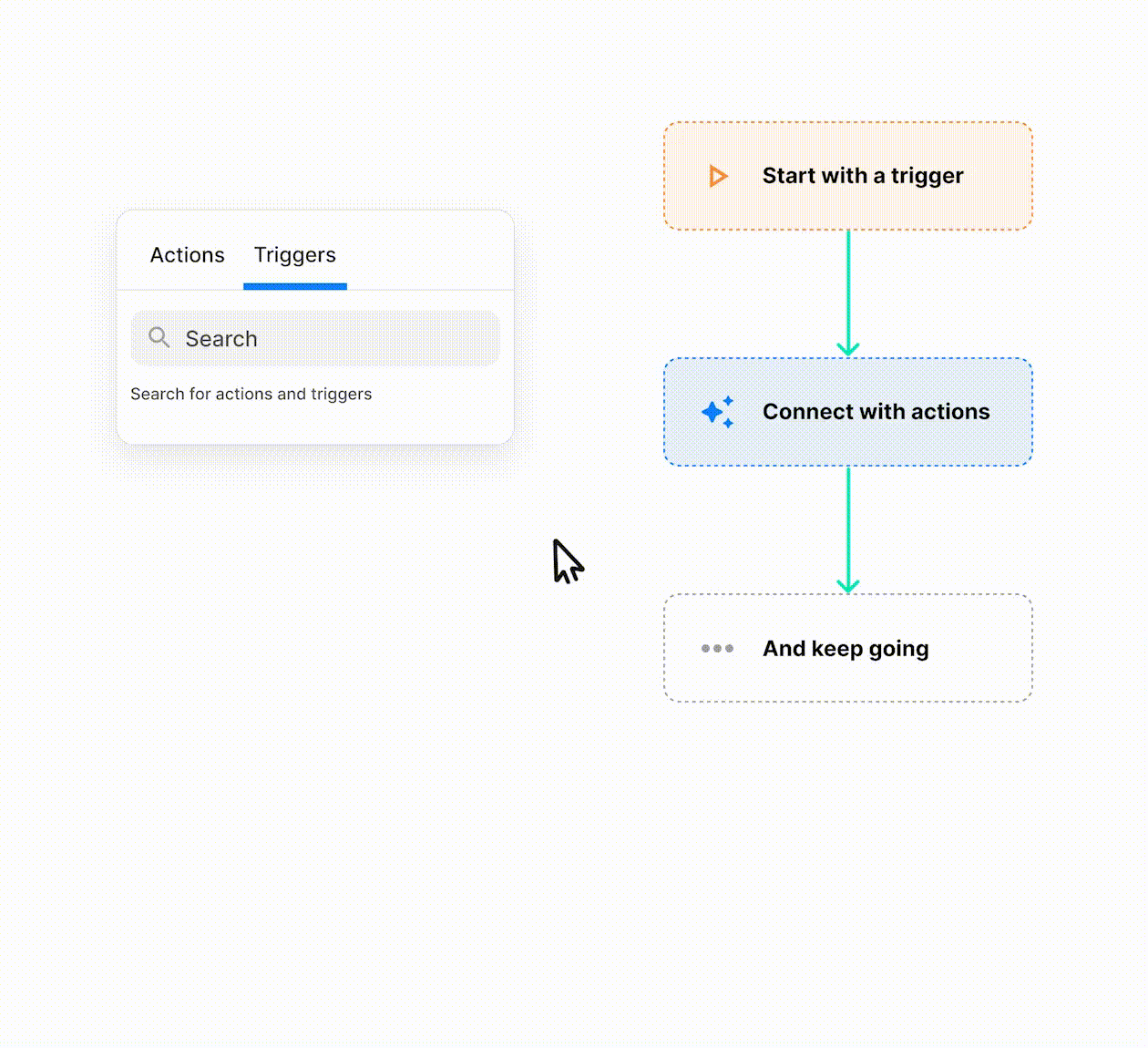 Phrase Orchestrator lets users automate custom localization workflows with drag and drop from a single interface
Workflow editor
In the workflow editor, you can construct simple and complex localization workflows with triggers, actions, and conditions. Every workflow starts with a trigger, i.e., a specific event in the Phrase Localization Suite (e.g., "File uploaded to Phrase Strings project"), to which users can add any number of actions that contain some functionality, like "Create a Phrase TMS project," to run as a series or in parallel.
Both actions and triggers can have conditions, like logic gates, to determine if they should run (e.g., "Only start a job if it contains more than 9 keys"). Moreover, actions can be set up in series and in parallel, allowing for branching workflows. Once the workflow is complete, the user can publish the workflow where it will sit, wait, and run every time its trigger event happens.
Management experience
Management experience enables users to manage, organize, and monitor their workflows. Users can create folders to keep their workflows organized, create multiple versions of a workflow, edit them, and switch between them. Additionally, users can monitor functionality to keep track of workflow performance and errors, inspect every single execution of their workflow, and see if and which problems occurred.
By taking automated translation to the next level and with flexibility worth its weight in gold, Phrase Orchestrator enables you to enjoy customized localization workflows that are tailored to your needs and automated from start to finish. You might only need to make the first move—choosing the right localization technology for your needs. Maybe try a Queen's Gambit.
Speak with an expert
Want to learn how our solutions can help you unlock global opportunity? We'd be happy to show you around the Phrase Localization Suite and answer any questions you may have.
Last updated on October 17, 2023.