Localization strategy
10 Key Steps to Get Your Website Localization Started
Website localization is about adapting your website to the culture and language of a target market. Learn how to plan, implement, and automate it.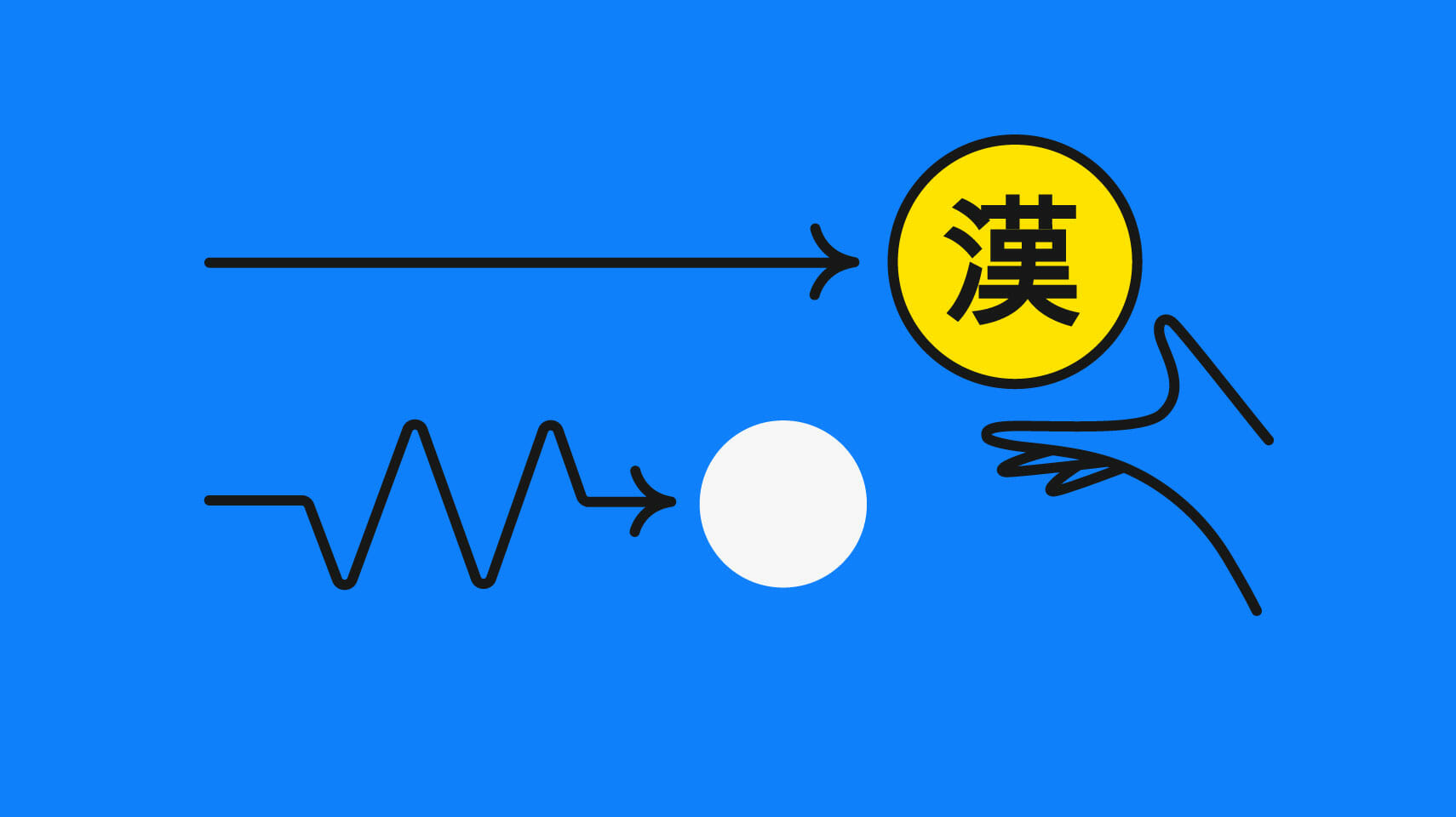 Website localization is the process of adapting your website to the culture and language of users in a target market. People around the world are far more likely to buy from a website that speaks to them in their mother tongue. In fact, 65% of consumers prefer information in their own language, even if it's poor quality.
However, rolling out a multilingual website isn't only about replicating your original content verbatim in another language. It involves taking into account cultural differences, legal requirements, purchasing habits, and payment methods—just to name a few aspects of a process as complex as website localization.
If you're buckling under the weight of the task ahead, fear not: Website localization doesn't have to be a headache. If you're looking for the best way to localize a website, these 10 website localization steps will help you avoid common localization mistakes, launch your multilingual website quickly, and ensure an impeccable user experience (UX) for international users.
1. Strategic planning and preparing for website localization
More than 5B people use the internet every day. Most of them are from Asia, America, and Europe. While that doesn't guarantee that all of them will be candidates for what your business is selling, it highlights the great potential—and the fact that if you're only selling in one market, you're missing out on huge potential profits. So, considering the potential of international sales from the start is a must for any business looking to expand globally.
If you're just setting out to design your website or update an existing one, factoring in website localization from the get-go can save you a lot of time and money down the line. Think big and think global: Even if your initial market is local or small, that doesn't mean it always will be. Whether you sell productivity software or clothing for premature babies, global tendencies are merging—a successful product at home has the potential to become a worldwide sensation as well.
A localization strategy devised from the start will give you clarity of purpose, an actionable plan for expansion, and a real business advantage. Some aspects you'll need to consider as part of your website localization strategy are:
Your product or service: Can it be easily transferred to another culture or market, or will it need significant adaptation?
Your company's localization vision: If you were to expand, what would that look like?
Pricing: Will you need to change your pricing model for different regions?
Ideal target markets: What languages, cultures, and demographics are a good match for your product?
Localization timeline: How soon would you ideally like to expand and be up and running in new markets?
Localization budget: How much are you willing to spend on translation, layout changes, and other necessary adjustments? Can you manage a full-scale localization project in-house, or do you need to outsource?
People: What staff do you currently have in-house that could support the localization process?
Technology: What tools and methods will best fit your business goals, resources, and timeline?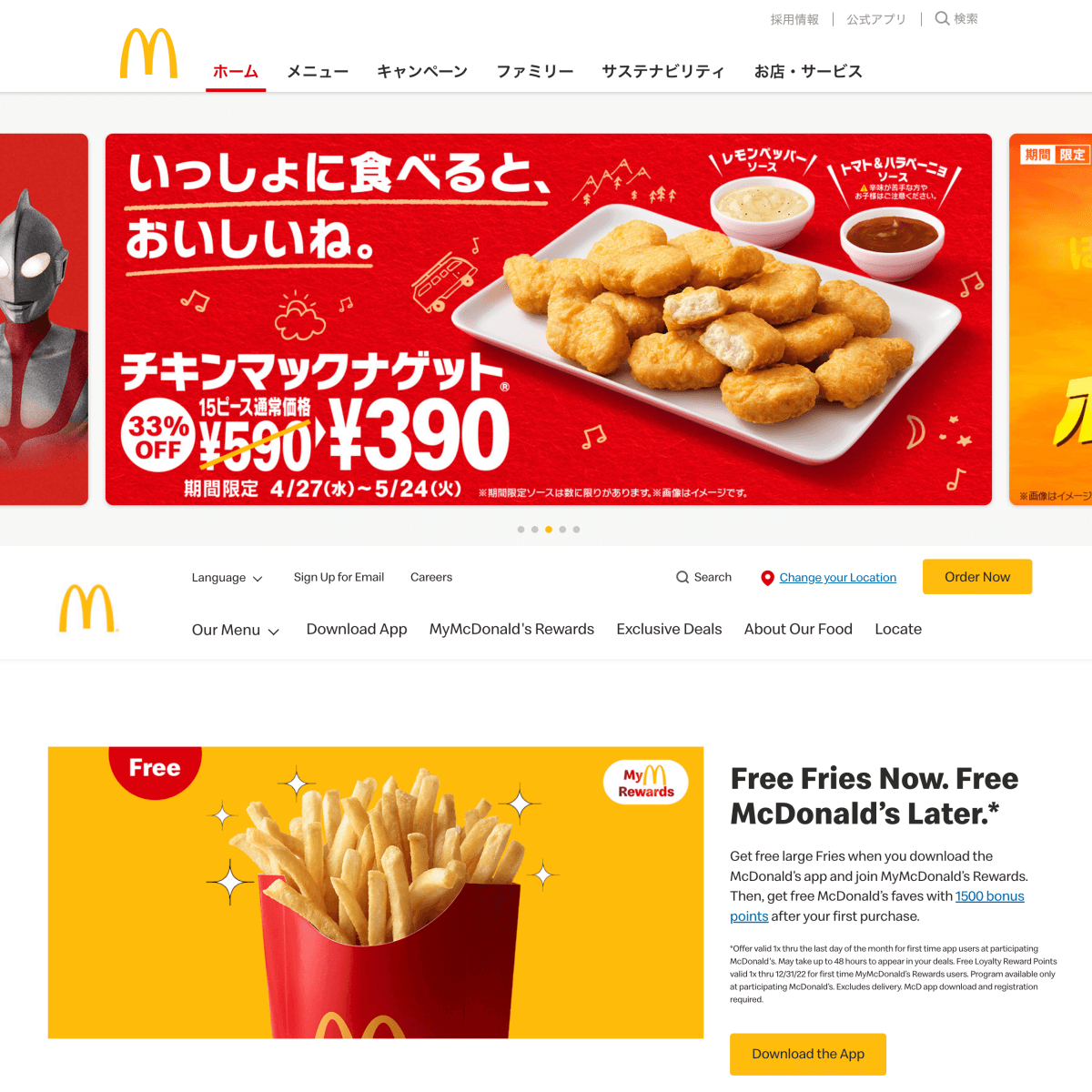 Note the difference between the website layouts of McDonald's in Japan and the US
2. Market research
As we've seen, a global website is one of the most powerful tools for attracting new customers and generating leads from around the world. Part of a well-planned localization strategy is making sure you have a deep understanding of the markets your website needs to target. You might not need to embark on a full-scale localization project into over 1K languages if your core customer base is in one or two countries—identifying your target market and where you think your product will be more successful is critical.
Start with those areas first and remember that new markets may open up in the future. Analyze the countries carefully that are more likely to bring in a greater localization ROI (return on investment). Even huge global players, like McDonald's, had to close down stores in some countries—or were unable to find sufficient market demand (or comply with legislation).
Once you've decided on your target markets, it's time to do some in-depth research to understand what customers really want in each one. Using generic data about an entire continent is not good enough. The French, for example, are different from the Spanish. The Spanish don't share the same culture as the Germans. More importantly, they don't share the same language.
Try to identify your international buyer personas by conducting specific market research in each geographic region you want to approach. You'll need to analyze and assess the demand, for example. If your product is partially popular in one region, you can start out there. For each market, try asking a few simple, but essential questions:
Is there an interest in your product in this specific market?
What is the market's growth rate?
How much competition is there?
Can local buyers afford your products?
What are their buying preferences?
How much will transportation and customer support cost you?
How high is the cost of website localization compared with the potential of the market?
It's important to reach the highest number of potential customers without spending more than your company can afford. However, it's a good idea to consider all marketing and financial indicators when deciding what markets to approach. For example, China clearly has huge potential if you look at the number of internet users—but these numbers become irrelevant if you don't have a chance of selling your product due to strict censorship laws.
3. Putting together a dedicated team for website localization
Website localization has many stakeholders. In fact, one of the reasons that localization can be challenging is because of all the different groups involved—from managers and developers to designers and linguists, passing through marketers, content writers, and QA engineers… the list goes on.
A well-organized localization team ensures that the project is completed on time and to a high standard while avoiding conflict between different stakeholders. The size of your team may be bound by your budget, but a successful website localization project requires people on board who understand what makes your target-market customers tick.
In other words, you'll need people who can help you bridge the cultural and linguistic differences between your domestic customers and your international ones. Here are some key groups that you'll likely benefit from having on your team:
A localization manager or a translation project manager who can assign tasks and keep everyone on track
One or more developers who can support your internationalization (more on this below) and localization efforts from the technical side
One or more designers who can adjust visuals or designs to suit different audiences
A stellar team of native translators who can accurately translate your content and make the copy sound natural in the target language
QA engineers who can check how everything works after localization and ensure that there are no bugs or glitches in the website
A local support team for each market that will answer customer questions, manage online reviews, and deal with any  other customer service issues
The importance of hiring professional translators and proofreaders can't be overstated. First-class translators will be able to translate and localize your message in a way that makes local people identify with it right away. You need to deliver the same amount of wit, wisdom, and charisma that your original message contains.
Above all, your team will need to be able to work well together and collaborate with each other. If you also support their work with the right technology (more on that next), you'll set them up for success.
4. Keyword research
Right after you've decided on your target markets and before you start the actual localization work, it's a good idea to do some keyword research for your localized website. This will help you understand which terms people in your target market are using to search for products or services like yours—and how those terms differ from the ones used by people in your home market.
By locating the best terms and key phrases to use on your localized website, you can make sure that your content shows up in relevant searches. This and other multilingual SEO (search engine optimization) techniques will help you reach more people and improve your search engine rankings, leading to higher traffic levels, and reducing your costs over time (because you won't be paying for ads to reach your target audience).
The main thing to remember when doing keyword research is that you shouldn't just translate your home market keywords. You need to find out how people in the target market actually talk about your products or services. Just like British and American English often use different words to describe the same thing—"vacations in Orlando" vs "holidays in Orlando"—so, too, do other languages depending on the region. Even the best content is doomed to fail if the target audience can't find it in the first place.
That's where multilingual keyword research enters the picture. Either marketers that speak your target language can conduct this research for you, or you can appoint a team of translators specialized in SEO to help you with it. Whoever does it, with the right combination of market knowledge, SEO expertise, purpose-built tools, and language skills, they should be able to unearth the best local terms to attract more visitors and generate more leads.
5. Automating the website localization process
If you're thinking about managing your website localization project manually,  you might want to think again. You wouldn't punch out your thesis on a typewriter, or add up complex equations without a calculator—relying on a series of email chains, text documents, and spreadsheets, which especially don't work for localization, to manage your website localization project is similarly outdated and inefficient.
There's significant room for error when localizing your website manually. You have global teams working in isolation, translators guessing at what's coming next, and developers unsure how to break up right-to-left (RTL) or vertical languages. It takes forever, you go back and forth, and you'll end up spending way too much on your project.
Enter localization technology. In much the same way that other technologies automate other processes in your business, so too can localization software reduce the time and costs of doing website localization. In a fast-paced development workflow within an agile framework, you need technology that can help your localization efforts keep up.
The main types of software that can streamline your website localization process include:
Translation management systems (TMS): These platforms allow you to build a centralized database of all your translations, which can then be accessed and worked on by any member of the team. By integrating with other platforms within your business such as your content management system (CMS) or your customer relationship management (CRM) system, a translation management system can automate various localization tasks.
Computer-assisted translation (CAT) tools: CAT tools help translators work more efficiently by allowing them to store and reuse previously translated content (which is called a "translation memory"). This not only saves time but also helps ensure that your brand messaging remains consistent across all your content. Most modern TMS include built-in CAT tools, or you can use standalone options.
Machine translation (MT): This technology can be used to automatically translate content, which can then be edited by a human translator depending on the quality required. MT is constantly improving, with the latest versions able to understand grammar, context, and natural language better than ever before.
Linguistic quality assurance (QA) tools:  These tools help you check your translated content for errors before it goes live on your site. QA tools can be used to automatically identify issues such as missing translations, incorrect numbers, and unbalanced text flow, among other things. These tools are often built within TMS solutions, but just like CAT tools, you can also use them as standalone products.
Terminology management tools: These are platforms where you can store all your approved brand terms and glossaries. This ensures that everyone working on your localization project is using the same terminology, which helps to keep your brand messaging consistent across all your content.
6. Using the right translation management system
No amount of technology can help you if you're using the wrong tools for the job, and equally, many localization challenges can be avoided by simply choosing the right technological solutions.
A crucial consideration when building your toolbox for website localization is what TMS you'll use. If you want to make your website localization project as efficient and cost-effective as possible, you'll have to carefully consider your specific needs and choose the best translation management system to support them.
Without the right TMS in place, your workflow suffers—wasting time, money, and effort in the process. Long email back-and-forths, transcription errors due to manually copying content into spreadsheets, developers wasting precious time tracking down app strings and feeding them to translators,  and siloed data that's difficult to report on and monitor for quality… These are just some of the problems you can face if you don't have the right technology in place.
A solid translation management system will offer the following key features:
An API—to make automation possible. Your developers can then integrate all projects with ease, import locale files, and interact with the data.
Collaboration functions—to make sure that your project runs smoothly. You need to be able to communicate effectively with all team members. Leave feedback, notes, comments, screenshots, and tags all in one place.
In-context translation directly on the page—so your translators can work on your site in real time. This saves time (especially that of developers), thus speeding up the whole workflow, and it allows you to see how your translated content will look on your site before it goes live.
Translation memory—to speed up your projects and record any frequently used terms. Your translation memory will also save all changes and let you look up older versions with ease. Cut down repetitive manual tasks for all.
Built-in glossaries or term bases—to guide localization work and ensure consistency across all your content.
Tools for automating localization tasks—to facilitate strings extraction, screenshots generation, workflow management, performance monitoring, and more.
Automatic quality checks—to help you catch any potential issues before your content goes live.
Support for dozens of file formats—to ensure that you can work with any content source.
Possibility to update translations with a single click—to instantly deploy the most recent version of your content.
Your TMS will act as a project manager and coordinator at once. When you have all your team members working in harmony, you're far more likely to get your website localized faster and at a lower cost.
7. Website internationalization
Internationalization is a process that aims to make your website "ready" for localization. More specifically, it ensures that the code is designed in a way that allows for the website content to be easily translated into other languages without any technical issues.
When you internationalize your website, one of the key steps is to decouple your "translatable" content from the source code. This means that all the language-specific information is stored in separate files, making it possible to change the site's language without changing the code—and it doesn't stop here…
Website internationalization includes the following best practices:
Encoding your website content in Unicode (UTF-8)—to support the special characters used in all world languages
Designing and developing in a way that removes barriers to localization or international deployment (e.g., by ensuring that text can be resized without affecting the overall design)
Providing support for features that may not be used until the site is deployed in another country (e.g., supporting bidirectional text)
Incorporating predefined localization data and features in your code (e.g., date, time, and number formats, currency symbols)
Ensuring that images in the UI don't require separate asset files for each local version of the app—instead, loading images dynamically where possible
Using internationalization testing tools to test your site with real-world  scenarios (e.g., verifying that the automatic language detection feature is working as expected)
The goal of internationalization is to make it possible for you to deploy your website in any market without having to rebuild it from scratch. A good analogy is designing a car to be driven on any type of terrain—if you want to be able to drive just as easily on a mountain road as on a sandy beach, your vehicle needs to include features that enable it to perform well in both environments.
8. Localizing the user experience (UX) and user interface (UI)
Great UX is half of your product's success: It impacts customer satisfaction, conversion rates, and sales. That's why, when you're planning your website localization project, it's important to take into account how your localization efforts may affect the UX.
Take the design of your UI elements, for example. Prior internationalization will have ensured that there's enough space to accommodate longer text strings in other languages. However, if the overall design of your UI doesn't work well for users in other countries, you'll still need to adapt it.
For example, you might need to rearrange some elements on the page, use different color schemes to avoid triggering unwanted cultural associations, replace certain images with others that are more representative of the target culture, or even redesign the UI completely for certain markets.
It's also important to think about how your target audience uses the internet, and what the internet speed is like in their country. If you're targeting users in a market, with slower internet connections and lower-end devices, you should consider simplifying your UI design—for example, by using fewer images—to make it load faster and run more smoothly.
In a nutshell, localizing your UX and your UI means making sure that your users find your website easy, enjoyable to use, and tailored to their specific needs and preferences.
9. Testing before launching
Once you've localized your website, it's important to test it thoroughly to ensure that all words are correctly translated, that the UI looks and works as it should, and that there are no technical issues. Localization testing is about checking functional as well as linguistic accuracy.
Functional website localization testing focuses on:
Encryption algorithms
Hardware compatibility
Names, time, date, weights, measurements, etc.
Upgrades
Entry fields
Hyperlinks
Image appropriateness
Broken strings/design
Form functionality
Shopping cart
Payment processing
Loading time
Downloads
Linguistic website localization testing deals with:
Spelling and grammar errors
Punctuation errors
Cultural appropriateness
Misuse of keywords
Readability and appeal of a message
Untranslated strings
An expert native speaker for the specific market with strong professional skills and localization knowledge should be part of the testing process. You can then devise a test plan, gather all the relevant testing materials, set up the testing environment, and get started.
10. Marketing your localized website
Once your localized website is up and running, you need to let your target users know that it exists—and that it's the perfect solution for their needs. That's where marketing localization comes in. In order to successfully market your localized website, you need to consider how purchasing habits, consumer behavior, and cultural norms vary from one market to another.
How can you expect to increase demand for your product in a foreign market if your promotional assets look and feel like they're aimed at people in your home market? How could engagement possibly increase if your social media posts fail to reflect the local culture and context? Why would leads take the time to fill out a form on your website if they can't even understand the call to action?
To truly succeed in a foreign market, you need to speak your target audience's language—literally and figuratively. You need to be aware of what makes them tick, what their pain points are, and how they like to be communicated with.
In other words, you need to localize your marketing efforts by considering the impact of culture, context, and language on your promotional strategy:
The popularity of marketing channels such as social media, email, and search engines varies from one country to another.
Your content marketing might elicit different reactions in different markets—what's considered useful and informative in one culture might be seen as too promotional in another.
Calls to action, slogans, and other text that appears on your website and in your marketing materials need to be carefully adapted to the local language and culture.
Paid search keywords that work in one market might not work in another—we've seen how users in different markets search for the same thing using different terms.
All of these factors—and more—need to weigh into your local marketing strategy. Whether you're looking to increase app downloads, boost website traffic, or improve dwell time rates, it's all about crafting a local customer experience that resonates with your target audience.
Localizing your copy, getting local reviews and testimonials, leveraging local communities, partnering with local influencers—these are all great ways to start, provided you've taken the time to understand how your target market is different from your home market. By following the outlined tips on how to localize a website and making sure to keep your target market top of mind, you'll be well on your way to global success.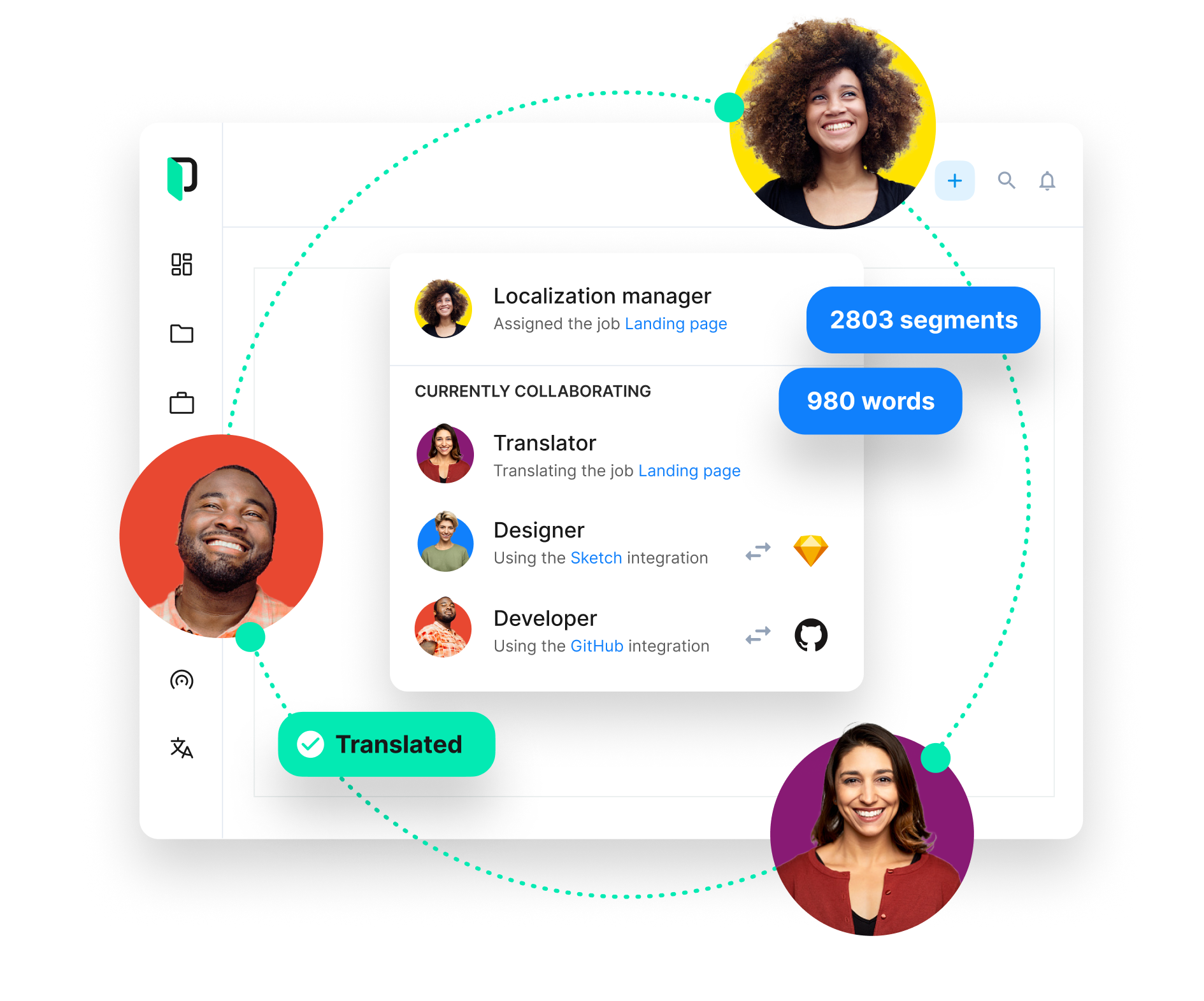 Fast website localization
Get your website ready to attract global audiences. From a traditional and headless CMS to hard-coded website, choose the right website localization solution for your needs.
Last updated on March 16, 2023.